Cabrera eyes maiden victory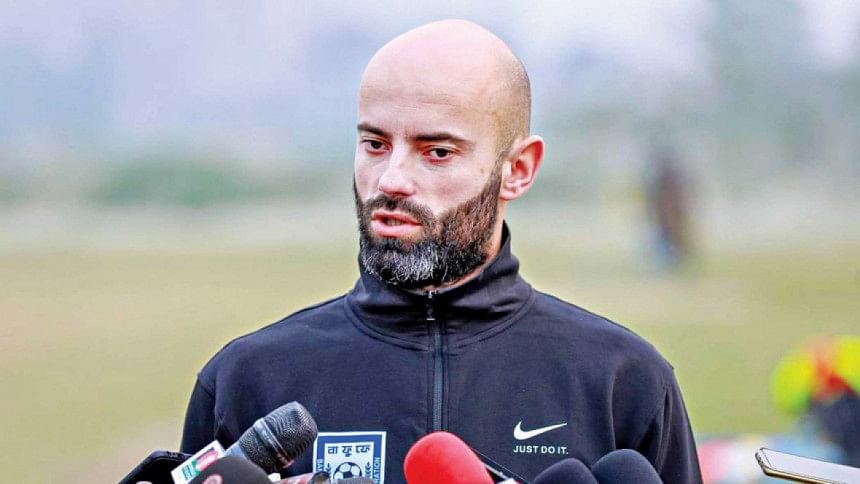 After showing a bit of competitiveness in the Asian Cup Qualifiers nine weeks ago, Bangladesh football team's coach Javier Cabrera is hoping to get a maiden win under his belt when his charges play against Cambodia and Nepal in FIFA friendly matches next month.
Since the appointment of the 37-year-old coach in early January, Bangladesh haven't tasted any win in the six matches they played against Maldives, Mongolia, Indonesia. However, the team held Mongolia and Indonesia to draws before putting up fights against Bahrain, Turkmenistan and Malaysia in the Asian Cup Qualifiers in June.
"Hopefully we are going to start the camp on August 26. We are lucky that we have enough time before the matches [against Cambodia on September 22 and Nepal on September 27]. We are getting three weeks to prepare in Dhaka before going to Cambodia and Nepal," Cabrera told reporters after meeting with his coaching staff and BFF's technical director Paul Smalley.
"We have to play to win the games as you are saying in the last few games, we obviously went for the results but we could not get. But they were very strong teams and we were able to compete well against them," the Spaniard said.
In the Asian Cup Qualifiers, 176th-ranked Nepal suffered defeats in all three matches while 174th-ranked Cambodia held Afghanistan to a 2-2 draw after losing 2-0 to India and 3-2 to Singapore. Cabrera sees Bangladesh's chances to register victories over both Cambodia and Nepal though he believes the match against Nepal will be a difficult one because of high altitude of Kathmandu.
"Cambodia is more of a team to have initiatives from the back which is more 4-3-3 formation," Cabrera said. "Nepal is a more aggressive team and comfortable with good blocks and waiting for the transition. They are ready to punish you halfway if you lose possession of the ball."
"I think being at our level and compete the way we have done previously, we are going to have chances to win the matches," Cabrera said.
The Spaniard is happy with the current crop of players, however, he hinted that there may be changes made to the squad.
"I am very with the players coming into the camp and I am hundred percent sure that they have enough level to compete at this level. They are going to perform and do well to get positive results. New players will probably have changes if they are put into the system," Cabrera said.