Musings
LIGHTS, CAMERA AND A WHOLE LOT OF ACTION!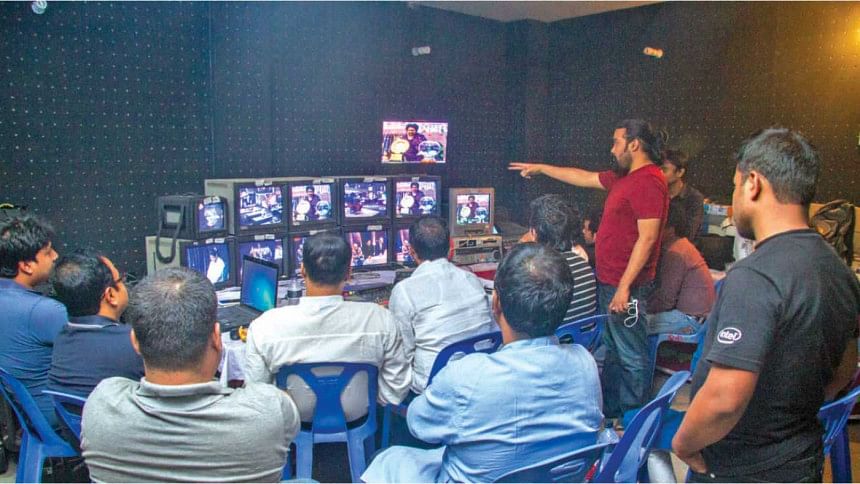 A production like Rupchanda-The Daily Star Super Chef 2015 can surprise you, to say the least. With around 8 teams working in one production, things are to go out of control but then, it has chances of getting back in control very soon also. Every morning would start with a rush. 
The morning's would mean coffees in hands, breakfast table set, lights being set up before the crème de la crème of our show arrive. Once the judges and other big shots are there, everyone does their best to play their parts and be normal about it. But with broken bathroom flushes and an air conditioner that freezes your insides, it's a little difficult to think with a stable mind. 
"Let's get straight to the format!" an assistant creative director would shout. Only to get "but the bathroom is unusable!" as a reply. Another would come and ask how much longer the emcee's make-up would take, only to find her gossiping with the make-up artistes, sipping what everyone on set would call 'bish coffee' (black coffee). While the upstairs is filled with confusing questions and even more confusing replies, to the naked eye it would seem everything downstairs is under control. But once in a while if you tour around, you will find someone from the marketing solutions team imitating insect repellent salesmen and making the participants laugh till they are out of breath. In another corner, the cast would be busy taking selfies with Emma Dean, Masterchef Australia 2013 Champion or French Chef Frederic Insisienmay. All the while our director would be sitting in the panel room watching all the mindless drama on the televisions connected to the cameras on set.
As the havoc increased, at some point in the afternoon, shooting would begin and then there was no stopping. One challenge after the other, welcomes, goodbyes, links and dialogues- this was what would go on for the next 7 to 8 hours. The hunger-ridden emcee would be caught sneaking food from the participants' stations at least 10 times a day. People would whisper obscenities, share secrets, gossip without knowing the microphones in their hands were switched on. There would be disagreements, arguments, scolding one another, accusations, but all of it with a humble sense of familiarity. Once the shoot would finish and everyone would wobble back to the hotel, the real fun would begin. In each room, there would be a separate 'adda' where intense discussions about the show would take place. After hours of more laughter, cracking jokes, roasting one another, it would be time for goodbye, with the comforting knowledge that tomorrow will have the same exciting routine.  
Now, I sit here, fondly remembering every moment, not knowing if things will ever be the same again. But one thing is for sure- 12 days, 15 episodes and a whole lot of love and laughter with some of the most amazing people has left me with memories to cherish throughout a lifetime. This is your emcee, Naziba Basher, and welcome to Rupchanda-The Daily Star Super Chef, 2015!