'OpenRefactory' wins Bangabandhu Innovation Grant of USD 100,000/-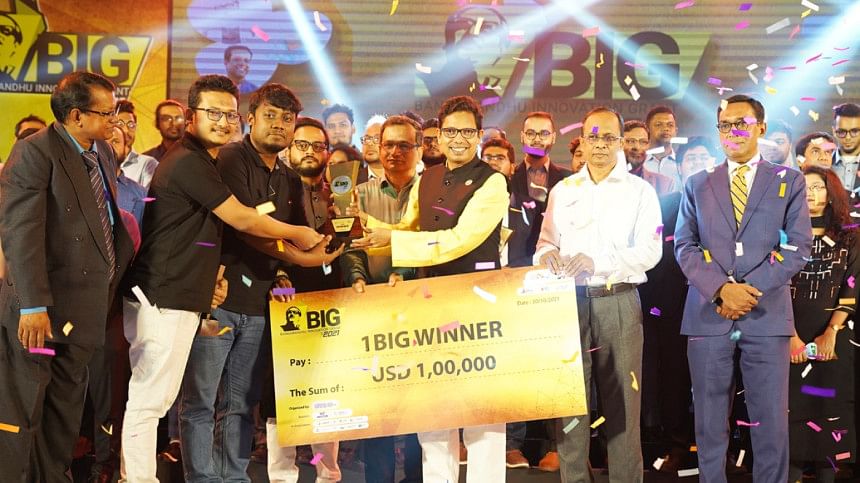 OpenRefactory, a BD-US led deep-tech startup, has won USD 100,000/- grant at the 'Bangabandhu Innovation Grant (BIG) 2021'. Organised by the Innovation Design and Entrepreneurship Academy (iDEA) Project of Bangladesh Computer Council (BCC) under the ICT Division, 36 startups were chosen from home and abroad for the finale.
These startups will receive a total grant of BDT 3 crore 60 lakh where each startup will get BDT 10 Lakh. A total of 46 startups, including 26 local startups selected from the reality show, the top 10 startups at the international level and the top 10 startups of the iDEA Project portfolio, are in the "BIG 2021 Grand Finale".
Openrefactory's main offering is Intelligent Code Repair (iCR) which detects bugs with precision and can synthesise fixes for the detected bugs. 
In the golden jubilee of Bangladesh's independence and the Mujib year, the grand finale of this event was held on Saturday, October 30, 2021, at the Multipurpose Auditorium of Bangladesh Film Archive at Agargaon, Dhaka. Finance Minister A H M Mustafa Kamal, FCA, MP was the chief guest and the state minister for ICT Division Zunaid Ahmed Palak MP presided over the program.
In the "BIG 2021" contest, more than 7,000 startups applied from home and abroad at the initial stage, from which a total of 255 projects from 56 countries were accepted internationally. From there, the top 10 international level startups are selected after two rounds of selection, who directly participate in the grand finale. 
Best 10 International Startups:
ThermoNorth, MyCash Money Pte. Ltd, Agrovisio, Inkspired, WTEAM, SOSO CARE, Grant Master, BioMec, Evreka, Care Form Labs Private Limited 
Best 10 iDEA Portfolio Startups:
AlterYouth, OxyJet, Bloodman, Bhumijo, Jahaji Ltd, GARBAGEMAN LIMITED, Avijatrik, Bike lock, The2HoursJob, Shadhin Music Limited