Made-in-Bangladesh AI: The roadblocks and the future
A catch-up with Mohammad Oli Ahad, Founder & CEO of Intelligent Machines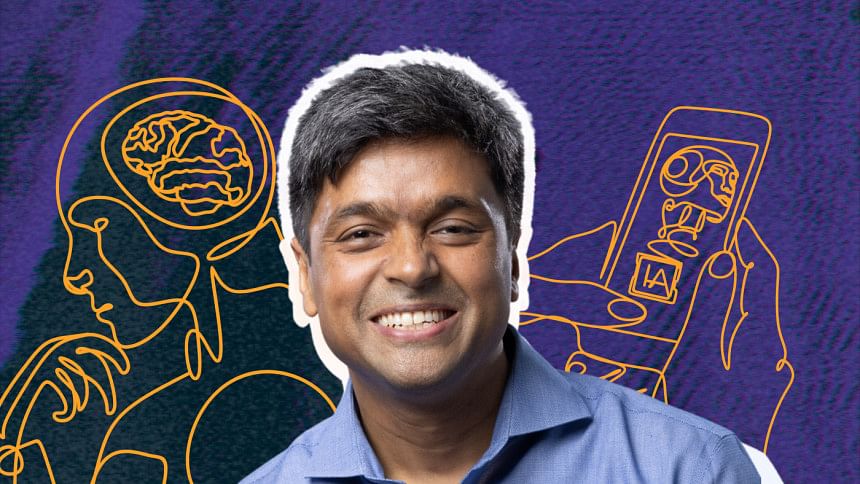 In an era marked by the ever-accelerating pace of technological advancement, the role of artificial intelligence (AI) stands as a pivotal force in reshaping businesses and industries. Intelligent Machines, a Dhaka-based company that provides enterprise AI products and data science services, has etched itself as a notable name in Bangladesh's AI-based tech industry. We recently caught up with Mohammad Oli Ahad, the founder and CEO of Intelligent Machines, to learn more about the company's mission, technological triumphs, and the strategies propelling it forward. 
Can you provide a brief overview of Intelligent Machines and its core mission?
We started our journey in 2018, and specialise in the development of enterprise AI products designed to address a wide spectrum of challenges faced by companies. With a diverse portfolio of 56 live products, our solutions have garnered the trust of 23 clients, both within and outside Bangladesh. Our core mission goes beyond merely addressing inefficiencies; we aim to combat the brain drain from Bangladesh by retaining talent and preventing the wasteful integration of foreign components into our local ecosystem. Our commitment lies in crafting indigenous solutions for local challenges, tailored to our context, and instilling a culture of data consciousness among our people.
How does Intelligent Machines differentiate itself from other companies in the AI and machine intelligence sector?
In Bangladesh, there's a flourishing community of around 15-20 dedicated AI teams diligently crafting their unique AI products. Among them, we stand as a company offering comprehensive AI solutions to other businesses, similar to an AI consultancy. We craft customised AI products that address the distinct challenges faced by organisations spanning various industries. Our unique approach involves tackling fundamental problems, creating solutions from scratch, and continuously learning to push the boundaries of AI innovation. Our client-centric approach focuses on addressing unique issues across various industries, such as supply chain fraud detection and factory automation. 
How would you describe the current state of the local startup ecosystem, particularly about AI and technology?
Startups are ideally positioned to pioneer innovative solutions to existing challenges, driven by teams deeply passionate about solving specific problems. However, in the startup landscape of Bangladesh, a notable gap exists in terms of support and resources for these enterprising individuals. Raising funds remains a major hurdle, leading many startups to increasingly seek foreign investment. The startup ecosystem in Bangladesh is thriving with new teams emerging, but critical support is scarce. A strong venture capital fund is crucial for nurturing these startups. Moreover, the AI market itself is very small, with a limited customer base. The trick to survival is revolutionising and practising adaptability and innovation. Due to limited domestic demand, and the lack of domestic revenue, it becomes difficult for these firms to hire talented individuals. Addressing these challenges requires significant customer market development and competitive pressures to improve the startup landscape.
How does Intelligent Machines support local startups and its other clients in terms of leveraging AI effectively?
Our AI products are tailored primarily for the core operations of established companies, and startups cannot afford them at the moment. We recognise the pressing need to make AI more affordable and accessible to a broader spectrum of businesses. Currently, our clients primarily consist of medium and large organisations who harness the cognitive capabilities of our AI systems to optimise their operations. It's worth noting that the replicability of our AI's cognitive capabilities underscores a demand-side issue rather than a supply-side limitation. Our AI models are replicable but each organisation presents unique challenges. Businesses need to structure to effectively harness AI capabilities, as their readiness to adapt to various solutions will shape technological innovation and industry competitiveness in the future.
What recent technological advancements have IM made in the field of artificial intelligence and machine learning?
To compete in AI simulations, the necessity for supercomputers is undeniable. However, within Bangladesh, access to these crucial computing resources remains a significant challenge. Foreign companies impose a staggering 600% markup on such resources, further exacerbated by a 42% tax imposed by the government. In regions like Bangladesh, where computational clusters are limited, even renting these clusters proves to be suboptimal. To address this resource gap, our team came up with the idea of beginning small clusters, progressively adding more clusters to the calculating nodes along the way. We have also simplified AI models that allows for greater accessibility on low-cost phones and devices with limited network capabilities, fostering a fluid model of AI. Edge computing further enhances accessibility as the AI model becomes more fluid and adaptable for devices. 
How does the company stay at the forefront of emerging AI technologies and trends?
Our team is the driving force behind our company's success, bringing fresh energy and innovative ideas to the forefront. We operate as a tightly-knit and supportive unit, fostering an environment of active collaboration and creativity. Our engineers have tackled seemingly small engineering problems, leading to significant advancements, such as expanding global speech recognition limits from 1.5 to 5 minutes. These experiences gained at IM have propelled more than 75 team members into fully funded higher education programs, underscoring the transformative impact of our work.
Can you share an example of how your company has applied AI to solve complex problems?
Once, when he worked with a large global FMCG company, the task was to ensure that their 5,500 sales executives effectively delivered the brand message to over 7.5 lakh shops. Initially, only 15% of them were successful in this, highlighting a significant communication gap. Through the implementation of speech recognition technology, we were able to enhance this rate dramatically, turning that 15% to over 70%.
How does IM measure the impact of its AI solutions on the market and industries it serves?
One example worth mentioning is that when it comes to rod manufacturing, engineers would traditionally undertake a time-consuming process of melting and meticulously measuring the iron content in each container, a task that could take 2-3 weeks to complete for a single container. The introduction of AI has transformed this scenario, enabling the execution of a thousand simulations in a matter of seconds. This revolutionary change not only expedites the process but also translates into substantial cost reductions, showing how AI can streamline complex industrial operations.
What is your vision for the future of Intelligent Machines, in a local and global context? 
Our vision centres around the development of foundational models, underpinning our vision to establish ourselves as a global powerhouse in AI services. We are driven by the ambition to reshape perceptions, inspiring people to feel genuinely assured about technology originating from Bangladesh. However, we recognise the stark reality that startups, despite their boundless potential, routinely grapple with the formidable hurdles that accompany the adoption of cutting-edge technologies such as AI. These challenges often stem from resource constraints, which can hinder access to the tools and expertise needed to embark on transformative AI ventures. Yet, it is precisely these challenges that fuel our determination to pave the way for startups and businesses alike, offering not only innovative AI solutions but also the support and infrastructure necessary to propel them towards success.