Learn, Unlearn and Relearn Mantra to Success
In a candid interview with Md. Muyeedur Rahman, Samsung Electronics Bangladesh's General Manager & Head of Business, we take a look at some intriguing details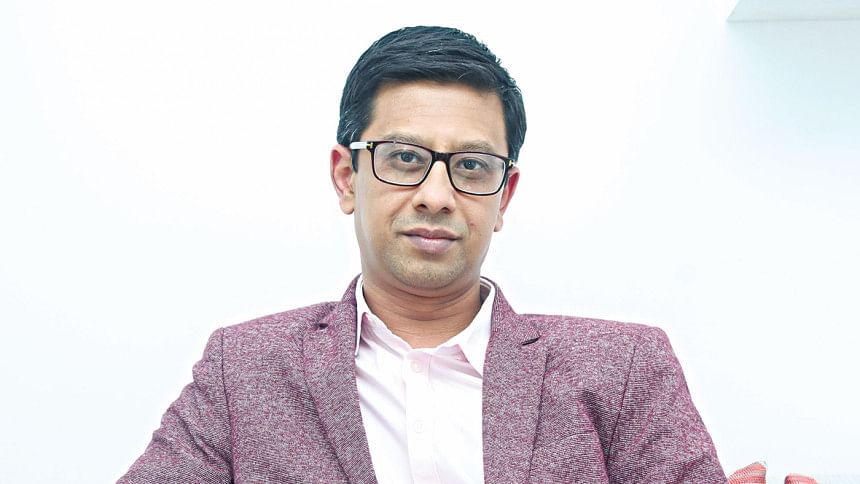 In a candid interview with Md. Muyeedur Rahman, Samsung Electronics Bangladesh's General Manager & Head of Business, we take a look at some intriguing details in terms of navigating the challenging corporate world through the lens of a seasoned business leader who is transforming and enhancing the business of arguably the biggest smartphone device company of the world, in Bangladesh. We also learn how he overcame obstacles throughout his career while shifting across various industries and enlightens the next generation of leaders to be successful in the future.
Q. You have been working for more than a decade with sales, marketing plans and strategies, route-to-market segments. What was one of the most challenging phases in your career till now?
For me, a challenge is something that has no fixed rules. When I started my career as an MNC in the FMCG industry, I was sent to a territory where I had to learn the local dialect and practices from scratch to acclimatise myself with the local community. Afterwards, I shifted industries and joined a telecom company which felt like an adrenaline rush for me. The FMCG industry works in one way while the telecom industry works in another way. When I joined Samsung, I had to learn how to work here as well as compete with others and also align with the company goals to cross the hurdles and go beyond my capabilities.
So how I embraced work depended on three transitions- learn, unlearn and relearn. Interestingly, every industry's language was different but the basics were the same. What I had to do was to avoid using any preconceived ideas from one industry and implement it in another industry. So it is essential to learn, unlearn and relearn to stay really competitive in the job market and add value simultaneously.
Q. What knowledge and skills do young professionals absolutely need during this era to succeed in the workplace?
I don't believe in any hard and fast rules when it comes to succeeding in the workplace. However, based on my personal experience, I believe that whatever work you do, you should do it with passion. It's one thing to get assigned work done while it's another thing to take ownership of the work and get it done to the best of your ability. When you add value on a regular basis, the company you work for will also start recognising your value addition.
Another thing that I personally follow is the mantra - learn, unlearn, relearn. It is vital to remain a student for a lifetime. This is particularly prevalent when you join a new organisation and will lead you to lose your competitiveness in the long run.
Last but not the least, humbleness is a necessity. While most people have some sort of ambition working for them, it is also vital to remain humble and stay grounded. Hence, you should always be your true self and deliver to your best ability.
Q. What's your take on the importance of mentoring in the workspace? How do you prefer mentoring your team members?
There are two ways in which mentoring can be carried out - organisational as well as personal mentoring. When it comes to the organisation, the first thing our company does is hand-pick the capable and competent youngsters into our teams. Our team is quite small but robust. Their competitive advantage is that they can bring fresh ideas to the table. The employees need to be able to match the global standards while staying competitive and learning fast. We also have our learning platform called Samsung University, where we can take different LinkedIn courses as well as various certification courses from world-renowned universities.
As a team leader, I always try to have a brief weekly coffee meeting at the start of the week to set the tone for the week's agenda and align them with the company priorities. I try to add value to their ideas so that they can disseminate them to their team members. We also have a team meeting at the end of the week to assess our performance for the entire week. Additionally, I assign short assignments to let them add value to the company through innovative ways.
One rule that we have in practice is the 50-30-20 rule. When an assignment or presentation or business case is made, we can use 50% of the components from previously proven cases, 30% from recently concluded campaigns which have room for improvement. 20% of ideas need to be new and innovative every time. This allows youngsters to experience a new dimension of challenges and keeps them motivated to work hard and come up with fresh ideas.
Q. What's your view regarding people not going into stable corporate careers, rather choosing entrepreneurship as their career path?
I believe that this is an individual choice. If someone can give proper service to an organisation, then that is what they should focus on. However, if their priority is to build something from scratch, then they can venture into the world of entrepreneurship.
When a country's economy prospers, startups play a vital role in this regard. The success and failure of startups will lead to a lengthy discussion and we can never draw a conclusion as to what's the best choice to start your career in. So yes, it is definitely an individual's independent choice as to where they want to build their career.
If someone can learn the fundamentals and processes from an organisation first and then implement those learnings into their own startup, then they can get the best return of investment from their business in the future. There are plenty of examples where entrepreneurs worked in leading organisations successfully and then built their own startups in the country as well.
Q. How do you maintain a work-life balance?
We all know why work-life balance is crucial. From our company's perspective, we believe in nurturing our employees for the long run. When you do an FDR in a bank, you do it for a certain time. Similarly, when you recruit a new employee, if you want to see the employee growing in the long run, then you should nourish and allow them to mature over time before seeking the returns immediately. Here at Samsung, we have our office from 8:30 AM to 5:30 PM with a strict workfree hour-long lunch. This is to ensure that we rejuvenate for the second half of the workday. Another interesting thing is employees are usually not allowed to stay late after office hours. Our office also has an interesting policy which dictates that we cannot take our laptops home after office hours. In the 7 years that I have been working at Samsung, I have received only one or two calls during a weekend; that too for prompt feedback for work-related emergencies.
Hence, I can speak from my personal experience that work-life balance is a shared responsibility and organisations can facilitate that further.
Transcribed by:  Tanzid Samad Choudhury