iPhone 15 Pro vs. Samsung Galaxy Z Flip 5: Which one should you pick?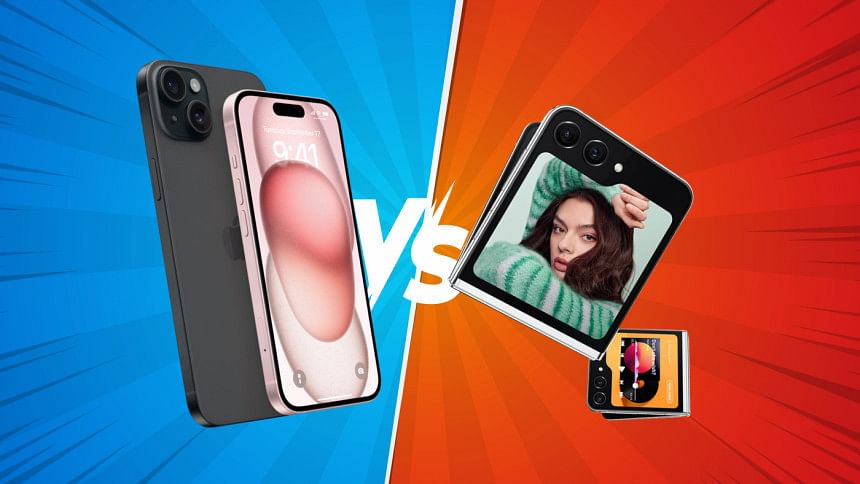 Apple's latest offering, the iPhone 15 Pro, boasts a series of enhancements over its predecessors, including a redesigned aesthetic and the introduction of the Dynamic Island. Meanwhile, Samsung's Galaxy Z Flip 5 showcases a captivating display, innovative design, and commendable battery life. With both smartphones now retailing at similar price points, this comparison aims to guide potential buyers in making an informed decision.
Design
When comparing these two flagship devices, a primary consideration is the preference for a traditional design versus a foldable one. The Galaxy Z Flip 5's foldable design offers increased portability, allowing it to stand at various angles. In contrast, the iPhone 15 Pro, with its compact dimensions, introduces a titanium body, offering both elegance and durability, a marked improvement over previous stainless steel models.
The Z Flip 5 employs ultra-thin glass for its primary display, shielded by a plastic layer, and Gorilla Glass Victus+ for its external screen. The iPhone, however, continues to use its Ceramic Shield for display protection. Notably, the iPhone boasts an IP68 rating for water and dust resistance, while the Z Flip 5 has an IPX8 rating, indicating a lack of dust protection. Apple's shift to a USB-C port and the addition of a programmable Action button are other noteworthy features.
Samsung has made significant enhancements to the Z Flip 5's durability and functionality. Its Flex Modes, for instance, allow for hands-free video viewing when placed on a flat surface.
Display
For those favoring larger screens, the Flip 5's 6.7-inch display might edge out the iPhone's 6.1-inch screen. The iPhone 15 Pro's Super Retina XDR OLED display promises vibrant colors and deep contrasts, while the Z Flip 5's Dynamic AMOLED display, renowned for its brilliance, supports HDR10+. Both devices utilize an LTPO panel, adjusting the refresh rate to optimize battery life. The iPhone's brightness peaks at 2000 nits, offering better visibility outdoors.
Biometric security varies between the two: the Galaxy features a side-embedded fingerprint scanner, while the iPhone 15 Pro continues with its Face ID technology.
Performance
The iPhone 15 Pro is powered by Apple's A17 Bionic chip, a pioneering 3nm technology, enhancing both performance and power efficiency. In contrast, the Galaxy runs on Qualcomm's Snapdragon 8 Gen 2, a 4nm technology, which, while impressive, slightly lags behind Apple's chip in performance metrics.
RAM and Storage
Storage options for the iPhone 15 Pro range from 128GB to 1TB, whereas the Flip 5 offers 256GB and 512GB variants. Both devices come with 8GB of RAM, but the iPhone's superior RAM management allows for more efficient multitasking.
Apple's ecosystem, with features like AirDrop and compatibility with devices like Apple Watches and AirPods, remains a strength. Android's advantages include enhanced customization, split-screen multitasking, and more. In terms of software updates, Apple promises a minimum of five years, while Samsung commits to four.
Camera quality
The iPhone 15 Pro's camera system remains a highlight, with its 48MP primary camera offering unparalleled detail and color accuracy. The inclusion of a 12MP ultrawide and a 12MP telephoto lens further enhances its capabilities. The Z Flip 5, while not as advanced, offers dual 12MP cameras and a unique rear-facing camera setup optimized for selfies.
Video capabilities differ as well. The Z Flip 5 supports 4K recording at 60FPS with a broad dynamic range, while the iPhone 15 Pro, powered by the A17 chip, offers enhanced low-light video and Action mode. Advanced workflows, including ProRes video recording and compatibility with Capture One, make the iPhone a compelling choice for professionals.
Battery life
Despite its smaller 3274mAh battery, the iPhone 15 Pro, thanks to optimized software and the efficient A17 Pro CPU, is expected to outlast the Galaxy Z Flip 5's 3700mAh battery. However, frequent use of the Flip 5's cover screen, which consumes less power, might narrow this gap. The Z Flip 5 also introduces a 4.5W reverse wireless charging feature, allowing users to charge accessories like earbuds directly from the phone.
Both the iPhone 15 Pro and the Samsung Galaxy Z Flip 5 offer a plethora of features, with the final choice resting on individual preferences and brand loyalties.