Dhaka Motor Show 2023: A glimpse into the future of local automobile scene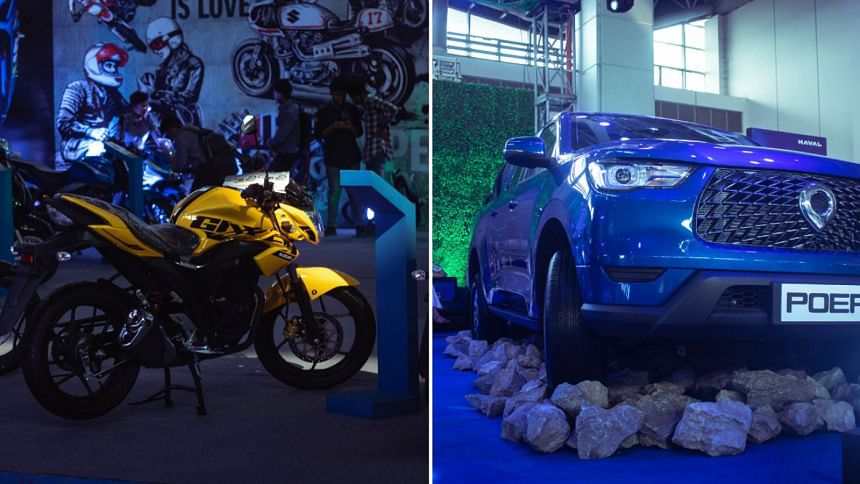 One of the most celebrated automotive shows of the country returned for its 16th instalment, where, like every year, local automotive manufacturers showcased the latest cars, bikes and other aftermarket supporting parts for vehicles. Besides the new releases, there have also been a few tuner cars to look for as well. 
This year, Dhaka Motor Show and Bike Show was held in the Bangabandhu Bangladesh China Friendship Exhibition Center in Purbachal where plenty of new cars, trucks and bikes were showcased from manufacturers such as Toyota, Haval, Suzuki, Bajaj, Fortland, Tata, Proton, etc. There were also heaps of Chinese parts manufacturers and major lubricant companies such as Mobil, Petronas and Omera showcasing their newest advancements in automotive technology.
In the event, Toyota introduced two new cars, alongside many other models, in the sub-compact and compact SUV segment, with the Veloz, a 1.5-litre four-cylinder, and the Raize, which comes in a 1.0-litre turbo or a 1.2-litre respectively. Proton also showcased two new cars: the Saga, which is manufactured exclusively in Bangladesh, and the X50 SUV. 
Tata, on the other hand, had a whole fleet of vehicles, with trucks and cars, where the company announced their new Nexon and Tigor fully Electric Vehicles (EV) - an SUV and a hatchback, respectively. Tata also announced new models of trucks and showcased refreshes of their existing models. 
Haval was also there with their new Jolion and H6 with PHEV models, and also a new pickup truck called the POER. There were many trucks in the showcase from Fortland and Foton, including an ambulance as well.
Bajaj also came with their new and updated three-wheeler models, with a fresh new CNG taxi and a three-wheeled small ambulance. There was also Team Kilo Flight from KUET with their updated racecar with jute panels, with which they will be competing in the upcoming Japanese Student League.
When it comes to bikes, there were plenty of new models from Bajaj, with their updated Discover series and Pulsar NS160 with a new body design and colours. There were also plenty of bikes from Suzuki, with their new Gixxer SF, Avenger and GSXR. Apart from the bikes, there were also plenty of accessories to accompany them with high-quality helmets, jackets and riding gear from LS2 and Steelbird.
There were also many spare parts and accessories such as bearings, gears and hand tools showcased in the show, mostly from Chinese manufacturers of cars, trucks and bikes. There was also a fair share of genuine lubricants sold on the show at a discount, from brake fluids to gear oil, everything was there. All in all, this year's Dhaka Motor Show lived up to the promise of brand-new features in the world of automobiles.