10 Minute School raises $2m seed funding
Online educational platform 10 Minute School has raised $2 million in seed funding from Surge, Sequoia Capital India's rapid scale-up programme, to increase investment in product and technology.
The investment makes 10 Minute School the first EdTech company in Bangladesh to secure funding from Surge. Sequoia Capital India is a venture capital firm which backs early-stage startups focusing on technology, healthcare and other sectors.
The development gives hope amidst local education startups turning unsuccessful in attracting global investors despite the huge potential created by the pandemic.
Although local startups received at least $163 million in foreign funding in 2021, only Shikho's $1.3 million seed money can be deemed a notable investment in the online learning segment.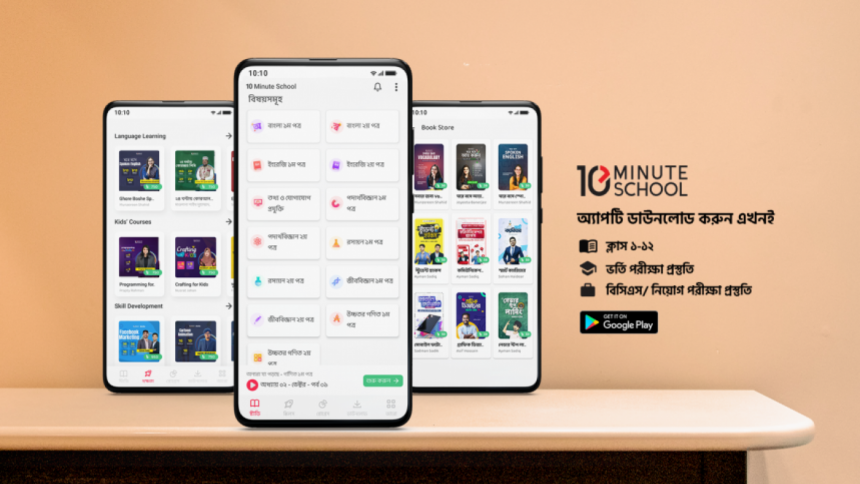 On the other hand, Indian online learning platforms received billions of dollars in 2021.
"Logistics and fintech has so far attracted global investors. But, I think 2022 will be the year for online education platforms as the pandemic has proved the importance of online education," Ayman Sadiq, founder and CEO, 10 Minute School, told The Daily Star.
"We have experienced an unprecedented twelvefold business growth in our platform in 2021 during the pandemic. And the number of our employees now stands at 300, up from 60 in the end of 2020," he said.
The past year marked a significant year of growth for 10 Minute School, with more than 9 million new learners joining the platform, 8 million learning hours delivered and over 17,000 new videos added to its learning ecosystem.
The app (10ms.app) has recently surpassed 3 million users, making it the largest learning app in the country.
"The growth is a strong validation from our users who experienced our learning contents," said Sadiq.
"Sequoia Capital India's Surge joining us as our first investor is a very humbling experience for the team, and it further validates our vision for democratising access to high quality education for all in Bangladesh," he said.
"We want to double down on our growth trajectory this year while creating an unparalleled learning experience for our students," he added.
Jointly founded by Sadiq and Abdullah Abyad Raied in 2015, 10 Minute School, in a statement, said it was on a mission to democratise education for all in Bangladesh.
The platform, which has now over 25,000 classes and skills courses, wants to launch live coaching classes for students from classes V-XII and test paper courses for HSC and SSC examinees.
It also seeks to offer complete admission and BCS programmes, a whole series of interactive academic books for classes III to XII and 25 more sought-after upskilling courses in the first quarter of 2022.
The 10 Minute School sees an immense opportunity to help support the existing education system of the country, which has 43 million students today, the statement added.
The team also aspires to contribute to the upskilling of its significant youth population of 5 million, leading to increased employment and demographic dividends for the country.