A brief recap of how local startups fared in 2022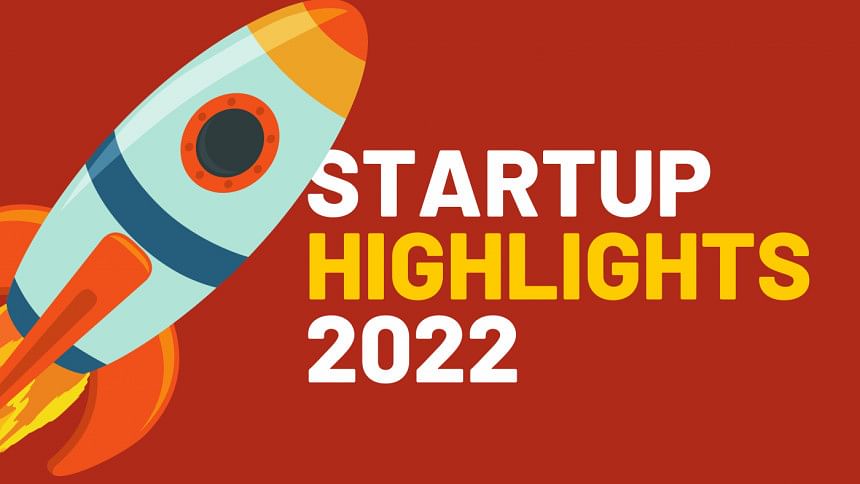 The local startup scene has seen its fair share of ups and downs in 2022. Here's a quick glance at the startup highlights of 2022, from ShopUp raising another $65M to its funding to local startups seeing a decline in foreign investments.
ShopUp's expansion
In June, the country's largest business-to-business (B2B) e-commerce platform raised $65 Million in its latest round of fund-raising as it looked to ramp up its operation by bringing small neighbourhood groceries and small retail shops online.
Previously, ShopUp raised $75 Million in series B in 2021, which was led by Peter Thiel's Valar Ventures. 
The startup also launched its new headquarters at the capital's SKS Tower in Mohakhali, which has a massive capacity of 60,000 square feet.
Edtech startups on the rise
Earlier in January, online educational platform 10 Minute School raised $2 million in seed funding from Surge, Sequoia Capital India's rapid scale-up programme, to increase investment in product and technology.
The investment made 10 Minute School the first EdTech company in Bangladesh to secure funding from Surge. Sequoia Capital India is a venture capital firm which backs early-stage startups focusing on technology, healthcare and other sectors.
Jointly founded by Sadiq and Abdullah Abyad Raied in 2015, 10 Minute School is on a mission to democratise education for all in Bangladesh.
On the other hand, edtech startup Shikho raised another $4 million in new seed funding in March, bringing its total round to USD 5.3 million, the largest seed funding a Bangladeshi startup has raised to date. 
The investment was led by Wavemaker Partners, a leading venture capital firm in Southeast Asia, with participation from seven other global investors. 
Shikho is an edtech startup which is contributing towards a localised digital learning ecosystem focused on modernising the delivery of the Bangladeshi National Curriculum and making it fit for the 21st century.
Startup friendly National budget announcement?
In June, Finance Minister AHM Mustafa Kamal unveiled the Tk. 678,064 crore national budget for the financial year 2022-23. He put emphasis on the growing startup ecosystem of the country, with a special mention of how newer startup initiatives should be supported by the government through special incentives. 
According to the proposed benefits, local startups will be exempted from bindings of all types of reporting except submitting income tax returns. Startups will also be allowed to carry forward losses over a period of nine years. 
For startups, the government will also be withdrawing restrictions on expenditure and reducing the rate of turnover tax to 0.1% from 0.6% for the next fiscal year.
However, a disclaimer was added that startups older than 5 years will be unable to receive the benefits of the startup sandbox.
Moreover, Bangladeshi startups with 50% or more ownership under foreign investors will also be excluded from the exemption and benefits.  
Largest ever pre-seed funding in Bangladesh
In October, Agroshift, a Bangladeshi agri-tech that enables businesses to source directly from farmers, raised $1.8M in funding, making it the largest-ever pre-seed round for any Bangladeshi startup.  
The round was co-led by UAE-based Shorooq Partners, a leading technology investor in the Middle East, along with Anchorless Bangladesh, a New York-based early-stage venture capital firm active in the local startup ecosystem. 
Founded in March 2022, Agroshift helps farmers sell their products to businesses and consumers by merging the physical and digital worlds for a "phy-gital" business model, for demand aggregation, sourcing, and delivery. 
Decline in foreign investments
Due to rising inflation and widespread economic uncertainties, global venture capital firms have become cautious in providing funding worldwide. The impact has been felt in the local startup scenario as well. During the third quarter of 2022, Bangladeshi startups raised only $5 million, a significant decline of 93% year-on-year, according to LightCastle Partners, a business consulting firm which tracks Bangladesh startup funding.
The total amount received by Bangladeshi startups was around $104.4 million this year, according to data from LightCastle Partners.
The dream of locally assembled EV from a homegrown startup
In Bangladesh, where the automotive assembly industry is in its infancy, a local startup wants to change the scene. Palki Motors, a homegrown startup, plans to launch their very own locally assembled electric vehicle. 
Palki's flagship product is a four-door & four-wheel battery-swappable electric vehicle. Starting at a price Tk. 4.99 lakh, Palki has already generated quite a buzz amongst people seeking an affordable mode of transportation especially out of the capital. 
Palki plans to start delivering the first batch by the end of January 2023, upon receiving approval. 
With so many events taking place throughout 2022, we can hope that the coming year will provide more opportunities for the local startups to flourish further in the grand scheme of things.