A worrying picture of diabetes in Bangladesh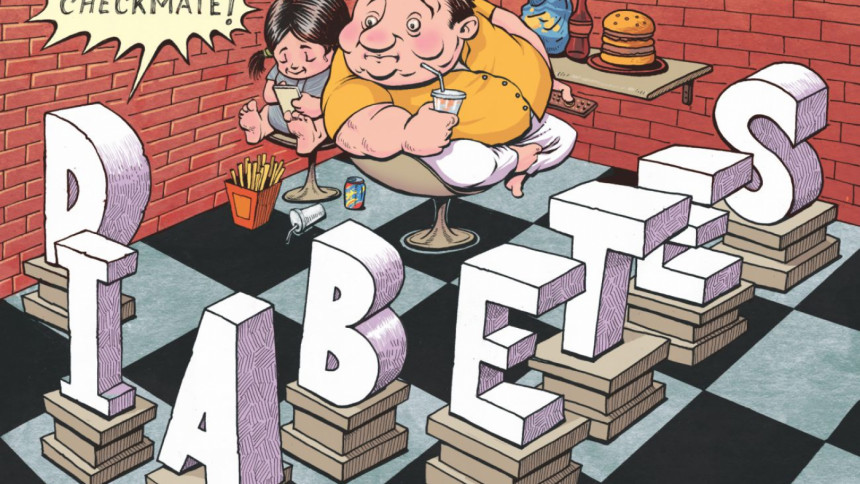 Ambia Khatun has been almost bed-ridden for the last one year. She has not even been able to take a walk in her neighbourhood or see her relatives as the right part of her body became numb since she suffered a stroke a year back.
"I can't even sit properly. The doctor said there are problems with my nerves," said Ambia, 65, a resident of the city's Hazaribagh, as she waited to see a doctor at Birdem General Hospital in Shahbagh on November 7.
Her son Asgar Ali said the illness of his mother since 2007 has been affecting the family's economic situation, with a daily expenditure of Tk 300 to Tk 400 for medication, and with caregiving taking up much of the family's energy. "But she is my mother. We have to take care of her."
Professor Dr AK Azad Khan, president of the Diabetic Association of Bangladesh, said medication, diet and exercise as prescribed by the doctor are a must to control diabetes.
"Otherwise, the patient can face life-threatening complications like heart attack, stroke, damages in kidney and nerve system, and blindness," he told this correspondent.
Some 80 lakh people in Bangladesh suffer from diabetes. It causes 6.4 percent of total deaths in the country, said Professor Azad.
A survey by the Bangabandhu Sheikh Mujib Medical University (BSMMU) on 2,000 adults in Dhaka slums in 2016 found 19 percent adults (15.6 percent men and 22.5 percent women) had diabetes.
"This indicates a rising trend of diabetes in urban areas," said Dr Md Khalequzzaman, assistant professor at the Department of Public Health and Informatics at BSMMU.
Diabetes occurs either when the pancreas does not produce enough insulin (a hormone that regulates blood sugar, or glucose), or when the body cannot effectively use the insulin it produces. Unhealthy food habits, obesity, physical inactivity, genetic and environmental factors are responsible for diabetes, he said.
RISK FACTORS IN BANGLADESH
Underweight babies have a high risk of diabetes, which is very relevant to Bangladesh, said physicians.
At least 22.6 percent babies in Bangladesh are born with low birth weight (below 2.5kg), according to the National Low Birth Weight Survey Bangladesh 2015.
Low birth weight is linked to child marriage and malnutrition of mothers, said Professor Azad and suggested that ensuring mothers' nutrition during pregnancy can play a major role in preventing diabetes.
Another major factor, he said, is unplanned urbanisation in the cities where people have very limited scope for physical activities. Even in the rural areas people now take rickshaw vans or other rides to go to marketplaces.
In addition, people are eating fast food such as burgers and pizzas and consuming soft drinks that have high levels of sugar and fat.
"Eating more fat and sugar and absence of physical activity means you face a high risk of diabetes," he said, stressing on massive health awareness and regulations for changing people's lifestyles.
"In developed countries you won't find fast food joints around schools, but we have restaurants everywhere," Professor AK Azad said.
EXPENSIVE DISEASE
Once one gets diabetes, he has no way of turning back. His best option is to control it which is also costly.
According to a study by icddr,b in 2016, diabetes patients had two times more days of inpatient treatment, 1.3 times more outpatient visits and 9.7 times more medications than those who don't have diabetes.
The study found that annual per-capita expenditure on medical care was 6.1 times higher for diabetic patients than non-diabetic ones (USD 635 vs USD 104 respectively). 
"When you have diabetes, you need medication. When people develop complications like stroke, nerve or kidney damages, their sufferings and expenses are extremely high—more than what the common people can bear," said Professor Azad.
He said patients of type-1 diabetes, which is genetic, can't survive without insulin.
"Having access to insulin, therefore, has become a human rights issue for those suffering from type-1 diabetes," he said.
People from low-income groups who cannot buy insulin have only one option: death, unless insulin is made available to them through charity.
"I would therefore make an appeal to the government to provide free insulin to poor people suffering from type-1 diabetes. They have a right to life," Professor Azad opined.
GOVT PRIORITY ON DIABETES, OTHER NCDS
Professor Dr Abul Kalam Azad, director general at the Directorate General of Health Services (DGHS), said the government has prioritised diabetes and other non-communicable diseases including heart, cancer and respiratory diseases, which have now become major health challenges.
Under the fourth Health, Population and Nutrition Sector Programme for 2017-2021, the government has begun screening of blood sugar, height, weight, pressure, cancer, etc, in community clinics and upazila health complexes and maintaining these records.
"In all our health programmes we are now emphasising upon physical activities, food habits and lifestyle changes. Eventually, we will do more to address the challenges that these diseases bring," Professor Abul Kalam told The Daily Star.
Dr Khalequzzaman of BSMMU said usually the oral glucose tolerance test (OGTT) method is used to diagnose diabetes. For this, one needs to fast for at least eight hours for a test and then take glucose and wait for another two hours for a second test. Many people face challenges to follow this procedure and refrain from screening diabetes.
However, the glycated haemoglobin (HbA1c) method does not require the candidate to fast for eight hours or take glucose and he or she can have the test done by the HbA1c method any time. Therefore, it can be used for mass screening of diabetes, he added. HbA1c which has been found consistent to that of OGTT in a research in Bangladesh, he said.
"Some 40 lakh people in Bangladesh are estimated to have undiagnosed diabetes. The government can conduct mass screening by HbA1c so that people can follow the diet and lifestyle to control diabetes and protect themselves from developing further complications associated with diabetes," he said.