Extraordinary Achievements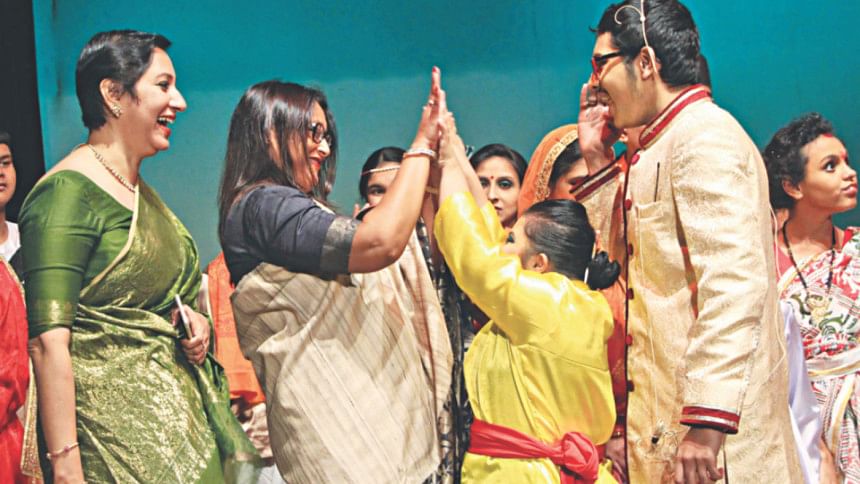 Saima Wazed
International Champion Award
Prime Minister Sheikh Hasina's daughter Saima Wazed was awarded the International Champion Award for her outstanding contribution to fighting autism by New York-based School and Center for Children with Autism.
In April 2017, she was designated as the "World Health Organisation (WHO) Champion for Autism" in South-East Asia and, in July, was chosen as the Goodwill Ambassador of the WHO for autism in South-East Asia Region.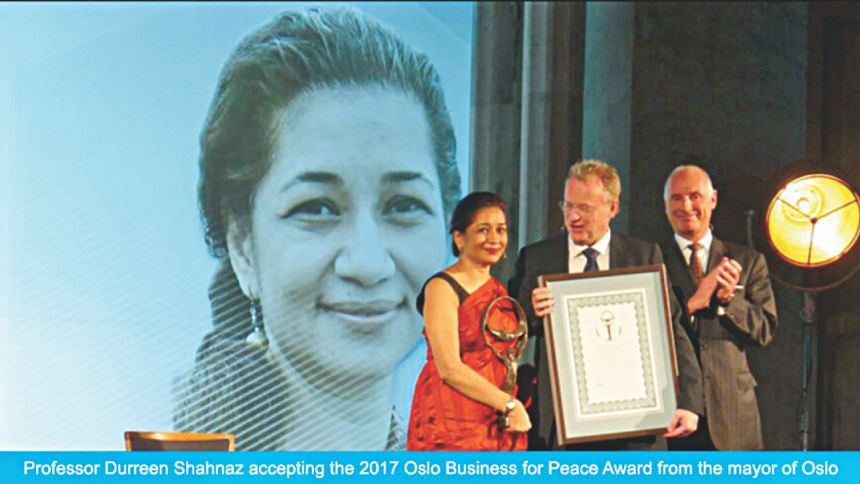 Durreen Shahnaz
2017 Oslo Business for Peace Award
Durreen Shahnaz, founder of Singapore-based impact enterprise Impact Investment Exchange (IIX) and IIX Foundation, having been selected as a 2017 Oslo Business for Peace Award honouree, became only the third Bangladeshi to receive the award.
The first Bangladeshi woman to work on Wall Street, Shahnaz received the award on May 16 in Oslo for her commitment to promoting an evolved form of capitalism that values both financial returns and positive social and environmental impact. Her company created a social capital market in Asia over eight years, connecting investment to development and unlocking millions of dollars for high-impact enterprises, which in turn have left their mark on more than eight million lives.
In a career spanning over two decades, she has built a track record as a successful academic, banker, media executive and social entrepreneur.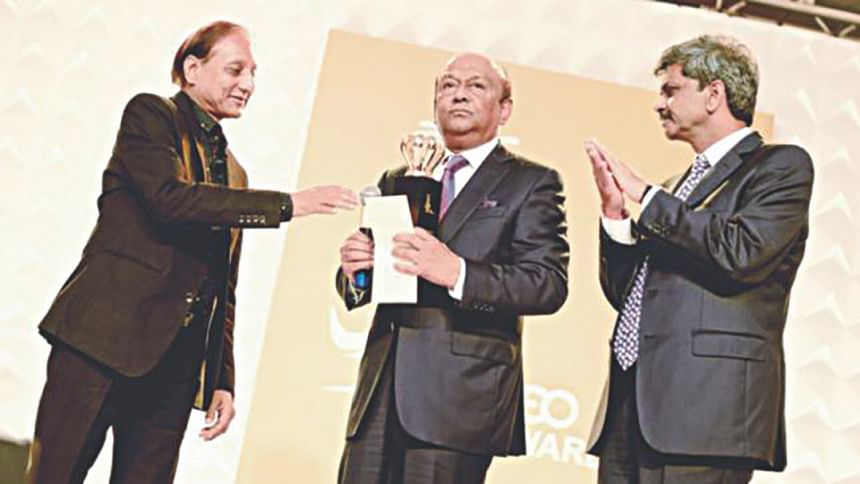 Latifur Rahman
SAARC Outstanding Leader Award
Transcom Group Chairman Latifur Rahman was honoured with the prestigious "SAARC Outstanding Leader" award in July for setting a "rare example" of doing business by upholding moral values while also fulfilling the organisation's social responsibilities.
Ravi Dhariwal, former chief executive officer of The Times of India, India's largest newspaper group, at the Taj Lands End Hotel in Mumbai, handed over the award to Rahman, who became the first non-Indian ever to receive the award.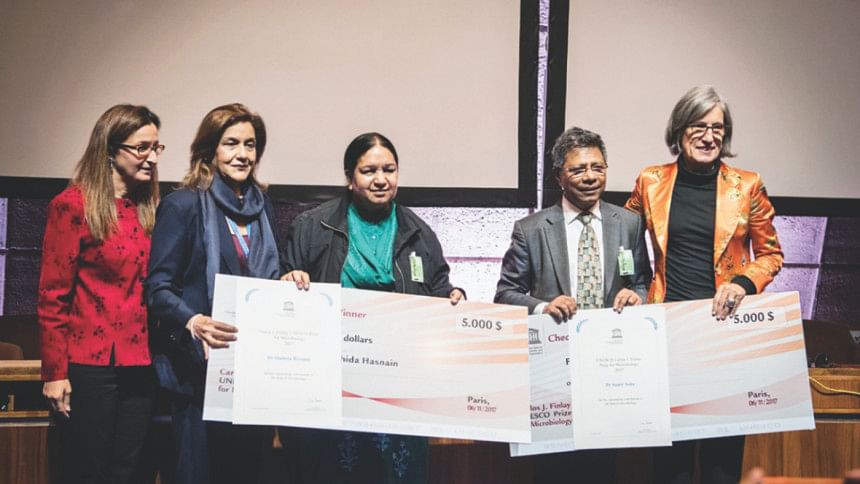 Professor Dr Samir Saha
UNESCO Carlos J Finlay Prize in Microbiology
Professor Dr Samir Saha, an eminent Bangladeshi microbiologist received the UNESCO Carlos J Finlay Prize in Microbiology which is given to scientists with research and work that signify an important contribution to the field of microbiology.
He was given the award on November 6, 2017 at the 39th session of the General Conference of UNESCO for playing a key role in the implementation of vaccines in Bangladesh against bacteria responsible for meningitis and pneumonia, having a direct impact on children's health. He was also awarded the American Society for Microbiology Award for Research in Clinical Microbiology in 2017.
Tahmima Anam
O Henry Award
Internationally acclaimed and award-winning author Tahmima Anam was one of the winners of the prestigious O Henry Award in 2017 for her short story Garments. Her award-winning story formed part of the 2017 O Henry Prize Stories Anthology, published by Anchor Books in September.
Also in 2017, she was elected as a Fellow of the Royal Society of Literature (RSL), the patron of which is Queen Elizabeth II. To be nominated for fellowship, a writer must have published two works of literary merit, and nominations must be seconded by an RSL fellow.
In December 2017, RSL also announced that she would be one of three judges for the upcoming RSL Ondaatje Prize 2018.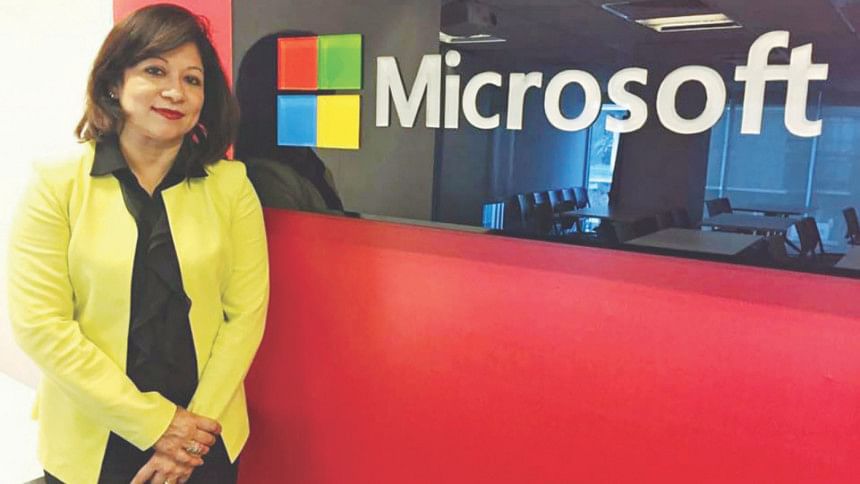 Sonia Bashir Kabir
SDG award
Sonia Bashir Kabir, managing director of Microsoft Bangladesh, was recognised as a Sustainable Development Goals (SDGs) pioneer by the United Nations Global Compact for her immense contribution to the empowerment of the country's women in the IT field.
She is an ardent advocate of digital literacy for women and has led various programmes to increase their participation in the IT sector, including arranging micro-loans for women to found IT businesses through Microsoft.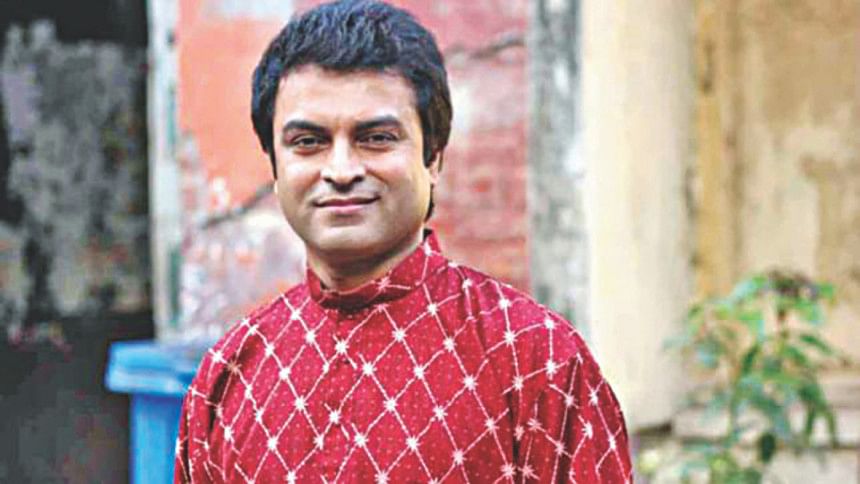 Shuvro Dev
Mother Teresa Award for Social Justice
Singer Shuvro Dev was conferred the Mother Teresa International Award by the Mumbai-based Harmony Foundation, which acknowledges the work done by individuals towards establishing peace and harmony. The award, granted to people for taking a stand against oppression and injustice, was conferred to the singer for his unparalleled contribution to Bengali music.
Shuvro Dev was one of three Bangladeshis to win the prestigious award in 2017, joining many illustrious names from all over the world who had earlier won the award, including Prime Minister Sheikh Hasina, Nobel Laureates Dalai Lama and Malala Yousufzai and former Malaysian Prime Minister Dr Mahathir Mohammed.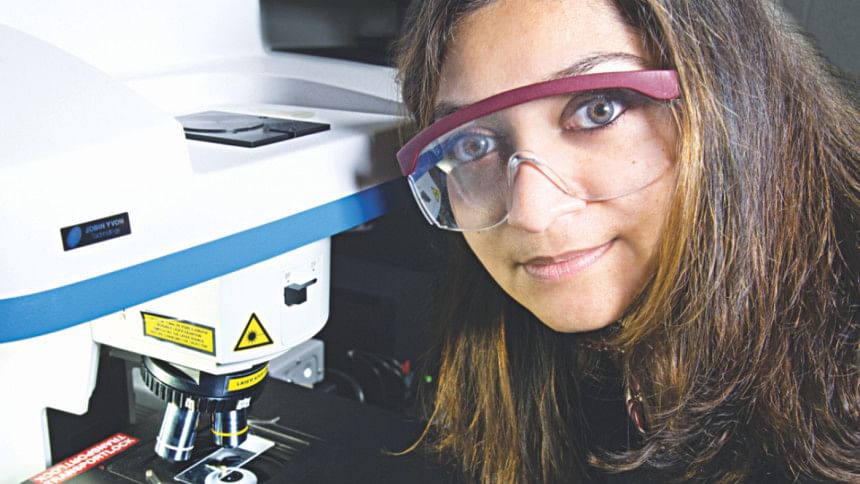 Mahmooda Sultana
2017 "IRAD Innovator of the Year"
Bangladeshi-born Nasa research engineer Mahmooda Sultana was named as the 2017 "IRAD Innovator of the Year" for her groundbreaking work advancing nanomaterials and processes to create small, potentially revolutionary detectors and devices for use in space.The annual award, according to Nasa, is given for achieving significant results creating technologies under the Goddard Space Flight Center's Internal Research and Development, or IRAD programme.
Mahmooda has received many other Nasa awards and honours. To add to her impressive list of achievements, she was recently named the associate branch head of Goddard's Instrument/Payload Systems Engineering Branch.
After successfully competing for 10 awards under IRAD programme and having compiled an impressive list of accomplishments, including the creation of advanced sensors, she now represents Nasa in national and regional nanotech councils.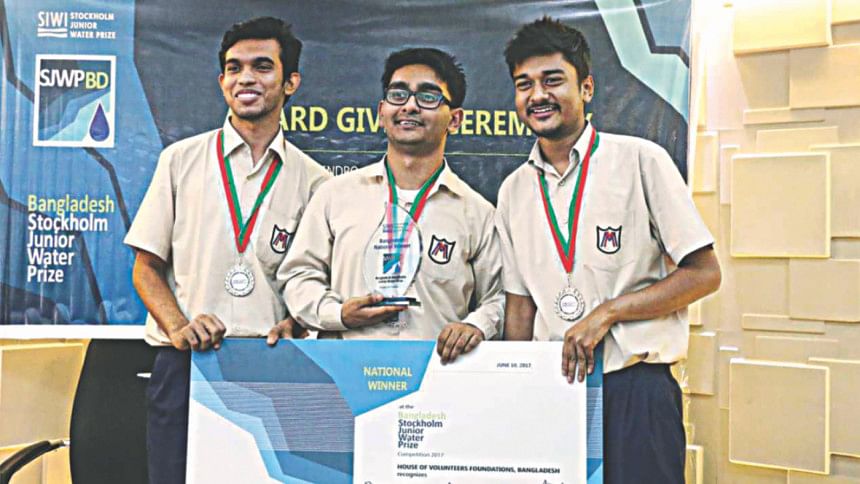 Mastermind School students
Stockholm World
Water Week Award
Bangladesh team comprising of three students from Mastermind School won an award at the Stockholm World Water Week. Aniruddha Chowdhury, Arnab Chakraborty, and Rituraj Das Gupta were awarded a "Diploma of Excellence" for their project which showed a more efficient way to remove dyes from textile industry discharges, using a composite of titanium dioxide and cheap, locally sourced chemicals.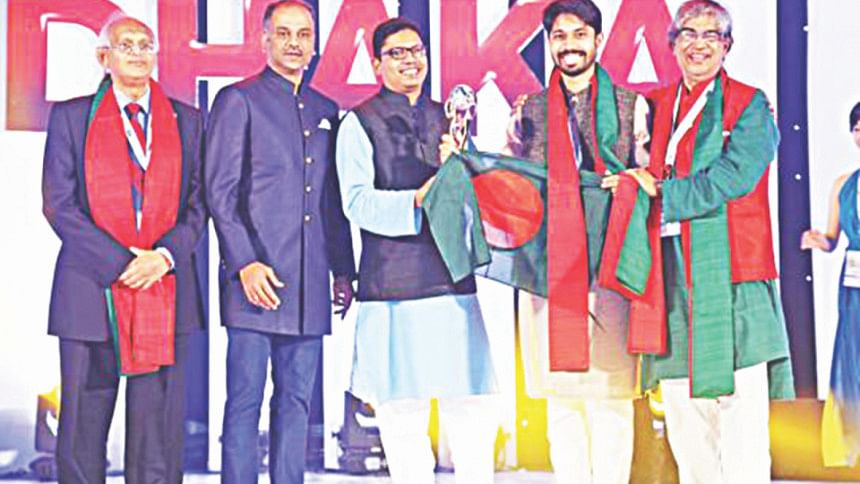 10 Minute School
Asia-Pacific ICT Award
The "10 Minute School" became the nation's first entity to have won the Asia Pacific ICT Alliance award, which is presented under the e-learning category. Ayman Sadiq, chief executive officer and founder of "10 Minute School," recently also won the Queen's Young Leaders Award 2018, which recognises exceptional young people from across the Commonwealth.
Currently, there are 1.5 lakh students taking support from his platform, which comprises live classes and quizzes and has 3,452 online video tutorials.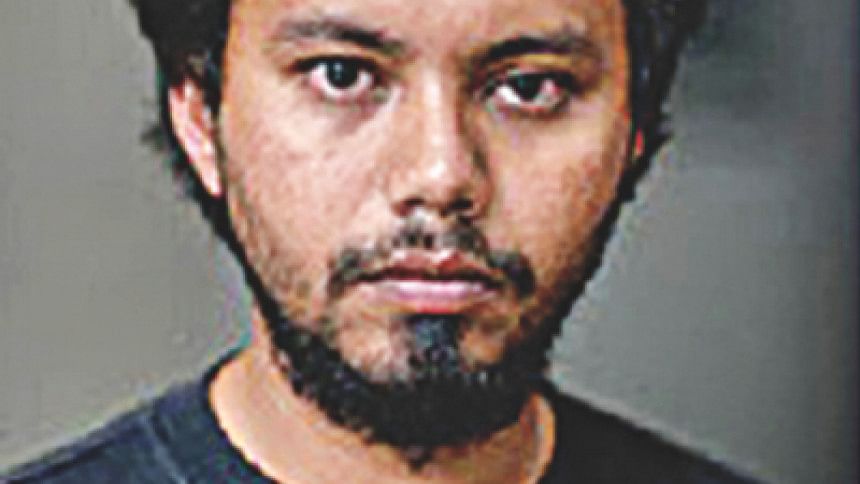 Sadman Shahid
WPPF's "Joop Swart
Masterclass" Award
Young Bangladeshi photographer Sadman Shahid was honoured with the World Press Photo Foundation's (WPPF) "Joop Swart Masterclass" 2017 award, which aims to find "the world's most talented emerging visual journalists and is designed to support and enhance diversity in visual journalism,"according to WPPF.
Shahid and 11 others were chosen as winners of the award from among 187 competitors who were named in the initial selection process.
Arif Yousuf
World's Independent Film Festival
(TWIFF) Award
Expatriate Bangladeshi filmmaker, Arif Yousuf, won the World's Independent Film Festival (TWIFF) award in Best Documentary Feature category for his documentary named "Blockade."
The documentary is based on a series of little-known true events that happened in the US during Bangladesh's Liberation War, starting in June 1971, when The New York Times published a story about two Pakistani military ships which were coming to the Eastern Seaboard of the US to load up arms supplied by the US government, without Congressional approval and despite official ban.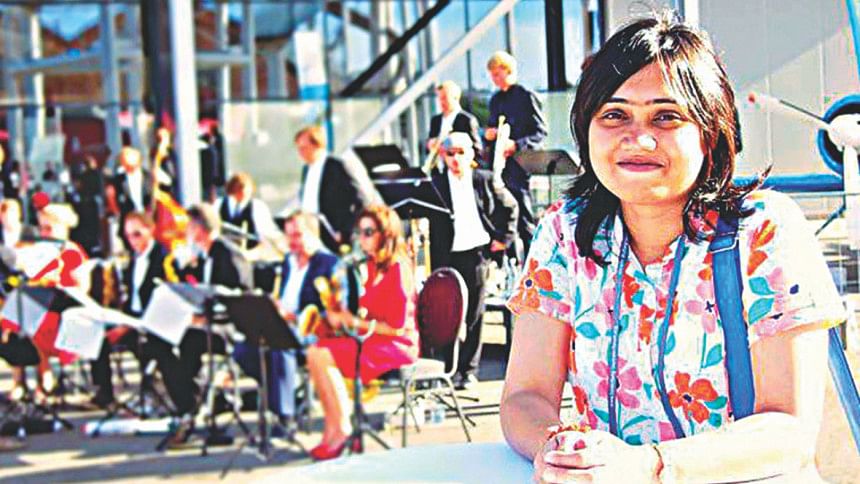 Professor Tanzima Hashem
2017 Elsevier Foundation Awards
Tanzima Hashem, an associate professor at Bangladesh University of Engineering and Technology (BUET), was among five researchers who won the 2017 Elsevier Foundation Awards for early-career women scientists in the developing world for their research in engineering, innovation and technology.
Professor Hashem developed "computational approaches" to protect the privacy of people accessing location-based services. According to Asian Scientist, the award recognises her new and innovative solutions which allow citizens to have control over their personal and sensitive data on health, habits and whereabouts.
Ekushey Padak 2017
Seventeen eminent personalities received the Ekushey Padak 2017 in recognition of outstanding contribution in their respective fields.
The awardees are Professor Dr Sharifa Khatun (language movement), Shushama Das (music), Julhas Uddin Ahmed (music), Ustad Ajijul Islam (music), Tanvir Mokammel (film), Syed Abdullah Khalid (sculpture), Sara Zaker (acting), Abul Momen (journalism), Syed Akram Hossain (research), Professor Emeritus Sr Alamgir Mohammad Sirajuddin (education), Dr Zamilur Reza Choudhury (science and technology), Professor Sr Mahmud Hasan (social welfare), Late Poet Omar Ali (language and literature), Sukumar Barua (language and literature), Swadesh Roy (journalism), Shamim Ara Nipa (choreography), and Rahmatullah Al Mahmud Selim (music).
Independence Award 2017
The government named Bangladesh Air Force and 15 persons for the Independence Award 2017 for their outstanding contributions at national level.
The awardees are Group Captain (retd) Shamsul Alam Bir Uttam, Ashraful Alam, Shaheed Md Nazmul Huq, late Syed Mohsin Ali, Shaheed NM Nazmul Ahsan, Shaheed Faizur Rahman Ahmed and Bangladesh Air Force (independence and Liberation War), Prof AHM Touhidul Anowar Chawdhury (medical science), Begum Rabeya Khatun and late Golam Samdani Koraishi (literature), Prof Enamul Huq and Ostad Bazlur Rahman Badal (culture), Khalil Kazi OBE (social service), Shamsuzzaman Khan and late Prof Lalit Mohan Nath (research and training) and Prof Mohammad Asaduzzaman (public administration).
Khondaker Abu Talha
Faraaz Hossain Courage Award 2017
Daffodil University student Khondaker Abu Talha, who heroically gave his life trying to fight muggers in Dhaka, was conferred with the "Faraaz Hossain Courage Award 2017."
The 22-year-old showed exceptional courage by refusing to be a mere onlooker when he saw criminals mug two passengers on a rickshaw near his house on the morning of October 8. Talha managed to save the lives of the two, but lost his own as one of the muggers stabbed him when he tried to stop them.
For his act of valour, Talha was posthumously granted with the award.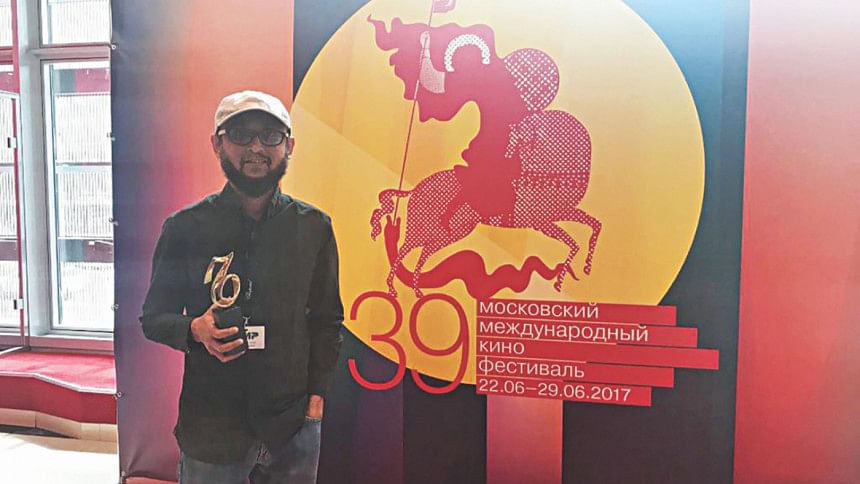 Mostofa Sarwar Farooki
Kommersant Jury Prize and Dubai Film Market Award
Mostofa Sarwar Farooki was awarded with the Kommersant Jury Prize for his film "Doob: No Bed of Roses"at the 39th Moscow International Film Festival. A Bangladesh-India joint production, the film also won the Dubai Film Market Award.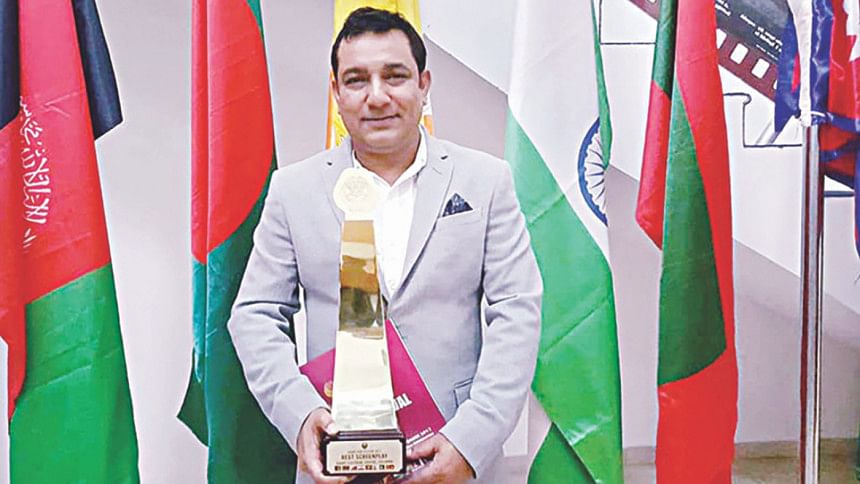 Tauquir Ahmed
SAARC Film Festival 2017
Eminent filmmaker Tauquir Ahmed won the coveted "Best Screenplay" award at the SAARC Film Festival held in Colombo, Sri Lanka from November 21 to 25 for his film "Oggatonama"(The Unnamed). Earlier, it had won the Special Mention Award at the 19th edition of Religion Today Film Festival 2016 in Trento, Italy and a special jury mention at the Gulf of Naples Independent Film Festival on May 21 in 2016.
In 2016, the film was also selected as Bangladesh's entry for the Best Foreign Language Film at the Oscars.