Promoting the rights of girls and women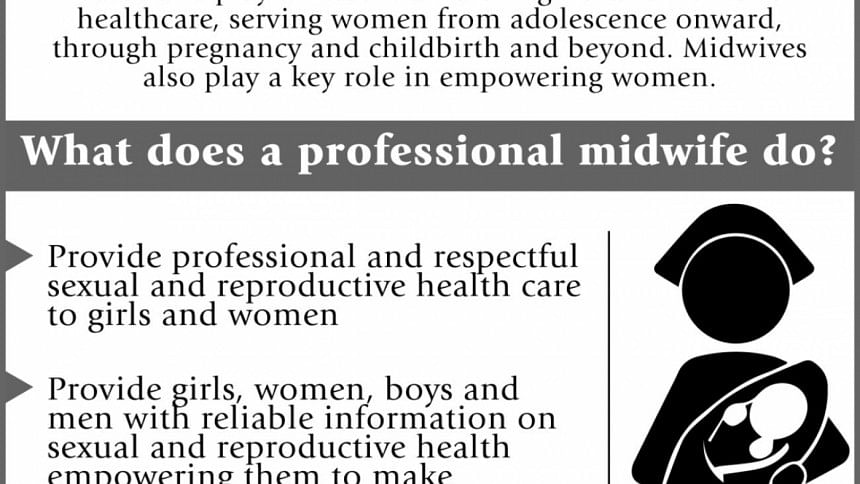 The situation for girls and women in Bangladesh is changing for the better, especially in terms of economic participation. The past decades have brought in significant improvements, including in terms of labour force participation or access to better sexual and reproductive health care, as evidenced by a drop in maternal mortality ratios. However for women from poor, marginalized communities, and those living in remote locations, reproductive health related morbidity and mortality remains a serious challenge.
Entrenched patriarchal norms and low prioritization of rights of girls and women have detrimental effects on social and health outcomes. Such outcomes include child marriage and early child-bearing, other forms of gender based violence, limited access to competent skilled birth attendance and emergency obstetric care, gaps in evidence based respectful maternity care, limitations in access to screening and treatment of illnesses including reproductive cancers, denial of right to family planning as well as gaps in educational attainment.
The global Sustainable Development Goals (SDGs) directly address and call for universal health care, including sexual and reproductive health, and gender equality:  SDG 3: ensure healthy lives and promote well-being at all ages, which includes universal access to sexual and reproductive health reducing maternal and neonatal mortality, and SDG5: achieve gender equality and empower all women and girls, as well as working towards reduced inequalities (SDG 10).
One pivotal approach to achieving the SDGs is the development of a cadre of professional midwives and integrating them into the national health system. Professional midwives are globally recognized as experts on sexual and reproductive and as champions of rights of women and girls. Professional midwives combine ancient traditions of advocating for, and nurturing women, with modern science and technology.
Bangladesh has recently introduced the cadre of professional midwives. The advent of this cadre can be attributed to the commitment made by the Honorable Prime Minister in 2010 towards the UN Secretary General's Every woman, Every child initiative,and is already making a difference in the lives of women and girls in rural Bangladesh. Approximately 1200 midwives are currently deployed in government health facilities in rural areas.  More midwives have also taken up deployment through NGOs to serve in some of the remotest areas that are also most affected by disasters.
Midwives are starting to provide respectful midwifery led continuum of reproductive health care in Bangladesh. Inclusive in this care are family planning, ante-partum, post-partum and newborn care, nutrition counselling, normal delivery services, menstrual regulation, cervical cancer screening, and clinical management of sexual violence services. Midwives strive to respect the wishes of girls and women, promote health, and minimize complications and interventions.
Through the continuum of care provided by professional midwives, rights of women and girls to quality reproductive health services have been strengthened in Bangladesh. Women and girls receiving midwifery services are empowered through the provision of information and access to compassionate care. The knowledge and awareness midwives can provide to girls and women will contribute towards greater control over their fertility, better health seeking behavior, satisfying child birth experience and overall improved reproductive health.
Midwives can also contribute towards ensuring:
* Girls and women are respected as a people of value and worth
* Girls and women have a right to the security of their bodies
* Girls and women are free from discrimination and receive updated health information
* Girls and women have a right to participate actively in decisions regarding their own health care and can provide informed consent
* Girls and women have a right to privacy and can choose where to give birth.
Pregnancy is a time of particular concern for women and girls. Globally, complications of pregnancy or childbirth lead to the loss of a woman's life every two minutes. In Bangladesh maternal causes contribute to 15 women dying every single day. These tragedies, are for the most part completely preventable, and the world has remedies at hand to avert such deaths. Having a professional midwife present during delivery for instance can ensure that early warning signs of possible complications are detected at an early stage and managed in consultation with doctors and hence decreasing the risk of mortality. From a health economics perspective, midwives are considered as the best buy to provide quality reproductive health services. More data substantiates the value added by midwives to national health systems:
* Estimates show that about two-thirds of all maternal and newborn deaths can be avoided where there are professional midwives at hand to provide support to mother and baby.
* Evidence shows that midwives who are educated and regulated to international standards can provide 87 per cent of the essential care needed by women and their newborns.
* Investing in midwifery education and deployment to community based services can potentially yield a 16 fold return on investment in terms of lives saved and costs of caesarian sections averted.
* Midwifery care covers more than just assistance during delivery, but is in fact an integral part of universal health coverage.
The establishment of the midwifery cadre has opened up a new career path for girls in Bangladesh. Currently professional opportunities for midwives exist in government, NGO, private service and even as an entrepreneur. A respected midwifery profession will attract talented and ambitious young people who are committed to empowering women by improving the quality of sexual and reproductive health care. 
Together with the Bangladesh Midwifery Society, UNFPA has started reaching out to girls in secondary schools to raise awareness for the profession and its potentials. With international partners including Sweden, the UK and Canada new opportunities are being established allowing midwives to pursue master degrees in sexual and reproductive health and enabling them in future to ascend to higher level academic and clinical posts in the public and private sectors.
Midwives can provide optimum services only when they are given a conducive working environment. Unfortunately, global experience reveals that too often midwives, as women caring for women, face effects of the same entrenched patriarchal values that affect all women.   Midwives risk facing low and irregular pay, harassment and disrespect, and a limited enabling environment. By empowering midwives and enabling them to be part of decision- and policy-making processes in the field of sexual and reproductive health, important insights can be gained and women's needs can be better taken into account.
The International Confederation of Midwives (ICM) has called on governments to globally recognize and support accessible and effective midwifery care as a basic human right for all women, babies and midwives. ICM believes that women have a right to a midwife as the most appropriate care provider in most situations and midwives in turn have a right to obtain adequate education, regulations to foster their practice and associations to forward their mission. Bangladesh has already taken the first steps in realizing this goal but more can be done to accelerate progress. An opportunity exists for Bangladesh to demonstrate its fullest commitment to the rights of girls and women by ensuring the success of the midwifery profession.