Literature
Prof. Anisuzzaman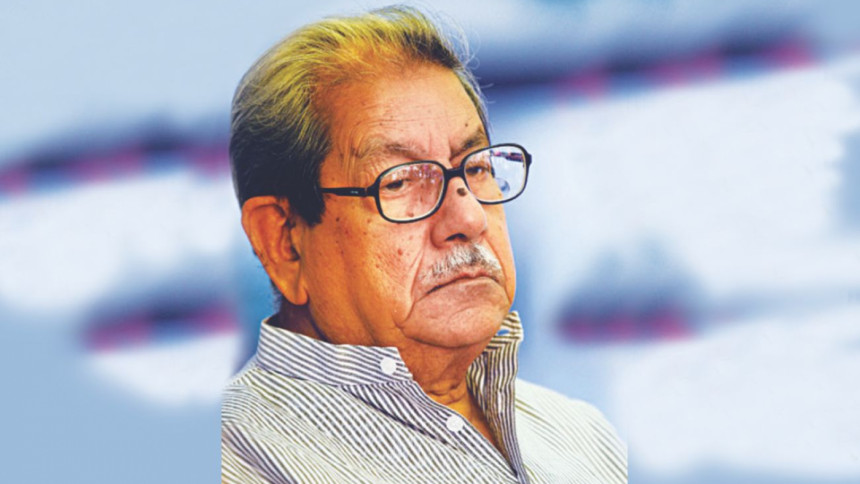 PROFESSOR ANISUZZAMAN, an eminent writer and educationist, was born on February 18, 1937 in Calcutta. He grew up in a family that nurtured writing. His father Dr. ATM Moazzem was a homeopathy practitioner who loved writing in his free time. His grandfather Sheikh Abdur Rahim, a journalist and writer, wrote a biography on Prophet Muhammad (pbuh). Anisuzzaman turned to writing at an early age. His first piece of writing -- a story -- was published in Nowbahar, a literary magazine, in 1950. After completing his HSC from Jagannath College, he enrolled in the Bangla department of Dhaka University. He had a distinguished academic career at the University of Dhaka from where he obtained his BA (with honours in Bangla in 1956), MA (1957) and PhD (1962) degrees. 
Dr Anisuzzaman has also studied and taught at a number of renowned international universities. He was a Post-doctoral Fellow at the University of Chicago (1964-65) and a Commonwealth Academic Staff Fellow at the University of London (1974-75). In his long illustrious career, he has served as a professor of the Bangla Department in both Universities of Dhaka (1959-69, 1985-2003, 2005-08) and Chittagong (1969-85). At present, he is a Professor Emeritus at the University of Dhaka. 
His writings on our national identity and educational, religious, historical and social reconstruction are considered a treasure trove by the country's academics. His books such as Muslim Manash O Bangla Sahitya, Swaruper Sandhane, Purono Bangla Gadya, Bangali Nari: Sahitye O Samaje, Kal Nirabadhi, and Ihajagatikata O Anyanya are considered seminal works by academics working on Bangla literature and language.
Prof. Anisuzzaman actively participated in all the progressive movements the country has witnessed. He made a notable contribution to the Language Movement in 1952. He also participated in the mass uprising in 1969 and actively took part in the War of Liberation in 1971. He was a member of the Planning Commission to the Government of Bangladesh during the Liberation War and a member of the National Education Commission set up by the government after Liberation. He was bestowed with the noble responsibility of drafting the Constitution of Bangladesh in Bangla in 1972. He also served as Chairman of the Trustee Board of the Nazrul Institute and is currently the President of the Bangla Academy.
Besides taking part in different movements, he has consistently raised his voice whenever our language, culture and national identity have been at stake. During 1967 when the information ministry wanted to limit broadcasting Tagore songs on radio and television, he and Munier Chowdhury, along with 17 other intellectuals, collected signatures for a petition and published it in several newspapers.
Prof. Anisuzzaman has received many awards in recognition of his contributions. He has been awarded with Nilkanta Sarkar Gold Medal from the University of Dhaka, Dawood Prize for literature from the Pakistan Writers' Guild, Bangla Academy award for research, and the Ekushe Padak, bestowed by the state for his contribution to education. He has also received Ananda Puraskar from the Ananda Group of Publications, Kolkata, an honorary D. Lit. by the Rabindra-Bharati University, Kolkata, Sarojini Basu Medal by the University of Calcutta, Pandit Iswarchandra Vidyasagar Gold Plaque and Rabindranath Tagore Birth Centenary plaque from the Asiatic Society, Kolkata. He was awarded the prestigious Padma Bhushan by the Indian Govt.