ShareTrip and the rise of smart travelling in Bangladesh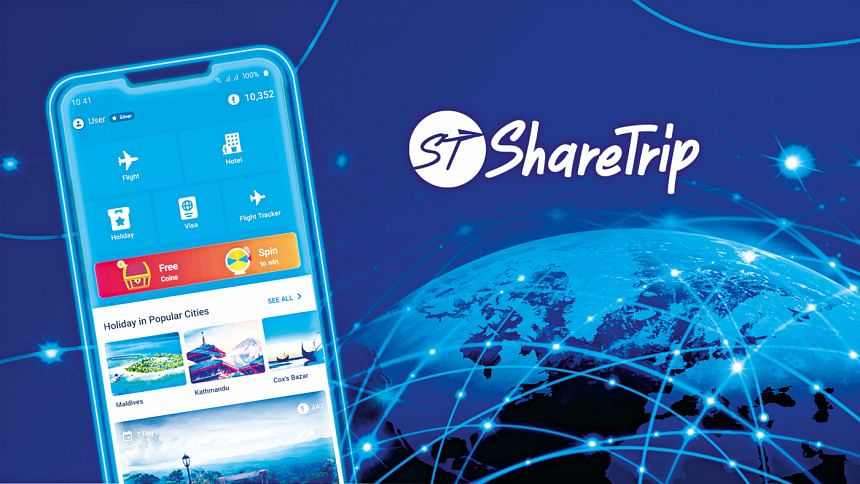 The age of the internet has changed how travellers plan their trips and pick their destinations. Travellers can now research potential destinations online, as opposed to a traditional brick-and-mortar travel agency. Travellers in Bangladesh are also starting to rely more on online travel agencies as they become more tech-savvy, often relying on nothing but their smartphones. And local online travel agencies like ShareTrip are leading the way in this smart transformation of Bangladesh.
With the aid of their in-house tech team, ShareTrip, the first locally created travel app in Bangladesh, revolutionised the way people planned their vacations, whether they were domestic or international. By utilising the biggest tour operators, hotel distributors, and flight distribution systems in the world, ShareTrip offers its users unlimited flexibility when choosing their vacation destinations and plans, with over 2.5 Million international hotel inventory, more than 1500+ domestic hotels, and hundreds of combinations of flights to every country at their fingertips. Their extensive involvement in the travel industry ensures that their clients have access to a wide range of seamless, reliable travel options.
In 2014, when it started its journey as Travel Booking BD, the industry was still just taking off. But soon, the business started to rein in a new era of travel. It rebranded itself and unveiled a cutting-edge app and website with an end-to-end travel solution after receiving funding, giving travellers a more comprehensive experience.
The app managed to gain the trust of over 400,000 users within a year of launch, rating highly in both the Play Store and the App Store. Right now, the mobile app accounts for about 70% of their traffic. Currently, ShareTrip serves 2 million customers and the app has been downloaded over half a million times.
Users can check the status of any flight using the flight tracker in the ShareTrip app and website. When applying for a visa through ShareTrip, users can check the status of their application through a visa tracker. Additionally, there is a helpful blog feature tagged with Travel Advisory services that visitors can access before or during the planning of their trips. These features are helping users make smarter travel choices every day, and in the process, are transforming the entire industry.
ShareTrip plans to add a number of other value-added features to its core offerings in the upcoming days that will improve users' travel planning experiences. Future app updates will include features for flight cancellation and refunds, enabling travellers to manage their entire itinerary directly from the app—enabling them to make even smarter travel choices without any hassle.
ShareTrip also introduced the first-ever loyalty program in the travel industry of Bangladesh. Travellers can earn and win TripCoins from the ShareTrip App and Web and redeem it to get amazing discounts. For the first time in the country, a Flight Tracker and Visa Application Tracker were brought forward to ease the traveller's effort. While travelling abroad, if anyone needs a Covid-19 test, they can easily book from ShareTrip. For travels within the country, ShareTrip is ensuring various health-related protection through Insurance coverage. Soon Baggage claim protection will be introduced to facilitate travellers.
Apart from serving individual travellers, ShareTrip is also aiming to create a comprehensive smart travel ecosystem with its expanding foray into the B2B mode. According to ShareTrip, efforts towards a smart Bangladesh start with empowering B2B entrepreneurs to give better service to offline travellers who are the majority.
Due to their reliance on conventional offline agents, thousands of offline agents during the Covid-19 pandemic were in danger of going out of business. To pull them out of this, and to utilise the prevalence of offline travel choices among users, ShareTrip allows B2B agents to be greatly integrated with offline first customers. Currently, over 8000 B2B agents are working alongside ShareTrip to digitise travel.
Due to the prevalent offline nature of travel in Bangladesh, most businesses in this sector are not able to leverage the internet penetration boom in the country. As the first Online Travel Agency (OTA) in Bangladesh, ShareTrip understands the task of facilitating growth in the online travel sector. That is why, ShareTrip is partnering up with the Government of Bangladesh's flagship venture capital firm, Startup Bangladesh Ltd., to digitalise the industry in alignment with Vision 2049.
From empowering remote entrepreneurs to informing customers how to travel easily in a digital world for a bargain, ShareTrip is bridging the divide prevalent in the industry and the partnership with Startup Bangladesh will allow ShareTrip to transform the travel industry into a meaningful contributor to GDP growth achievement.
"Although the tourism and hospitality sector in Bangladesh is expanding, much work remains to be done. Bangladesh is becoming a more popular travel destination worldwide in addition to a growing number of Bangladeshis who are expressing a serious interest in travelling abroad. ShareTrip is opening up new possibilities for continuous digital integration as it pioneers the future of efficient, tech-savvy inbound and outbound travel," shares Sadia Haque, CEO of ShareTrip.
ShareTrip's tech-forward attitude means they understand the underlying technology and can adapt according to the unique customer behaviour of Bangladeshi travellers. With a laser focus customer experience, ShareTrip is making sure the journey is as pleasurable as the travel destination itself.
Since its inception, ShareTrip has made a relentless effort to completely transform and digitise the country's travel industry. ShareTrip is determined to revolutionise tourism in Bangladesh, as evidenced by its exceptional growth over the past few years and its dedication to its users. This will not only change how a new generation of smart, tech-savvy Bangladeshis think about travel, but it will also have a significant economic impact on the country as a whole.