Rise High Bangladesh at UIU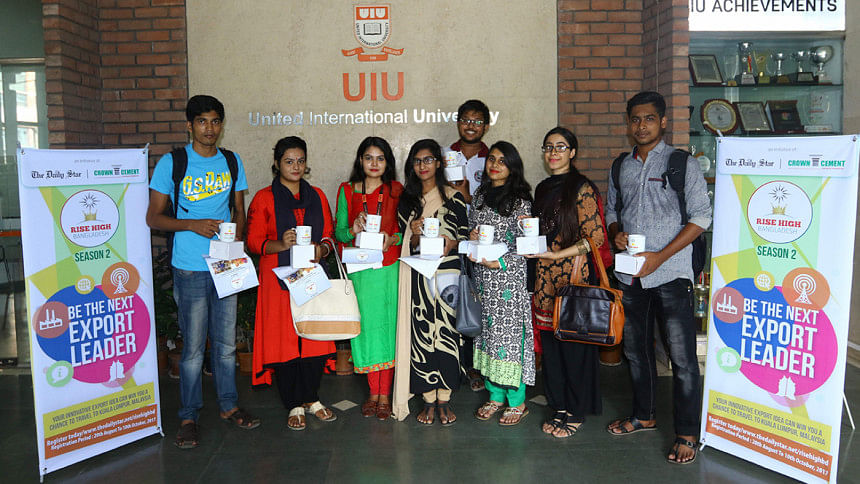 With the promise of promoting fresh and innovative export ideas, Season 2 of the 'Rise High Bangladesh' contest started a campus activation programme yesterday simultaneously in Dhaka and Chittagong.
In Dhaka, the programme took place at the campus of United International University (UIU).
The event started at 10:00am and went on until 5:00pm yesterday. All day long the premises were crowded with students learning about the initiative and participating in fun games for which they were awarded on the spot.
Mahinul Haque Mahi, a student of business administration, after successfully solving a puzzle game expressed his joy, "I got a clue card containing information about an oil-exporting country of Asia. I successfully recognised it as Saudi Arabia. This puzzle game motivates me to develop my geographical knowledge."
Despite regular classes and examinations, a great number of students approached the booths set up on the premises to inquire about the initiative. The Rise High volunteers explained the objectives, incentives, and rules of participation.
Tanzila Khan from the business administration department said, "I have already set up my mind to join the contest. Bangladesh has a rich heritage of clay products. If we make an ingenious export plan, these products will find a good market."
Majedul Islam Noyon of the electrical and electronic engineering department informed that he had already thought of different ideas to expand exports, while Sanzida Yasmeen of the business administration department has already fixed 'Craft' as her export idea topic.
The university authorities responded positively when asked about the initiative. Professor Dr Md Rezwan Khan, Vice Chancellor of UIU, suggested that this type of competition should be organised in every campus on a regular basis. He said, "Idea is the most valuable product. Inspiring university students to develop their own export idea is a great initiative."