Rise High Bangladesh at East West University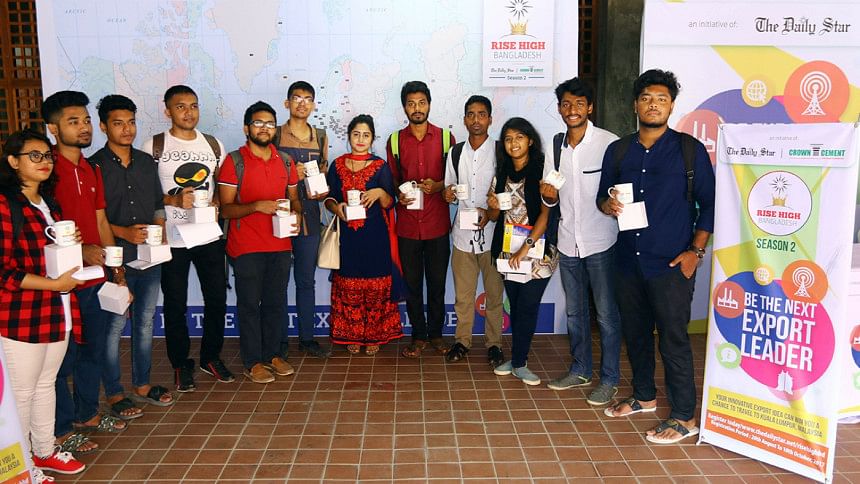 When an event that seeks to promote creative and innovative potential of young people is organised in a distinctive manner, it is bound to stir up curiosity and interest among students. That is exactly what happened when the export idea contest 'Rise High Bangladesh' reached East West University on September 27, 2017. The daylong event was held at the university campus.
The event area was decked with banners and posters, which included details regarding the contest. Despite regular classes and semester final exams, a large number of students approached the booths set up at the campus premises before and after their class. Volunteers of Rise High explained the objectives, incentives and rules of participation to the students.
After winning the puzzle game, Snigdha Haque of the Pharmacy Department excitedly responded, "I must appreciate this contest. It is really inspiring and educative. I got a clue card containing information about an export product of an Asian country. I successfully recognized the country as Japan. You need a good knowledge of geography to score in the game. I am very glad to be a part of the winners. I am also looking forward to participate in the idea contest."
Unsurprisingly, the puzzle-solving game attracted a large crowd where the participants were required to pick a clue card, containing export information of an unnamed country; all they had to do was to identify the country in the world map.
Another winner Ehsanul Sharif from the Electrical and Electronics department said, "I have already set up my mind to join the contest. I am interested in submitting a project on electronic products .This is really a great opportunity for the young talents to showcase their creativity."
The university authority responded very positively and thanked the organisers for taking such an well-timed initiative.