Rise High Bangladesh at Khulna University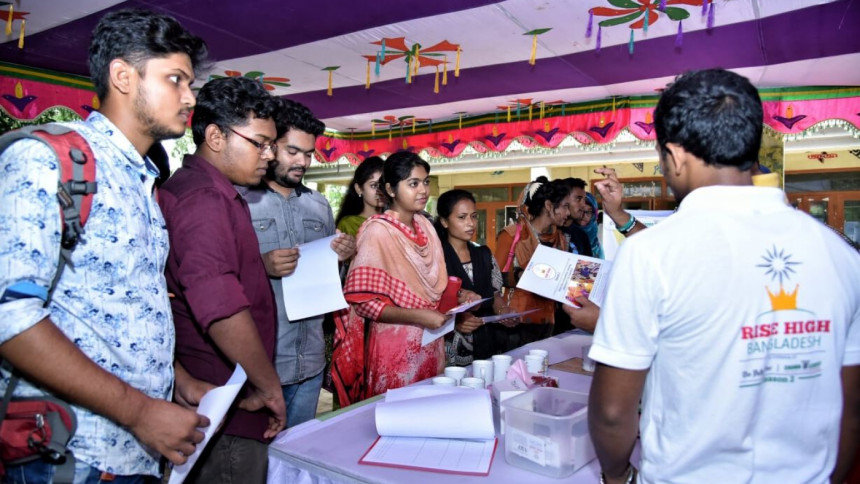 As part of the campus activation programme, the season 2 of export idea contest "Rise High Bangladesh" reached Khulna University (KU) on September 26, 2017. Far from the crowd of Dhaka, the activation programme experienced huge participation from the students of the University.
The event started at 10:00 am and went on until 5:00 pm. The Rise High volunteers decorated the activation spot with posters, banners, and placards which contained details about the contest. All day long the premises were crowded with students learning about the initiative and participating in fun games for which they were awarded. The most interesting part of the program was the puzzle-solving game where participants picked a clue card, containing export information of an unnamed country and they had to identify the country on the map.
After winning the puzzle solving contest, Niloy of Architecture Department said, "It was an exciting experience and I enjoyed it thoroughly. It was also educative for me. I learnt about import preferences of different countries from the game."
Three friends- -Tanvir, Ahsan and Rownok of the Forestry and Wood Technology department--- joined the programme with great enthusiasm. Rownok mentioned 'Chuijhal' as an example of a local resource that can be exported.
Vice-Chancellor of Khulna University, Professor Mohammad Fayek Uzzaman, highly appreciated the initiative. He said, "Entrepreneurs can bring positive changes to the socio-economic condition of the country. This kind of competition promotes entrepreneurship among students."