Rise High Bangladesh at IUB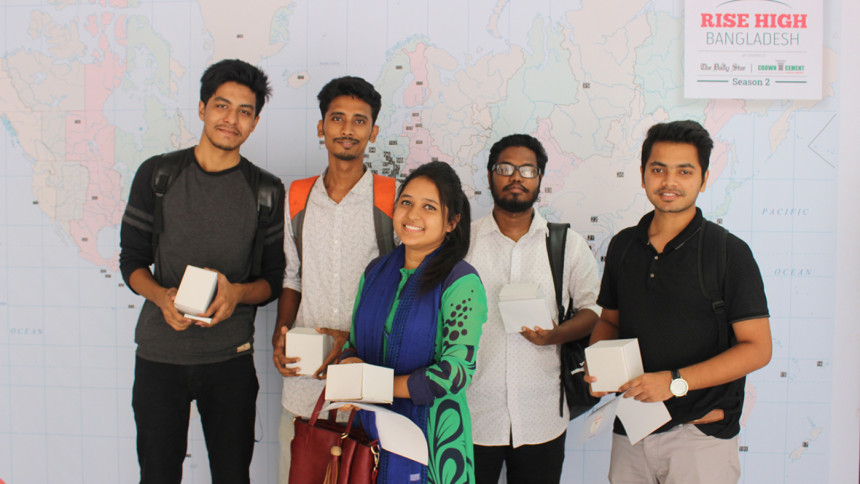 To sustain and accelerate the momentum of growth in the export sector, Bangladesh needs innovative ideas to diversify its export basket and find new export destinations. With the aim of harnessing young minds in this enterprise, Season 2 of the export idea contest 'Rise High Bangladesh' reached Independent University, Bangladesh campus on September 25, 2017. A large number of students participated in the activation programme.
The programme started at 8 am and continued until the end of the working day. The venue was decorated with posters, banners, and placard which contained details of the contest. A large number of students approached the booths set up at the campus premises before and after their class.
The Rise High volunteers were available and eager to explain the objectives, incentives and rules of participation to the students. Unsurprisingly, the puzzle-solving game attracted a huge crowd where participants were required to pick a clue card, containing export information of an unnamed country; all they had to do was identify the country. Successful participant were given prizes.
Maliha Chowdhury, a student of Business Administration, after winning the puzzle solving contest, expressed excitedly, "It requires good knowledge of geography to score in the game. I am glad to be a part of the winners".
Fahimul Haque, from Computer Science and Engineering department shared, "I must appreciate this initiative for creating a platform to listen to the young minds. I have already set up my mind to join the contest. I am interested in submitting a project on digital marketing apps."
The university authority responded very positively when asked about the initiative. Vice-Chancellor of IUB, Professor M Omar Rahman said, "Bangladeshi is a dynamic nation. We have an enthusiastic young generation who are ready to risk their career for a new enterprise. All we need is to equip and support them."