A defiant show of identity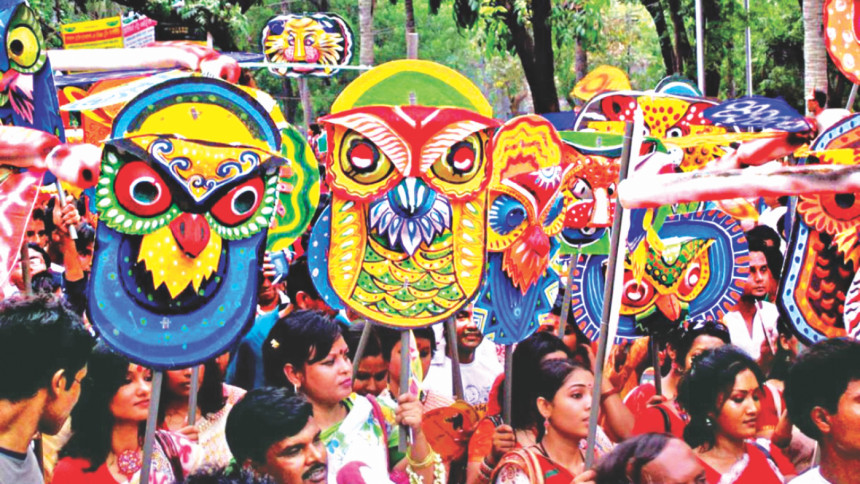 A first time visitor to Dhaka on April 14 will be delighted by the undeniable festive mood that this city is adorned with. Most striking will be the number of women and girls wearing beautiful, colourful, mostly Bangladeshi saris, many of them sporting floral garlands on their heads and the characteristic teep on their forehead.
For the first time visitor this will seem like a city of vibrancy, music and camaraderie. A celebration that transcends religious and ethnic differences to include everyone, anyone who wishes to usher in a new year. And what could be more visually stunning than the procession of men, women and children, the vibrantly painted, flamboyant masks and papier mache figures that are carried through the streets from Charu Kola (Institute of Fine Arts, Dhaka University). A tradition promoted by artists, the Mangal Shobha Jatra is the procession that symbolises the ushering in of a brand new year and all the optimism and joy that it brings.
What this visitor will probably not know is that the increased enthusiasm for Pahela Baishakh celebrations is for some, a statement and in a sense, a defiant reassertion of an identity that seems to be beleaguered by all kinds of unforeseen onslaughts.
With the introduction of foreign culture that seems to hold more glamour and glitter, Bengaliness has taken a good bashing as tastes go through inevitable changes. At gaye holuds, a mandatory pre-wedding ceremony for Bengalis, the usual Bengali wedding songs have been replaced with racy song and dance numbers from popular Hindi films. Saris are being replaced by other garments that are more acceptable in certain circles.
Perhaps the most disturbing onslaught, however, is the spread of ultra-rightist sentiments that border on bigotry and give leeway for an artificial dichotomy between culture and religion. There will be tongues wagging and shaking of heads, for instance, at the 'pagan' nature of the Pahela Baishakh procession, the 'blatant display of female beauty' – and those disturbing red dots on the forehead. There seems to be a growing amnesia of the fact that Bengaliness had never been in conflict with religiosity, that modesty and wearing a sari were never contradictory, that music and spirituality have always been inseparable partners. That traditions originally based on religious rituals eventually become part of secular tradition.
This is because while we were sleeping Intolerance like a cunning vigilante, was waiting for the right moment to insidiously reach out its tentacles of hate into hearts and souls. Intolerance, with its roots in patriarchy, is a malaise that refuses to die as it feeds on the insecurities of chauvinistic minds and thrives on the notion that the only way to gain power is to control women and break their 'wild' spirits – if it is through a religious perspective, no matter how distorted, all the better. For religion is something that can never be questioned in the world of the bigoted and misogynistic.
Thus culture and religion have been made artificial enemies giving the Bengali identity a confusing and ambiguous hue. On most streets it is not a common sight anymore, to see a woman in a sari. If there is one she will attract unwanted attention in the form of vulgar comments and perverted leers. It may make her think twice the next time she ventures out in this garment.
Hence this beautiful, elegant garment that was once the most popular and practical choice of attire for home, work and celebration has become something that is worn, if at all, only on special occasions. Like Pahela Baishakh. Only a small minority of women have held on to the tradition of wearing a sari all the time like a second skin. For it is this six yard cloth that holds their history, their heritage, their joys and sorrows, their struggle to establish who they are. This cloth carries with it the tumult of war, the sorrow of losing loved ones, the joy of independence, the solace from speaking and singing in one's mother tongue, to adorn oneself in a garment that is enmeshed with the idea of freedom. Thus on Pahela Baishakh, provided misogyny is not let loose into the celebrating crowds, there will be women on the streets clad in their saris, along with those in other attire, resplendent in Baishakhi colours. There will be flowers in their hair and teep on their foreheads and their faces will bear a smile - of joy and resolution - to preserve their most precious possession - their identity.
The writer is Deputy Editor, Editorial & Op-ed, The Daily Star.