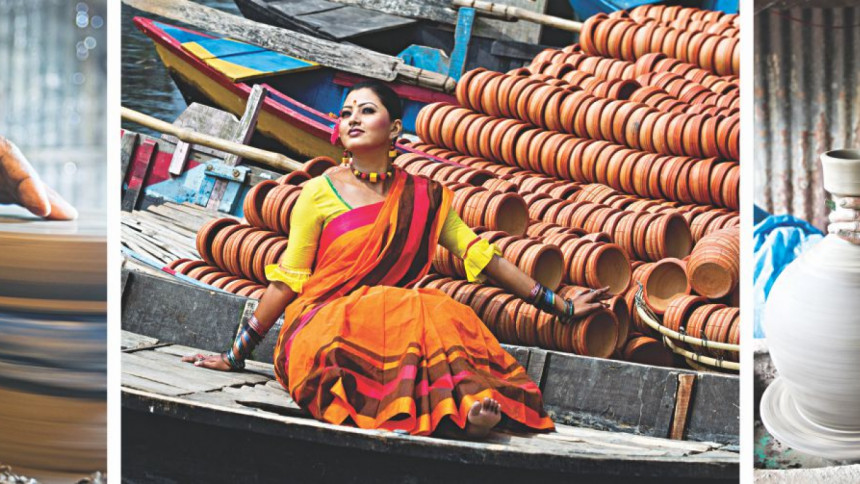 You know how most children throw tantrums to tag along with their moms on every mundane shopping errand or even the ladies' lunch outings? This was way back in time, when Sanjana was just 10, the year around 1978. She moped around waiting for her mother to return from one such shopping expedition; she planned to ask her mother take her to 'Capital Store' in Baitul Mukarram to buy her favourite candies. Sanjana was dedicatedly collecting the fancy printed candy wraps, found in polka dots, checks and floral prints, and thus far she had added just 12 to her trove. 
Though her candies did not come that day, her mom brought a beautiful terracotta-bead strand and put it around her neck; it was from this new store in Dhanmondi called Aarong. The shiny candy wraps were forgotten and the oval shaped beads in red, black and light beige or natural earth colour caught her fancy and thus began her new obsession of collecting all things terracotta. Sanjana's love for burnt clay is still strong 40 years and counting; the fondness for it deeply embedded in her that once when her aunt-in-law came to visit, she served her food in a red glazed malsha, (an earthen bowl) to her aunt's utter shock and disbelief.
And then there are people like Sanjana's aunt who considered clay products quite rubbish and would never buy any, well maybe except those huge amateur-hand painted motkas or urns. Conversely, Sanjana herself would find a terracotta earring fancier that gold.
The burnt colour of clay, that reddish orange tint, the mesmerising black glint --on flowers pots, tableware, jewellery, decorative pieces-- are hard to resist. Be it a fancy a Baishakh lunch or a puja feast, she always brings out her terracotta pottery items and arranges a lavish deshi spread. However, being a true aficionado, she did not stop at just buying these products from roadside stalls near the High Court or somewhere in Dhanmondi, instead she found her way to a remote, lush riverine village in Modnapura of Bauphol upazila of Patuakhali. There, by sheer luck, she met Bisheshwar Pal, the very creator of those fancy clay beads from her childhood, and her ecstasy knew no bounds. 
Burnt clay or terracotta has been used for art and everyday things since almost time immemorial, and has seen its fair share of ups and downs. In Bangladesh too, the clay artisans' story is not a smooth one; however, the lone but determined attempts of master craftsmen like Bisheshwar Pal and his disciples have kept the potter's wheel spinning till date.
PAL'S TERRACOTTA CRUSADE
Bisheshwar Pal is one of the few dedicated terracotta artisans who broke free from traditional craftsmanship to delve into experimental and a modern style of work. Young Bisheshwar, from the tender age of 12, sat behind the potter's wheel and let the creative streak in him play with clay and try new forms. When his family was making clay pots or pans and selling those at village markets to make ends meet, he made his first tea set and it became an instant hit; thus followed crafts like Christmas bells, ashtrays, foot scrubs, etc. Ornate pottery articles for decorating interiors like dinner sets, flower vases, pen holders, incense holders, and mosquito coil holders flooded the market and grabbed a niche market. In fact, he is the one who re-invented the black terracotta pottery using natural dye; long extinct since its popularity during the Maurya rule thousands of years ago. Pal made it safe and eco-friendly, his innovative designs have made Bauphol's terracotta a sought-after craft in the country.
He was born on the 3rd of January in 1952, to Oshchurta Pal and Soudamini Pal, who were also gifted artisans of this traditional craft. However, the dedication and concerted effort of Bisheshwar and his elder brother Rajeshwar Pal has taken the rich heritage of Bauphol's terracotta crafts to the retail shops of Dhaka city and also to overseas fairs and shows, where their skilled craftsmanship has been appreciated and given fair credit. In 1984, through 'Corr the Jute Works,' the works of Bisheshwar and his family were first exported. Bisheshwar was trained by Bangladesh Small and Cottage Industries Corporation (BSCIC) on numerous occasions on terracotta, and with time, he spread his knowledge to the many terracotta artisans of Bauphol and to others areas of Modnapura, Bilbilash and Boga, even to Savar and Dhamrai. Hundreds of villagers around the country are his students who are continuing to make traditional pottery like household items and fishing equipment as well as modern pottery like tea sets and others, with great skill. This greatly helped to sustain the tradition of the art.
Bisheshwar Pal has participated and been awarded many times for his artistic skills, especially by the Bangla Academy Mela, Zainul Mela organised by Charukala Onushod, Sonargaon Craft Museum and Barisal Terracotta Sammelan and Fair. In 1976, he received an accolade in the Agriculture and Art exhibition in Patuakhali. In 1993, Youth Development Ministry gave him the Best Terracotta Artist Award. In Bengali year 1420, BSCIC awarded him with Karugaurab Award. In 2016, he received a Lifetime Achievement Award from the Terracotta Seminar and Award, Barisal. In the meantime, many dignitaries like the local government secretary, minister, and one Belgian ambassador visited Modnapura Palpara (terracotta village) and praised Bisheshwar's efforts greatly. He also assisted the research of many students of Patuakhali University for their curriculum and research. His two sons are also following in his footsteps. The elder son, Tarun Pal, and younger son, Shishir Pal, have retained Bauphol's terracotta tradition and innovation by establishing organisations like Crafts Village Ltd. Recently Bisheshwar was given the Master Craftsman Award from the National Craft Council of Bangladesh (NCCB).
"Thirty years ago my ashtray was bought from me for only 12 paisa a piece. Handicraft stores like Karika and Aarong kept them on display and sold them; it has been a long journey from that day to date, and with the help of my elder brother, my boudi (sister-in-law) and my wife, I have indeed stamped my footprint in the world of pottery in Bangladesh," Pal said in a humble tone.
"To make pottery, soil is the only ingredient needed. However, to make standard pottery, the soil, which consists of sand and mud, must have the correct proportions of both. There are various kinds of soil, but their properties can only be differentiated based on the quantity of these two fundamental ingredients in the soil. The more the mud the more the elasticity of the soil, but we have to keep it on a standard level so it makes the perfect shape. To do that, using materials like cow dung and jute for tempering is needed. For the right colour, we use the red earth of Kapasia, and khoir (catechu, acacia extract) and soda brings the red colour, and while we are baking our products, we trap the carbon inside the kiln at the last stage to give the required black colour," Pal spoke about his techniques, adding that even his wheel has adapted to the times. He started with the hand wheel which was operated by a stick, then came the wheel chain with the ball and bearing, and now he uses a motorised wheel.
BANGLADESH'S TERRACOTTA AND POTTERY
The history of statues and sculptures is probably as old as the baking of household wares like pots, pans, jars, jugs and other utility products; or maybe the two are intertwined because as the myth goes, the potters believe that when a pitcher was needed for Lord Shiva's marriage, he took a Rudraksha (Elaeocarpusganitrus) from his garland and made an artisan to create pots.
BSCIC identified 680 villages and reported that more than 15 thousand families were fully dependent on this profession. Though, over the years, this number has gone down greatly; however, compared to other craft forms, the existing number of potter families is quite satisfactory.
From the early eighties, organisations like Design centres, BSCIC, Bangla Academy, Sonargaon Folk Arts & Crafts Museum, National Museum and National Craft Council of Bangladesh organised fairs for traditional crafts and gave Master craftsperson awards to introduce to the general people our finest art forms and artisans. It is very inspiring that artisans from the remote villages bring folk arts and crafts to the urban fairs, where people appreciate them and buy at high prices.
"In the 1980s, potters from Patuakhali visited Dhaka and took advanced technical training at BSCIC's Design Centre.
Some have learned the techniques quickly and have been associated with designers for a long time; they have expanded their markets greatly and have even been exporting abroad through craft organisations. In this connection, the potters of Bauphol deserve special mention. And the contribution of Bisheshwar Pal is especially commendable. For several years he worked very hard to develop a wider market, not only for himself and his family but for his whole community.
He mobilised his community to improve their skills in the traditional pottery of their ancestors and organised them into co-operatives so that their success could be shared by all artisan members of Bauphol. In 2018, Bauphol potters are famous all over Bangladesh and the credit for this goes to Bisheshwar Pal. It has been his life's goal to create the best products and he remained resilient even in the face of adverse circumstances. He introduced a variety of techniques, innovative packaging for transportation of the delicate products, taking the artisans to craft events and including the educated members of the families in the business. The contribution of Bisheshwar Pal to the wellbeing of the potters of Bauphol, and the country in general, is outstanding, and he is an ideal and exemplary artist for us," writes Nisar Ahmed Dean, Faculty of Fine Arts, University of Dhaka in an article.
"Currently his sons Tarun and Shishir are doing everything possible to support the industry and the students of Art College. The brothers are looking after the business and the marketing side of the family business, and in the process, helping the potters of Bangladesh. There are possibilities of export and there is also a small, but dedicated market for pottery and terracotta products in our country. What is lacking are patrons-- potters who are still making traditional items are suffering the most as their market is bracketed to villages only," says Estambul Haque, General Secretary of National Craft Council of Bangladesh.
"Our potters are very skilled artisans and working with designers and getting guidance from patrons they have the capability to take our pottery industry to a stable position. Just to cite an example, the recent exhibition of terracotta products created by the artisans of Mithapur and Jamalpur, two villages near the UNESCO Heritage Site Paharpur Buddhist Vihar, implemented by the NCCB. The exhibition displayed some beautiful crafts the potters made, with some guidance. In my opinion, the need of the hour is patronisations," Haque feels.
"We have a licensed godown in Rayer Bazar, Dhaka to store products not only from our factory but also from fifty plus potters from all over the country, we buy in lots from these producer groups and market them to retailers," says Tarun.
"When new potters approach us to sell their products, we help them with market surveys and ask them to make samples, and depending on demand, place orders for 200 or 500 pieces. This is our general practice. Corporate houses are our clients-- they place orders for Boishakh, New Years for corporate gifts items and according to the demand we place orders with our producers. We always pay whatever the potter asks for, and mark it up by taka one for our profit. Those who are attached with us get a fair price, because my father knows the poor potters' stories all too well. Our family were once a marginalised producer group," he adds.
Tarun and his brother established Crafts Village, a handicraft company and are looking into export. "Ours is a three-year-old company. Besides marketing other handicrafts like baskets and all, we are also trying to export pottery. Small planter pots for saplings have a huge demand and we are looking into markets in Netherlands. Such orders will help more than fifty potter's family throughout the year. Thus the industry is not that plagued, and all we need are good patrons and fair commissions," he puts it squarely.
Fifth generation potters by family profession, Pal and his sons are given special credit in this field, that is marred with various shortcomings. However, the small window of opportunity of exporting and the local niche market with patrons like Sanjana has kept the terracotta industry in the country spinning.
Photo: LS Archive
To watch the companion video, visit The Daily Star's official YouTube Channel and Star Lifestyle's Facebook page.