A PEEK INSIDE BRAINSTATION-23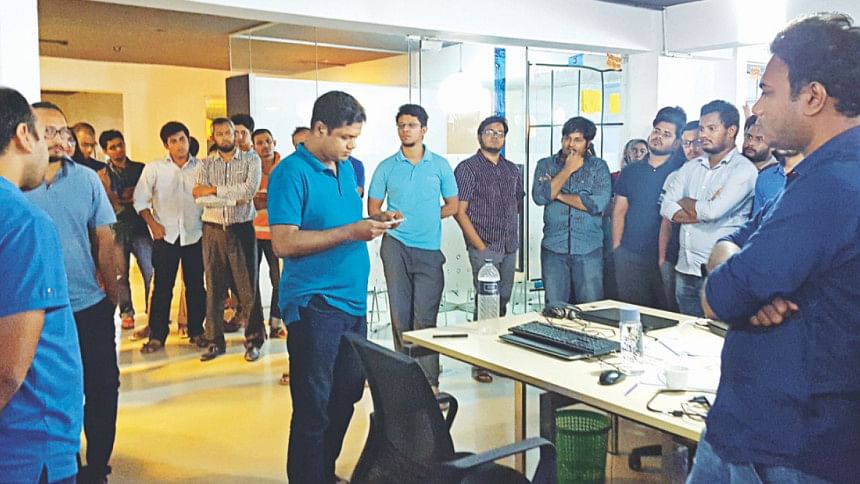 Founded in 2006 by a group of BUET graduates, Brain Station-23 is now one of the most prominent names in the IT sector of Bangladesh. We recently interviewed the trio running the show – Mr. Raisul Kabir, Mr. Mizanur Rahman and Mr. MJ Ferdous.
What inspired you to open up a software development firm?
While we were in university, we used to do some freelancing work, which helped us gain some experience. Right after graduation, we started doing it professionally, beginning with a Canadian client.
What were the main challenges that you had to face throughout your journey?
The main challenge we faced was trying to make it in the industry all by ourselves. It is quite difficult to survive in the IT industry without having a dedicated team as well as building long-term relationships with the customers and other tech companies.
Which of your projects are you the most proud of?
We are probably the most proud of City Touch, the online banking solution for City Bank Limited. City Bank were very ambitious and initially partnered with a foreign company to develop their online banking. However, that company failed to deliver what City Bank had envisioned and ultimately it was us who delivered.
What things do you wish to achieve moving forward?
We hope to serve our society and country even better. We are focusing on achieving great things with Industry 4.0 technologies such as AI and ML while also delivering on the traditional market demands.
What factors do you think will help you go even further?
We believe our four core values - transparency, excellence, passion and ownership for the services we offer has helped us come this far and will help us grow even further. An IT firm like us also needs a lot of help from the Government and the current Government is doing a great job of it.
What do you think about the current state of the IT Sector of Bangladesh?
We are truly amazed and grateful for the various initiatives taken by the Government such as LICT, BCG and BASIS. These initiatives are giving us a fighting chance in the global IT market.
What suggestions do you have for the IT firms that are just starting out?
Our suggestion would be to overcome the mental blocks and to be focused while solving problems. Each company should understand its strengths and capitalise on that.