Fazilatunnesa: An unwavering support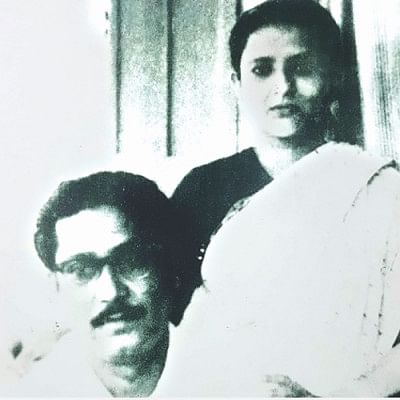 Renu is the nickname of Bangamata Sheikh Fazilatunnesa Mujib. She wasn't just a wife, but Bangabandhu's companion, providing inspiration and encouragement through difficult times. On 4.4.1959, Sheikh Fazilatunnesa applied for an interview with Bangabandhu while he was in Dacca Central Jail. The Intelligence Branch, East Pakistan approved the application of Sheikh Fazilatunnesa and allowed her to meet Bangabandhu on 11.4.59 at 4 P.M. After this interview, Bangabandhu wrote to Sheikh Fazilatunnesa on 16.4.59, most probably referring to their meeting on 11.4.59 in his letter.
Dacca, 4 April 1959
Begum Mujibur Rahman
North of Siddheswari High School,
Dacca-2.
4.4.59.
To
The Dy. I.G., I.B., Govt. of E. Pakistan, Dacca.
Sir,
You are requested to kindly grant me permission to see my husband Sheikh Mujibur Rahman in the Dacca Central Jail along with Mr. Abul Hossain, his former Private Secy. and Mr. Mominul Huq and Mr. Sheikh Md. Ali, his brother in connection with my shifting to a new house which is most urgently required.
Thanking you.
Yours faithfully,
F. Nessa.
Side note: Put up in file pl. Sd/-4.4.59
Source: Secret Documents of Intelligence Branch on Father of the Nation Bangabandhu Sheikh Mujibur Rahman. Vol 5. Published by  Hakkani Publishers.
Bangabandhu's letter to Fazilatunnesa:
Renu,
Take my love. You came to meet me after Eid, but did not bring our children, because you did not celebrate Eid. Our children did not celebrate either. This was wrong of you, since the children wish to enjoy Eid, just as everyone else does. Do you understand how hurt they are? Abba and Ma will be very angry if they hear about this. Next time you come to visit, bring all of them along. I do not understand why you worry. There is no guarantee of when I will be freed. Your only responsibility is to educate our children. If you need money, write to Abba. He can send some money every month. Tell Hasina to study hard. Tell Kamal to eat properly, since his health is not improving. Make sure Jamal concentrates on his studies and art. This time, make sure he draws something and brings it with him. I want to see it. Rehana is very playful, so enroll her in school in a few days, along with Jamal. If you get time, please study a bit yourself as well. At first, I was miserable being alone, but now, I have gotten used to it. There is nothing to worry about. I spend my time sitting and reading books. Take care of your health.
Sincerely, 
Your Mujib    
This letter is translated by Mayabee Arannya of The Daily Star.
Source: Mujib100.gov.bd