A Peek into the Minds of the Future:
Ashoka Foundation brings forth Bangladesh's Youngest Changemakers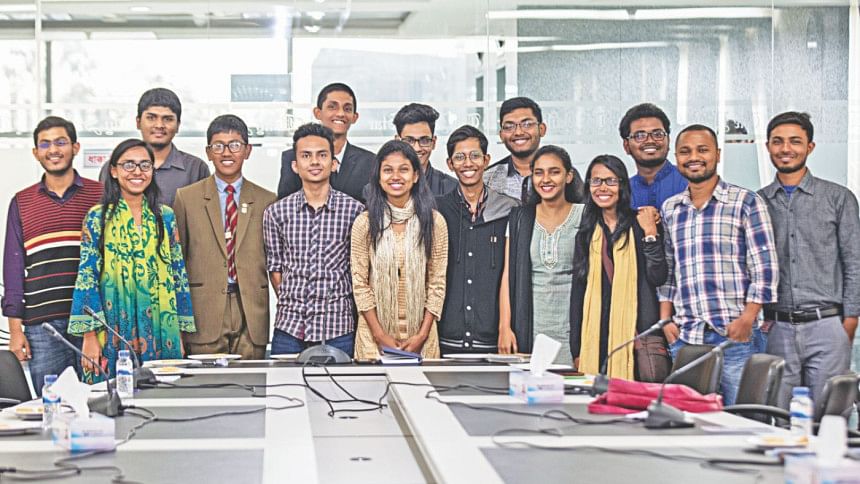 15 young changemakers, from all over  Bangladesh, feeding off enthusiasm and passion to do something better for the society: that was the essence of the roundtable held jointly by The Daily Star and Ashoka Foundation. Each attendee of the roundtable had many astounding accomplishments. Tanzeel Rashid, hailing from Chittagong, won many accolades including the prestigious Joy Bangla Youth Award. "When I founded Ogrograhi Foundation and started helping people, I was often harassed and even beaten by my own classmates. However, I kept on doing my own thing and as fate would have it, some of the very same people who had doubted me hold executive positions in my organisation now," says Tanzeel. This spirit resonated throughout the roundtable, as others talked about their impressive fieldwork. The Street Children's Theatre founded by Tahua Labib Tura looks to give underprivileged children a chance at performing, while at the same time piquing their interests at cultural and educational activities whereas the likes of Moni Begum and Meghla Akhter are working day and night to stop child marriages across the country. "I had to run away from home to avoid my own marriage at an early age, so I vowed at one point that I will work to stop as many child marriages as I can. For that, I had to risk my security and well-being on many occasions," says Meghla. One of the more interesting projects was Obhoy.com, represented by Kazi Moyeen Anisul and Abu Nahmar Md Tazrian. The website works on applications and software that aim to provide assistance and help to the community, case in point the "Changescope" app. "The app is for the ones who are facing mental depression. It helps in suicide prevention, drug addiction and even has mini-games to lighten up the mood," says Tazrian, the founder and CEO of the initiative. Sruto.org is an initiative that looks to provide free audio books for the visually impaired. "In my opinion, education with audio books can be much cheaper and effective than Braille, primarily because you just need one audiobook to teach an entire class," says Sudeepto Saha, the founder of the initiative.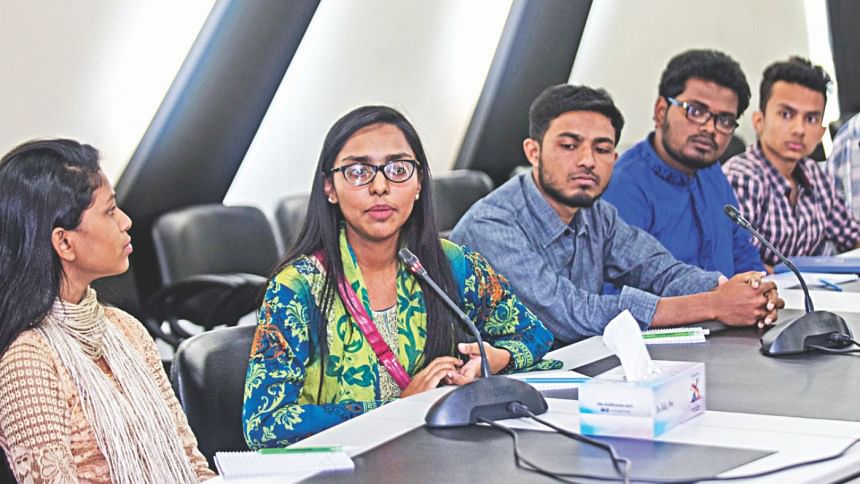 One of the primary reasons behind the roundtable was to formulate an idea behind how more young people could be incorporated into positive social activities. "In my opinion, children must be encouraged to start early. 12-14 years is a great time to start pondering over what you would like to do for the society," says Moni Begum. "If you have an idea and want to implement it, you should always start from your school. There are clubs in most schools, and they usually have a very active community of members," says Mithela Hoque, a coordinator at "Bloom The Flower", an organisation which spreads awareness of many societal 'taboo' topics that haunt rural teens.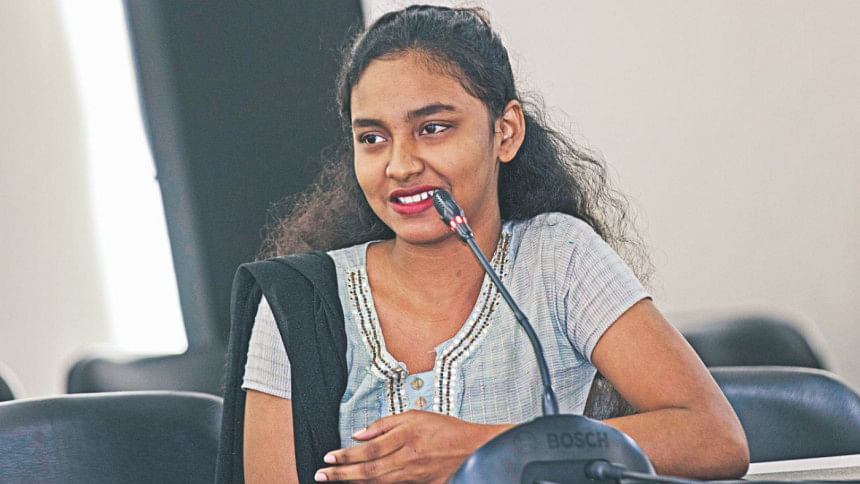 The participants of the roundtable were eventually instructed to form groups, where each one came up with a new idea of helping the society based on collaboration of the talents and expertise of each individual. 10 minutes were given to formulate the idea, and each group came up with a surprisingly compelling one. Team C, consisting of Tanzeel Rashid and Sulaiman Islam Sabuz from 'Bangla Initiator' came up with the concept of 'lifesavingblog.com'. It would basically combine aspects of writing, technology and funding to try and spread awareness through the youth of the country as well as offer a helping hand. Additionally, they would open up a 'School of Changemakers', where young students would be given guidance on how to efficiently serve the society. Another brilliant idea came from team E. Consisting of Momotajul Rumon, Sudeepto Saha and Shahidul Islam, the team wanted to infuse elements from both Augmented Reality (AR) and audiobooks that Sudeepto was already producing to educate child rights in classes. Moreover, this method of education would be distributed all around the country in order to make classrooms more accessible and interactive. Shafiullah Kawsar and Shawon Chowdhury made up team D, and would use the popularity of social networking sites to teach English in remote areas. Kazi Moyeen Anisul, Meghla Akhter and Mithela Haque from team B would work on creating a research based app, which would cleverly retrieve information from the consumer by first giving them infographics via comics and then asking questions which relate to their mental health. In turn, this would help build a research database which would help in understanding teen psychology and reasons behind depresstion. Team A, consisting of Abu Nahmar Md Tazrian, Farhan Farhad and Moni Begum would further the scope of the 'Changescope' app and make it available countrywide in order to help depressed teens.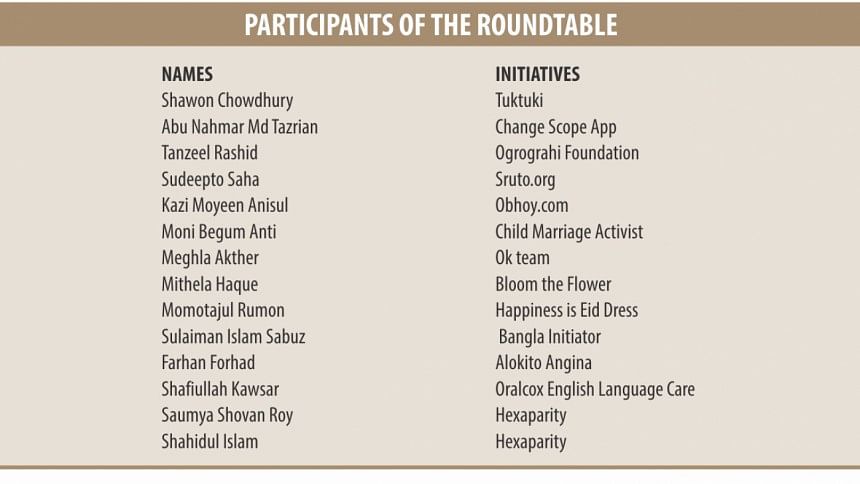 The session was a particularly successful one, which was inevitable given the talent and enthusiasm of the young changemakers. They vowed to follow up with most of their innovative ideas which were discussed at the session. Saurav Roy, who represents both Ashoka India and Ashoka Bangladesh, was elated to see the results: "I always had faith that these youngsters will do well. All we have to do is encourage them and give them the needed support throughout their activities."