International Day of Clean Air for blue skies
Healthy Air, Healthy Planet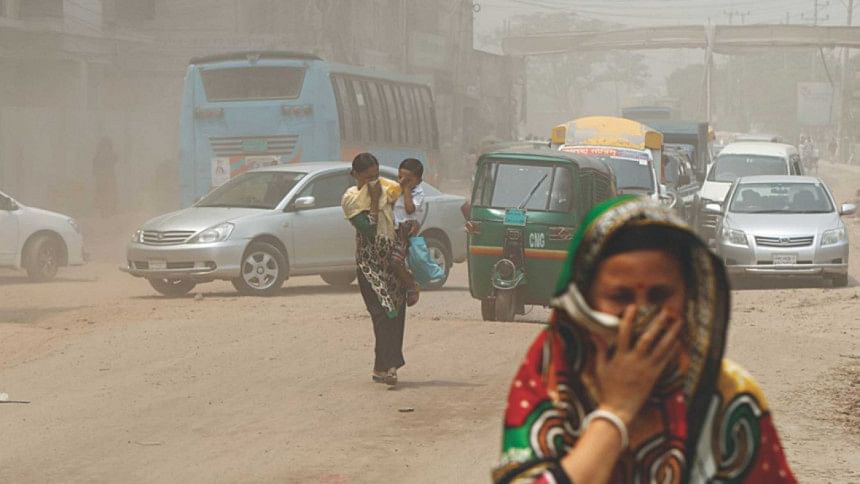 Thirty-six-year-old banker Tahseen Khandaker has lived in Dhaka all her life. A patient of respiratory illnesses since childhood, she can tell when the air in the city changes.
"The air in Dhaka feels thicker than usual in recent years. Smog is a common phenomenon and now, due to Covid-19, wearing a face mask makes breathing more difficult during my commute," remarks Tahseen.
According to UNEP, 9 out of every 10 people across the globe are breathing unclear air. As a result, around 7 million people die from diseases and infections related to air pollution every year.
The growing threat of air pollution is now widely recognised, and the UN, starting last year, observes the International Day of Clean Air for blue skies on September 7. The day calls upon governments, corporations, communities and individuals to take action in reducing air pollution and bring about lifestyle changes to ensure a healthier world. The theme for this year is "Healthy Air, Healthy Planet".
"This year's theme reflects the urgency of improving air quality for people and for our planet, and the potential for transformative change even in the face of crisis," states Dechen Tsering, United Nations Environment Programme (UNEP) Regional Director for Asia and the Pacific.
Bangladesh ranked 179th for air quality in the world in the 2020 Environmental Performance Index, out of 180 countries. In the same year, with an average US AQI score of 162 labelled "Unhealthy", the country was ranked at the top with "worst air quality" by Swiss air quality technology company IQAir.
However, the development of tools to monitor air quality and a significant change in the environment has contributed to the growing awareness of air pollution in Bangladesh in recent years.
Among the types of human activities that cause air pollution in Bangladesh, the major contributor has been the industries, especially the coal-based power plants, brick industries, petroleum refineries, cement and steel manufacturers, parboiling rice mills, and glass plants.
The concentrated factories, brick kilns and tanneries on the outskirts of the metropolitan city release greenhouse gases such as carbon monoxide, carbon dioxide, sulphur dioxide, nitrous oxides, methane etc., increasing the temperature in urban areas and moving polluted and impure air into the city. Households burn fossil fuels and produce solid waste and sewage, ruining the quality of air in neighbourhoods. Pollutant gas emissions, and smoke and dust particles from heavy traffic, in a city that is already overpopulated, catalyses the adverse impacts of air pollution.
While these may affect the environment in many ways, nothing compares to the impact air pollution has on the everyday lives of human beings.
Over the years, this has given rise to acute and chronic illnesses like asthma, bronchitis, and emphysema, damages lung tissue, increasing risk of dementia and premature death through exposure to fine particulate matter, also known as PM 2.5.
The UNEP Regional Director adds, "Poor air quality deepens the health risks brought about by climate change in Bangladesh, which is already threatening lives of millions of children in the country. It also places a heavy burden on the economy already beset with difficulties brought on by the pandemic."
We must also take note of how, in urban slums and rural households, the use of wood and manure as fuel in open stoves put women and children at high risk.
 "Big industries have a key role to play in reducing air pollution," comments Professor A.K.M. Saiful Islam of the Institute of Water and Flood Management (IWFM), Bangladesh University of Engineering and Technology (BUET). Professor Islam is one of the lead authors of the IPCC Sixth Assessment Report.
"Relocating existing industries out of Dhaka city, transforming power sources from fossil fuel-based sources to renewable energy, provide incentives on research and innovation that focuses on making renewable energy more accessible, and alternatives such as eco-bricks can be introduced. Cement accounts for 8 percent of global carbon emissions; modern technology like Hybrid Hoffman Kiln (HHK) technology and tunnel technology can also be applied, in addition to promoting installation of exhaust gas purification units to reduce carbon and dust pollution," Professor Islam recommends. He also stated that industries should follow government standards to control emissions in order to keep the air quality at a reasonable level.
Clean air is a human right. International Day of Clean Air for blue skies is a global call emphasising the health effects of air pollution, particularly during the Covid-19 pandemic, and to hold the governments and industries accountable for their actions.
Kazi Akib Bin Asad is the Editor In-charge of SHOUT, The Daily Star. He can be reached at [email protected]