INDEPENDENCE DAY SPECIAL 2016
Roaring Liberation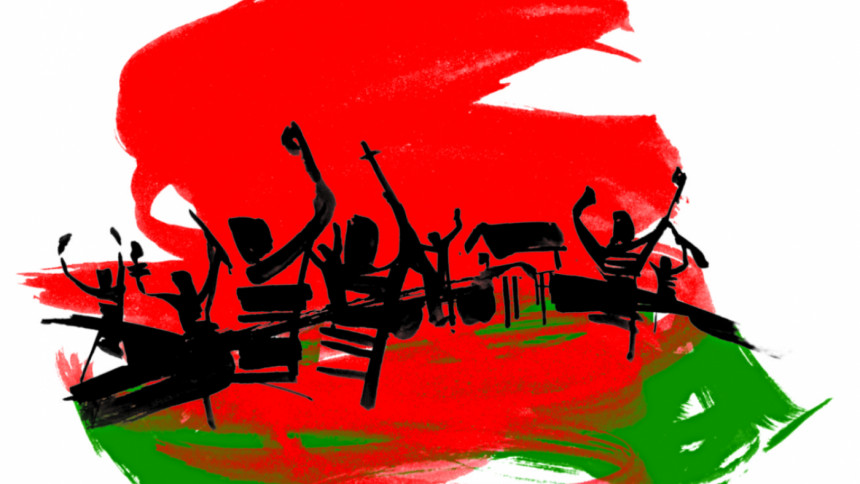 What would I do with the spring when mournfully cries the cuckoo, when flowers are not in bloom?
What would I do with the garden where birds never visit, where the soil is unwieldy and the skeleton-like trees are ghostly presences?
What would I do with the love forcing upon me a thorny-crown and offering a cup of poison?
What use is the path where no one walks, where the colourful ice-cream-seller goes missing and where the incessant waves of urban marches is absent?
My beloved, when we were marching towards the sun-rise,I had called you,
the discreet charms of bourgeois life had enveloped you then–were you not keen to realise the power of the songs sung en masse?
You are a prisoner of anguish now, you do not see the carpeted rainbow anymore. 
     Walking the distance without you is difficult now,
as that dreadful monster demolishes the foundation of a new civilisation, and the sky gets darkened,
And the full moon is hung, an announcement forbids the blossoming of the lotus and the rose 
as well as stifles the magpie-robin's song, 
to render unutterable my poetic illustration of your breath and the fragrance of your hair.
The hope for good days if delayed can turn a youthful body decrepit, 
This excuse for aging 
Is an excuse for Nelson Mandela's enduring imprisonment
Is also an excuse for Nur Hossain's heroic sacrifice,
As the freedom bell tolls like an anguished Titan, and 
                          the hands in chain are freed of their manacles, there is tremor 
in the distance, we hear our Liberation is roaring.  
Translated by Asif Iqbal, PhD student in English, Michigan State University.
Born in 1929, Shamsur Rahman, was a Bangladeshi poet, journalist, and human rights advocate who earned the designation "unofficial poet laureate of Bangladesh" with more than 60 volumes of heartfelt, often fiercely patriotic poetry. His best-known poem, "Shadhinota tumi" (My Liberation), was composed in 1971 at the height of the war for independence from Pakistan. His poems on the war were so inspiring that they were recited at the camps of freedom fighters. In 1972, these poems were published in Bondi Shibir Theke. He continued to write poems in independent Bangladesh, reflecting the history of the nation. During the historical movement against Ershad he published his book Buk Tar Bangladesher Hridoy indicating the great sacrifice of Nur Hossain.
The legendary poet passed away in Aug. 17, 2006, Dhaka.