USE CARDS, GET DISCOUNTS
Ramadan spending, Eid shopping to become sweeter with plastic money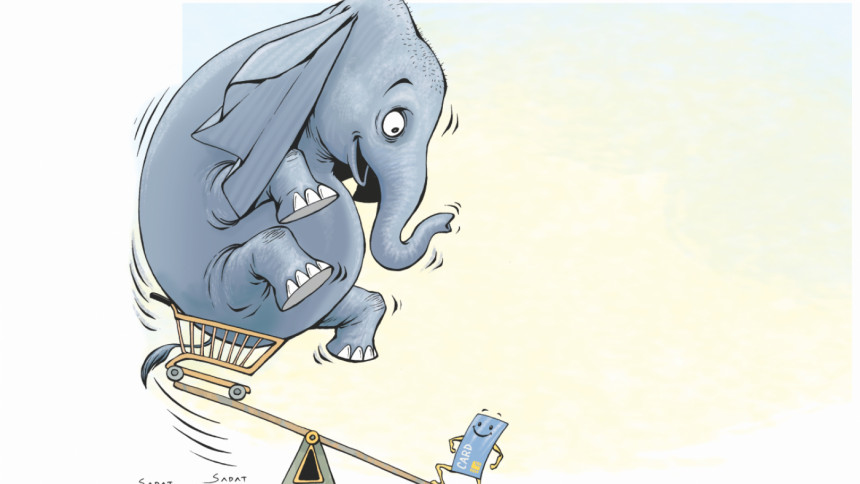 Private banks are preparing attractive offers on the use of plastic cards during Ramadan, Bangladesh's peak shopping season, with the view to furthering the conversation on cashless transactions.
Eastern Bank, BRAC, Mutual Trust Bank, Prime, Dutch-Bangla, Islami, City and Standard Chartered are working on tie-ups with various merchants to come up with offers during Ramadan. City Bank, which has the highest number of cards in circulation of 9 lakh, has prepared a large bundle of offers during Ramadan, said Majharul Islam, its head of card division.
From the first day of Ramadan until the Eid day, City's American Express cardholders will enjoy up to 25 percent discounts at more than 100 popular retail merchants, he said. 
During the whole Ramadan, Amex cardholders will also enjoy 'buy one get one free' iftaar buffet offers at different restaurants, he added.
Eastern Bank, which has the next highest number of cards in circulation, is planning to offer 5 to 20 percent discount in a select few clothing and jewellery stores as well as iftaar buffet offers, said Rasel Hasan, its head of card and retail banking. "The main objective of the offerings on plastic card is to add more value on the online payment service," he said, adding that the bank is working on partnerships with e-commerce sites to encourage online shopping.
Cardholders will get lifestyle benefits and discounts for travel and tourism too, he added. 
Prime Bank, one of the largest private banks in the country, will offer discounts of 5 to 50 percent for making purchases with cards at various clothing stores, grocery chains and more during Ramadan, said Amir Hossain Majumder, its head of card division.
Cardholders will also enjoy offers on iftaar with some upscale hotels. Banks are progressively giving more importance to boosting card usage during Eid as many as 50 percent of the transactions take place in the lead-up to the festival, the biggest in the country. "The pick-up in card transactions during Eid generate significant income for banks," he added.
Currently, Prime has a total of 6 lakh cards in circulation, 5 lakh of which are debit cards and 1 lakh credit cards, according to the bank.
Mutual Trust Bank, which has a total of 3 lakh cards in circulation, is working to tie up with 30 restaurants to offer benefits to cardholders during the Ramadan, said Mohammad Anwar Hossain, its head of card division. Moreover, the bank will offer up to 35 percent discounts for card payment at 60 jewellery and fashion houses, he said.
Mastercard recently launched a campaign to promote digital payments by offering more than 100 prizes to those spending the highest with cards during the month of Ramadan. The campaign, called 'London Calling with Mastercard', kicked off on May 1 and will continue until June 30.
Spending Tk 1,000 with a MasterCard-branded credit card for a retail transaction will generate 2 points and on debit and prepaid cards 3 points. "Those with the highest points will be adjudged the winners," said Syed Mohammad Kamal, MasterCard's country manager.
Bangladeshi consumers are slowly but surely warming up to the idea of using cards, especially debit cards, to make payments, with the total number of cards in circulation expanding 15.45 percent last year.
About 17 lakh debit, credit and pre-paid cards were issued last year to take the total to 1.27 crore, according to data from the central bank. Among the various plastic card products, debit card was the most popular: at the end of 2017, a total of 1.16 crore debit cards were in circulation, in contrast to 76.9 lakh two years earlier. However, the number of credit cards declined 4 percent year-on-year to 9.09 lakh in 2017.
The total number of ATM booths at the end of last year was 9,522.  Of the total card transactions, 89 percent took place through debit cards and 9 percent through credit cards.
Though the use of plastic cards is rising rapidly, cybersecurity is still a big concern for users.  At the end of last year, only three banks achieved the Payment Card Industry Data Security Standard, a standard created by the major card brands Visa, MasterCard, American Express, Discover and JCB to increase controls around cardholder data to reduce credit card fraud.
Some 25 percent of the banks are in the process of implementing the standard, according to the survey.
Jebun Nesa Alo is a Staff Reporter at Star Business, The Daily Star