Shop smarter this Eid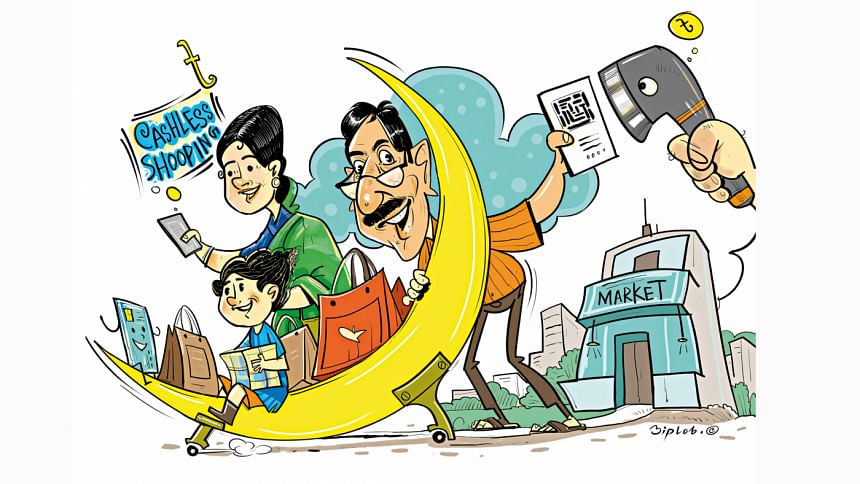 Looking to make the most of your Eid travel experience while also keeping costs in check? Embrace the convenience and affordability of cashless transactions and take advantage of incredible discounts and offers from airlines, banks, mobile financial services, and hotels. Don't wait – explore these amazing deals and start packing your bags. 
Local offers
City Bank has rolled out a special offer this Eid season for travellers seeking convenient and affordable travel options. American Express Credit cardholders can now earn 2 points for every 50 Taka spent on online air ticket purchases, thanks to a special deal from the bank.
This deal covers bookings with the leading airlines, including Biman Bangladesh Airlines, Novoair, US-Bangla Airlines, and Air Astra.
What's more, these points can be redeemed later for discounts on a range of services, from travel and dining to shopping and beyond.
Various travel agencies such as GoZayaan, Flight Expert, and ShareTrip have partnered with banks and mobile financial services to offer convenient travel planning options.
For instance, Prime Bank Visa and Mastercard credit cardholders will receive an additional 10% cashback while purchasing flights from ShareTrip, in addition to the existing discount from the travel company. The campaign will last till 22nd April 2023, only available for online purchase.
International offers
As the trend of traveling abroad during Eid holidays is increasing in Bangladesh, many face the challenge of carrying large amounts of cash while abroad. To make international travel safer and more convenient, Standard Chartered Bank is offering up to USD 12,000 for personal travel plans with their exclusive card, designed for overseas transactions (both online and in-store) and cash withdrawals at VISA ATMs worldwide. This makes it the perfect option for those planning to travel abroad this Eid season and shop to their heart's content without worrying about the safety of their cash.
Eastern Bank Ltd. has partnered with GoZayaan to provide a discount of up to 4,500 BDT on international flights. This offer is available for EBL VISA, Debit, or Credit cardholders.
Additionally, EBL has collaborated with ShareTrip and Mastercard to launch an exclusive EBL co-branded credit card for travellers from Bangladesh. This card offers various benefits such as discounts on the base fare, holiday vouchers, EMI options, and hotel discounts.
Meanwhile, City Bank's head of cards, Mohammad Razimul Haque, shares that the bank has partnered with Agoda and is providing discounts of up to 10% on over 1 million hotels globally.
This Eid, financial institutions, airlines and travel companies are going above and beyond to ensure your travel experience is both accessible and stress-free. With exclusive credit card deals and exciting discounts on hotels and international flights, they are leaving no stone unturned to enhance your holiday experience. So, whether you're planning a trip to visit family and friends or embarking on an adventure to explore new cultures, there's no better time to join the cashless revolution and enhance your travel experience in a festive and unforgettable way!