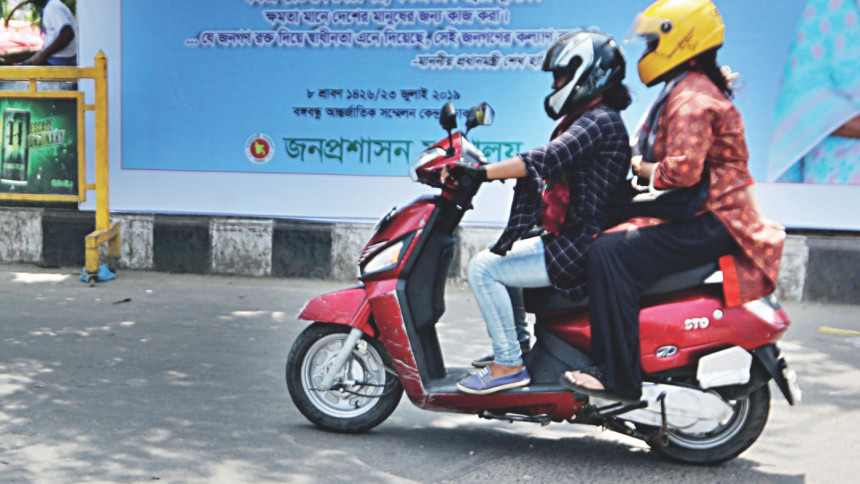 Fariha Chowdhury, an employee of Standard Chartered Bank, needs to get to her office exactly at 9am every weekday. Given Dhaka city's unbearable traffic congestion, the inconvenience in public transport and high cost of CNGs and taxis, the most convenient choice left for Fariha is bike rides. Thus, she uses ride-sharing services, every day.
Although ride-sharing services save both time and money, for Fariha, it is not always feasible for women to take a ride behind a male driver. To address this problem, some ride-sharing companies are now providing female riders. Ride-sharing service Obhai Solutions Limited, for example, recently launched a separate service, named Obon, by recruiting female bikers who share rides with women only.
Zeba Adiba, Head of Obon, mentions that Obon is already providing a multiple-layer security system to develop safeguard facilities for female passengers. The security layers include vehicle tracking where the system can track the riders, emergency support team, and the SOS button—a mobile phone button used during emergencies, available in the app. Both the rider and the customer can access customer care by simply clicking on the SOS button. Besides, Obon is improving and implementing safety measures by training their female riders on a regular basis. Obon has over 150 female riders now and the number is increasing day by day. The company is also offering training courses with experienced trainers for female drivers.
Sayeda Nabila Mahabub, Senior Manager, Marketing, Pathao, shares that after three years in the ride-sharing business, Pathao is seeing an increase in the number of women using their platform for their daily needs. Currently, there are many safety features in Pathao's platform. They already have the feature of live-location sharing with trusted friends and family members. Through their app, one can instantly make calls at the emergency hotline number 999.
The population of working women is increasing every day. Recently, there has not only been an increase in the number of female service users but also an expansion in the supply of female riders.
Companies such as Rancon Suzuki Motorbikes are also providing training to female riders along with male riders in their training schools. Safety and security concerns, comfort, safe bike-riding practices are taught with care to individuals to make bike-riding more convenient. ACI Motor is also providing training to attract female customers to use their scooters.
One such female rider, Shanila Ayan (not her real name), who is currently working in the telecommunication industry, shares that the training is divided into two sections: theoretical and practical. In the theoretical part, they cover all the rules and regulations that a biker should maintain. It covers the importance of maintaining signals, wearing helmets, etc. The practical part emphasises more on the balance and riding. Most importantly, the training is provided by female bikers. This enhances the comfort of learning for new enthusiastic female riders.
Another major barrier for women are societal attitudes. Car drivers, truck drivers, pedestrians tend to glare at female riders and pass sleazy remarks. Girls and women often face criticisms from people in their neighbourhoods as well.
It is still not safe for women to ride alone in the middle of the night. Families don't encourage girls taking a ride behind a male rider at night. The hindrance from families is also faced by female riders. Such a scenario is a key reason for the low number of female riders in comparison to male riders. However, many female riders are now stepping into the street and overcoming these social barriers.
Rabeya Boshri, a female rider, shares that her parents told her, "If you can help keep other girls safe, then you can do this job!"
If the systems developed by the ride-sharing companies are maintained properly, cheaper bikes for women are made available by manufacturers and our societal attitudes change, women, particularly working women, can breathe a sigh of relief and will be able to commute with some peace of mind.