Is corporate involvement enriching our music?
Culturally, Bangla music has always been infused with the richness of history -- having a long tradition of talented musicians, lyricists, poets, and writers who have contributed to the volume of musical work for people to listen to. Having said that, with consumers' changing needs and with innovation at its core, the taste of music has evolved over the ages.
While many old songs are being lost due to a poor archiving system, corporations like IPDC, Square, and Coca-Cola are working tirelessly to archive old Bangla songs and present it with a modern twist for the young generation.
Popular musical platforms like IPDC Amader Gaan, Magic Bauliana and Coke Studio Bangla have started a craze all over Bangladesh by producing hits like "Nasek Nasek", "Prano Sokhi Re" and "Ghuddi ke Banailo Re".
IPDC Amader Gaan
IPDC has been able to create a positive brand image and attract the youth towards traditional folk music through IPDC Amader Gaan. The makers have invested lots of time and effort to ensure that each and every song is unique from the other in presentation.
One of IPDC Amader Gaan's original songs, "Shorboto Mongol Radhe", was recorded using the soulful voices of Chanchal Chowdhury and Meher Afroz Shaon. The charismatic production along with the rhythmic chorus and colourful set instantly grabbed everyone's attention and the song became viral on social media within minutes of its release. The superhit duo also went on to deliver another fantastic performance with IPDC called "Nisha Lagilo Re".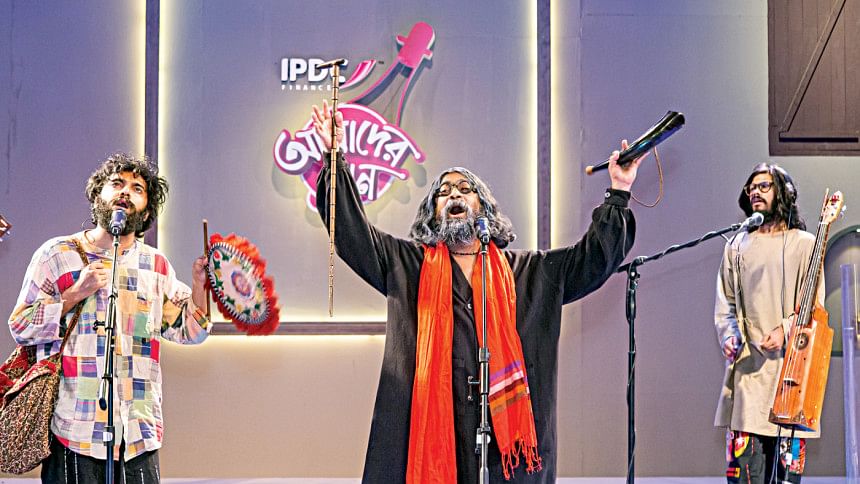 IPDC Amader Gaan commenced its journey in 2020, with the motto "Jaago ucchashe", and has now accumulated over 895,000 subscribers at the time of writing, with almost all of the songs getting millions of views on Youtube. IPDC Amader Gaan's most popular songs include "Prano Sokhi Re" by Nadia Dora, "Porer Jaga Porer Jomin" by Joler Gaan, and "Mon Bhala Na Re Tor Pirit Bhala Na" by Animes Roy, among others.
"Nowadays, whenever we go to a client or see someone in a meeting, people instantly recognise us with IPDC Amader Gaan. Through this platform, we were both able to put forward our folk songs and also helped to bring forward talents like Animes Roy," said Tarif Sherhan Shuvo, Manager - Brand and Corporate Communication, IPDC Finance.
"Through Amader Gaan, we tried to experiment and bring something new to help people engage with the roots of our culture. The idea was brought forward to celebrate Bangladesh's 50 years of independence. We tried to bring forward the cultural heritage of Bangladesh through folk songs which talk about the lives of people. Through Amader Gaan, we tried to instil cultural heritage and make the new generation aware of our cultural history. We tried to make our folk song known among the global audience," added Shuvo.
A huge part of IPDC Amader Gaan is focused on archiving folk songs and researching their roots. IPDC works closely with the agency Creato, who checks the lyrics and verifies the authenticity of the songs.
Creato's CEO Rashid Khan, who is the creative director of IPDC Amader Gaan, would sit for hours with music director Partha Barua over roughly one and a half to two months to decide on which songs to work on each season.
"Before choosing the folk songs which we want to air, it is important to check for authenticity and the origin of the song to maintain its ingenuity. When a song is chosen a lot of factors need to be taken into consideration such as which singers will be a perfect fit for the song. Each of the songs have their own distinct characteristics," said Rashid Khan.
"Songs are researched through Facebook, YouTube, books on folk music, local musicians, suggestions from colleagues in different districts. One season approximately has eight songs. Each song is chosen after careful consideration so that each song is unique and there is no similarity among the songs in terms of lyrics and tune. Animes Roy and Shiuly Sarkar achieved popularity through Amader Gaan, I believe, although they were previously associated with music, they did not get the right opportunity to shine," added the CEO.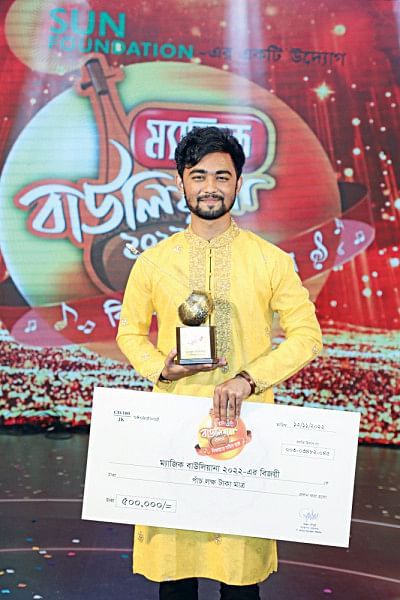 IPDC Amader Gaan is shot on a beautiful set. In the first season, they created the whole backdrop from scratch with clay and decorated it with iconic props and folk instruments. In the second season, they hand painted the whole stage with folk paintings while in the third season they used a tree to give it a more rural touch. In the last season, they emphasised on old architectural designs.
One of the most popular songs to come out of IPDC Amader Gaan is Nadia Dora's "Prano Sokhi Re", which received over 20 million views. The song was released on June 24, 2021, and fans fell in love with the beautiful voice of Nadia Dora. There is a sense of earthiness to her voice and the song's composition truly took everyone's breath away.
"Audiences have given a lot of love and support to 'Prano Sokhi Re' because of the way the song was presented. IPDC Amader Gaan had a huge team and they gave emphasis on using different types of instruments while keeping the Bangaliana flavour intact. It didn't take us long to reach one million views and from that video onwards, people demanded me to return to the stage," said Nadia Dora.
As part of its Corporate Social Responsibility programme, IPDC also patronised a Bangla calligraphy Competition called "Bornoshilpi". They also organised a stall in Amar Ekushey Boi Mela called "Subodh". Now, the initiative is available as a tab on Rokomari's site.
Magic Bauliana
Magic Bauliana started its journey in 2013, with the aim to create a platform, where baul artistes from all over the country can come together and showcase their raw talent. The show gave opportunity to budding folks artists who have the magical voice that takes us back to our roots. Magic Bauliana has presented numerous talents including Dolly Mondol, Fokir Chan and Shafiul Badsha, through its platform.
Famous celebrities like Chanchal Chowdhury and Fazlur Rahman Babu would often appear as guests to judge the singers.
"Our country does not offer much of an opportunity for folk artistes. There are many talented folk artists but they do not get many opportunities to showcase their talents. Through Magic Bauliana, we scout the budding artistes from the root level and take them to the international platform with Meril Folk Fest. The young artistes get to perform with baul artistes from other countries and get to enjoy a surreal musical experience," said Dr Jesmin Zaman, Head of Marketing at Square Toiletries Limited.
Kamruzzaman Rabbi, Magic Bauliana trainer and host, was also a participant in the second season of the reality show. The singer credits his fame and recognition to the musical programme which helped kick-off his career.
"If I wasn't a participant in Magic Bauliana, then I would not have become famous. People recognise me from this programme. One of my songs that went viral, 'Ami To Vala Na Vala Loiyai Thaiko', got a million views soon after its release. I was able to perform that song in Sylhet, all because of Magic Bauliana, as one of my fans requested me to go there after seeing my stint on the show. Magic Bauliana is a stepping stone for all the budding artistes who have dreams of making it big," said Rabbi.
Last year, Magic Bauliana season four received more than 50,000 applications. Immigrants who are living abroad, also got the chance to participate in the programme. Noyon Sutradhar came from Qatar and made it to the top 18 at the musical programme.
Apart from Rabbi, most of the participants including Diti Sarkar, Bindu Kona, Doly Mondol, Shafiul Badsha, Fokir Chan and Arnab Bhattacharya, are doing stage shows and television programmes, and have created an impact in the entertainment industry.
"Throughout my childhood, baul songs played an integral part in my life – I used to start my day listening to the songs of my father, Newaz Dewan and uncle, Miraz Dewan, practising in the early hours of the morning. The magical lyrics and alluring tunes of baul sangeet mesmerised me and so I slowly started to grasp the different genres of baul and folk songs, starting with baul biched, baul bhojon, palli geeti, bhatiali songs, among others. I wanted to perform for a bigger audience but didn't know where to start. Then, Magic Bauliana came and I knew instantly that it would be the best place to showcase my talent," said Shafiul Badsha, winner of season four of Magic Bauliana.
Initially, the young singer was eliminated in the preliminary round but he was able to make a comeback into the reality show by returning as a wild card contestant.
Throughout the programme, he enchanted the audience with his fantastic performances, including "Ghuddi ke Banailo Re", "Eroi Baisaab Huni Jaan" and "Dubu Dubu Touri".
When asked about how the musical reality show changed his life, Shafiul Badsha replied, "People know me as Shafiul Badsha because of the programme, I am getting a lot of stage show offers and also got to perform in BTV because of the show. Magic Bauliana changed my life and I will forever be grateful to the show for changing my life."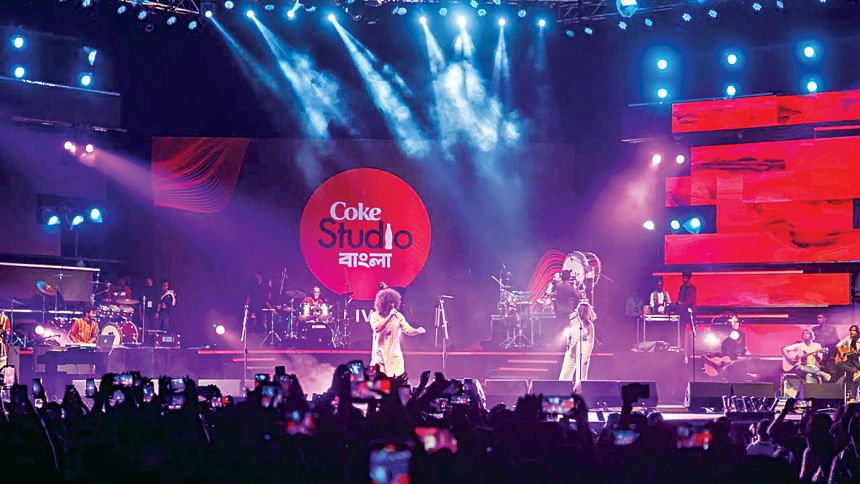 Coke Studio Bangla
From Animes Roy's "Nasek Nasek" to Ritu Raj's "Bulbuli"– Coke Studio Bangla created a musical phenomenon in our country as hundreds of thousands of viewers waited eagerly  to listen to their newest tracks. When news about its Bangladeshi franchise broke in the media, music aficionados went delirious in anticipation to hear what new magical compositions Shayan Chowdhury Arnob will create for the programme.
Coke Studio has been one of the biggest music platforms that promotes artists and celebrates diversity, fusion and unity through music. According to a Coca-Cola Company spokesperson, "Music is not purely used as a promotional mechanic, we're building genuine connections with Gen Z and providing opportunities to make memories with friends over music and a glass of Coke."
"In a country where 65 percent of the population's age is below 35 years, music is a very powerful way to bring them under one roof. And that is exactly what Coke Studio Bangla tried to do. Because our language is our biggest form of identity, hence songs of our roots were enmeshed with global sound to attract the youth of today. Also, in today's globalised world one can only be global, if they are truly local and that is what brought in the global recognition for Coke Studio Bangla," said Syed Gousul Alam Shaon, Creative Producer, Coke Studio Bangla.
Recently, they also brought down the house when Coke Studio Bangla artistes Animes Roy, Ritu Raj, Pantha Kanai, Boga Taleb, and Momotaz Begum performed at the 10th edition of Dhaka Lit Fest.
So what's so special about Coke Studio Bangla that draws millions of fans towards it? Well for starters, they infused modern-day jazz with other more traditional genres of music to create a unique composition, which attracted younger audiences like the Gen Z, who have global exposure and are open to listening to different types of music.
While ideating songs for season one, the producer and artists tried to explore different genres of music. Folk was one of the most important genres for us as Bangla music heavily depends on folk tunes. It is also the genre that connects the young and old alike.
Looking back at season one, the makers included different genres such as Rabindra Sangeet, Nazrul Geeti, band music, jazz, rap, modern music, countless forms of instruments and so much more. Last but not the least, they have amped up the popularity of upcoming artists like Animes, Boga Taleb, Jalali Set, Rubaiyat, Masha, Tashfee and Sunidhi, and all of them now have huge acceptance among the youth.
"As the music producer of this project, my goal was to accommodate different ideas, find new paths to bring everyone and everything together to make sense and evoke emotions from our audiences. The collaboration between everyone involved in season one is where the true magic happened," said Arnob.
Coke Studio Bangla's "Nasek Nasek" has a whopping 20 million views on Youtube. This was the first official song, which kicked-off the season on a high note. So when we asked the Coke Studio team how they decided to go with this song, they shared a beautiful story about its official selection.
"Animes played 'Nasek Nasek' to Arnob and Adit as something he had created for the people of his community. Both Arnob and Adit saw something magical and beautiful in that song and also saw the rockstar personality in Animes coming out during this song. That's how it was decided that 'Nasek Nasek' would be part of season one," said a Coke Studio representative.
"The reason we went ahead with this as the season opener is because we wanted to pay tribute to the rich culture and heritage of Bangladesh, the Bangla language and the languages spoken by millions of people across Bangladesh and in the world. The song itself is an elevated song on independence and there is no better feeling of freedom than being able to talk, write and sing in one's native language. As we launched Coke Studio Bangla in the month of International Mother Language Day, it was fitting that we kicked off the season with a song like 'Nasek Nasek'," he added. 
When we asked Arnob what are his plans for Coke Studio season two, he was quite excited as he had a lot of surprises in store for the fans.
"For the next season, we are incorporating different musical forms, groups and experimenting a lot.  We have Bangladeshi musicians from abroad with music from around the world, while keeping the same spirit as last time," added Arnob.
"Nasek Nasek" singer Animes Roy is grateful to the platform for giving him the chance to perform with renowned artistes.
Another popular song from Coke Studio Bangla was the melodious Nazrul Geeti "Bulbuli" which was wonderfully sung by Ritu Raj and Nandita.
Ritu Raj's voice enamoured the audiences as they were spellbound by his powerful vocal and superb control over the high notes. 
 "Coke Studio Bangla has been a fantastic experience. The platform gave me the opportunity to work with and learn from some of the all-time greats in our industry. It also allowed me to creatively express my music to the amazing fans in Bangladesh and to the global audience as well. The whole journey was magical," said Ritu Raj.
Coke Studio Bangla has received tremendous response from the global audience as well. Its YouTube channel has about 1600 reviews and reaction videos on season one with over 90 percent of them being international reviewers. Audiences from Pakistan, India, and different countries in Africa, all shared positive comments.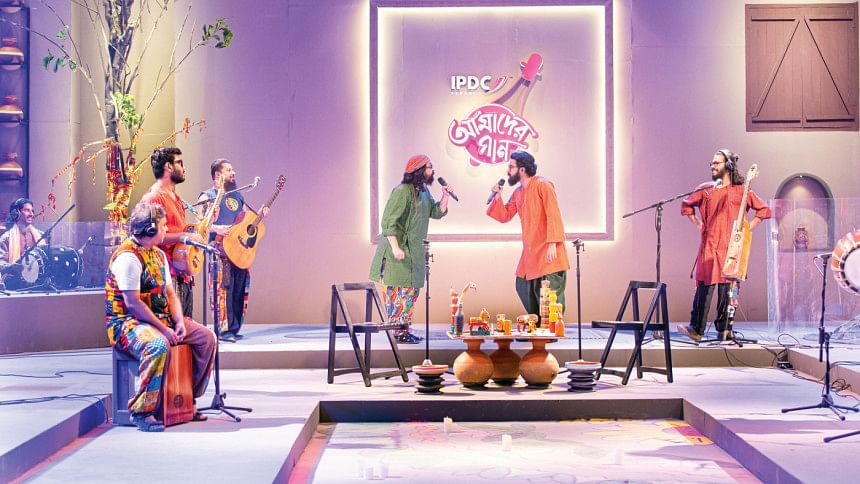 "While language may be a barrier to these global audiences, they have started taking a keen interest in Bangla music. We have also received great interest from foreign media regarding our platform, requests to play our songs, songs making it as chart toppers, documentaries being created, and a particular Indian and UK based radio station requested if they could play our song on their stations. We were also invited to perform in a concert in Kolkata a few months back. To sum up, the international response has been amazing," said the Coke Studio official.
Coke Studio Bangla arranged a massive outdoor concert in Dhaka which was met with a huge response. Over 40,000 people were present at the Coke Studio Bangla Live concert and all of them queued up in huge lines amidst torrential rain, just to watch their favourite artists perform live in front of them.
The musical show is also working extensively to ensure that all the artistes involved with the programme are properly protected under the Bangladesh Copyright system.
"We are encouraging all our musicians and artistes to take copyrights of their own songs. On the other hand, for musicians who are no longer with us, we have gone to extensive lengths, with the support of the Bangladesh Copyright Office, to ensure that all matters of rights are well protected. We only encourage musicians and artistes to enrich our music culture and take the right steps to protect their own creation," said a Coke Studio representative.
Nowadays, more and more corporations are investing in cultural programmes as a way to connect to their core audiences. While they are able to create an evolving brand image with the current generation, they are also playing an effective role in bringing the young generation a lot closer to their roots by bringing in the old Bangla songs and giving it a modern-day twist.