The other side of legendary Sabina Yasmin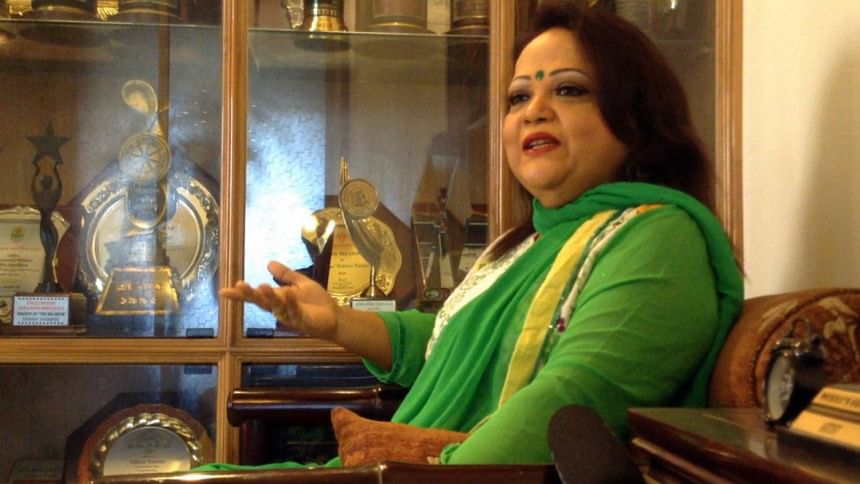 At the age of six, back in 1959, a little girl appeared on stage in Dhaka to sing a children's song "khokon moni sona… tor duto rosogolla theke ekta amay dena". As the little girl sang the song, the audience responded with loud cheers demanding her to sing one more song.
But the little girl did not have any other song in her stock. Never mind. The audience that day perhaps could feel that she would become a legend one day.
Indeed so. That was the first performance of Sabina Yasmin, who later went on to grab 13 national awards and innumerable other national and international awards with her voice. And for 40 years, she kept on mesmerising Bangla music lovers.
A legend still living amongst us, a pioneer who gave new dimension to the music of Bangla film industry and still a fighter for artists' rights, Sabina Yasmin, as a person, is as towering and yet a humble personality as the figure she has transformed herself into for over the years.
While she commands a larger than life image outside with so many awards and so much popularity, Sabina remains a person with the heart of gold. That is how we found her reception to be when she opened the door for an exclusive interview with The Daily Star at her own house.
FUN LOVING WITH A SMILE ON THE FACE
She opened the door with a warm smile and gentle gesture – draped in a green salwar kameez. 'Stunning as a star' was the first impression she made – just as gorgeous as always remembered - seen in the television programmes. But up closer, she looked older – the crowfeet crawling from her eyes and onto the cheeks showing clearly the toll of age and fading evidences of the long and hard battle she had fought with cancer.
But at heart, she was strong as youth. Never did she ever hint a trace of tiredness or fatigue from the age she gathered at the root of her hairs. Always gentle, always smiling and welcoming in attitude, she held her gentle and humble composure in the apt fashion throughout the long interview.
The interview itself with Sabina Yasmin never felt very intimidating at all! And her warm etiquette was seemingly as fitting as the towering figure she molded herself into.
As a speaker, she is very charming to listen to. Through her carefully chosen words and smooth delivery, she kept on speaking about her life in the perfect storytelling fashion. She could almost make visions of her childhood, career and hard work appeared in front of the eyes. But, all the same, she never missed a humour at the point where she felt she was losing you.
ORDINARY LIVING, SIMPLE LIFESTYLE
Her house is no lavish apartment, its rather medium-sized and does not hallmark any evidence of luxury. But, you could tell from the paintings on the wall, the furnitures around and the tidiness about the house that here lives a person who has simple yet delicate taste.
The drawing room is rather small with sofas that can seat only five, but there are two other stools around. A veranda facing the sun at midday allows light to completely fill the room and glitter about the trophies she has placed about. The highlight of the drawing room is one big showcase, from floor to roof, that heralds all her national awards and is complete with nothing but awards and honours she was won at home and abroad.
She would say it herself gladly that she would rather live simple and pull about what she likes to do and what not. She would say that it would cringe her from the inside to live inside untidyness and then again smile somewhat foolishly to divulge that she likes to eat Biryani.
STILL GOING STRONG
Nothing is yet to hold her back from her love from music as Sabina Yasmin continues her regular practices and performances. Now, along with her daughter (also a singer), she is making albums for her fans and says she will hold music dear to her heart as long as she lives.
A goodbye to her was rather heartbreaking. At the end of that two-hour-long interview, you would not think that it was a living legend you just talked to, but saying goodbye to a friend you hold very dear. It was that close the person Sabina Yasmin could suck anyone – this is the charm she has.
(Sabina Yasmin's daughter Yasmeen Fairooz made the interview possible. The Daily Star's Online Journalist Sujit Sarker contributed in making of the report.)