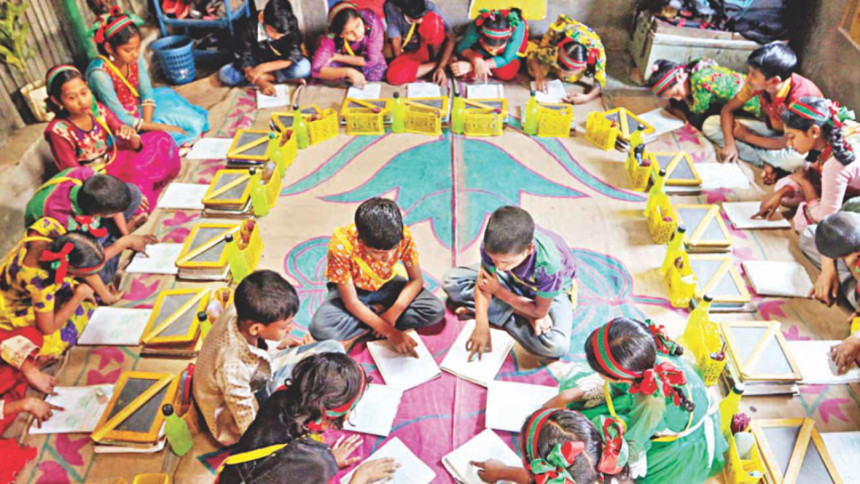 Education is the back bone of any nation, and this is something that goes without saying. In the last many decades, Bangladesh has brought about several positive changes in the field of primary education, education for women and also education for adults. Thanks to BRAC and other non-profit organisations, the non-formal system of education has taken the burden of educating children who otherwise had no other way to attend school. In fact, Bangladesh has been named one of the fastest developing nations in Asia in the field of education for both the underprivileged and also education for women. 
In the last many decades, the education system in Bangladesh has gone through a roller coaster ride. Starting from introduction of the grade system in the SSC and HSC exams, introducing national level exams for school children in primary and middle schools to having government schools offer free education to women from primary to graduation — in the last 25 years, the Daily Star has seen and covered it all. In a country where a three-tier education system is highly subsidised, there still remains a lot to be desired for, where the system is concerned, in Bangladesh. 
"My next door neighbours enrolled his children to a nearby English medium school, and I don't understand why?" says Syed Nur Alam, a 38-year-old Banker based in Naya Paltan. He has been trying to enrol his 6-year-old daughter to a well known Bangla medium school in the area. "Why spend so much money just so your child can have a better accent while speaking English? The Bangla that is taught in these schools is not up to the mark and these children grow up to be foreigners in their own country. So where is the point of sending our children to these schools?"
The conundrum between the Bangla and the English medium began when a large number of students would opt for the British curriculum, despite the fact that the government has been offering an English version of the national curriculum in many schools. While one group feels that the British curriculum is absolutely unnecessary in the current scenario, another group feels that until and unless the quality of teaching and learning English are made better in the government schools, parents and students will opt for the British curriculum. "I moved my daughter from a Bangla medium to an English medium school when she was in class 7," says Lubna Ferdous, a homemaker and a mother of two daughters. "The transformation was unimaginable! My daughter went from memorising random proverbs to analysing Shakespeare's Merchant of Venice! Of course I would also like to point out, that the quality of Bangla is very low in these British curriculum schools. This is also one of the reasons why I keep a teacher at home to teach my daughters Bangla language and literature."
The Bangla studied in the British curriculum is actually a foreign language for the British students or other countries, as are languages like Hindi, Urdu, Arabic, French and other languages, termed as second languages — all over the world. "The Bangla taught in class 7 or 8 at a British curriculum school is taught to students of classes 2 and 3 at a Bangla medium school," adds Ferdous. "Considering the fact that our fist language is Bengali, the schools could at least raise the bar in the case of language teaching and learning, British curriculum or not. They do the same in India, where their regional languages are taught properly starting from language, grammar and of course literature, even though the regional languages are termed second languages in the British syllabus, as opposed to English, the first language."
In the last years, the number of formal and informal schools has surely increased, in all parts of the country. On the first day of this year, free textbooks reached more than a crore students all over Bangladesh. Thanks to the grade system, students of SSC and HSC achieve a GPA of 5, golden As and have their pictures sprawled all over the newspaper. Despite all this, last year, a huge bunch of students failed the admission tests for the English Department at Dhaka University. "This is mainly because we have achieved the quantity, but not the quality," says Durdana Hossain, a senior lecturer at a private university and also a top Bachelors and Masters scorer at the Dhaka University Law Department. "Gone are the days when the high scorers could actually be identified! We had topper lists and also divisions. I understand that the grade system has its own benefits; many felt that it would abolish the division system and create better students. But I think it did the opposite."
In addition to all this, students from all walks of life earn degrees from private universities, national universities, open universities etc. But they show poor technical and vocational skills. "Why can't we encourage students to study agriculture?" asks Hossain. "Bangladesh is an agro-land. In the next few years, if we can develop and maintain our agricultural lands, grow our foods and also move towards trade, at least 30 percent of our people will definitely climb out of extreme poverty. The hunger issue will be under control, not only in our country, but also in other parts of Asia and eventually the world. I think it is high time that we encouraged the young brains to think about agriculture, technology, infrastructure, city planning and much more. We have enough doctors and engineers and even teachers! I think we can do without a few of them in the next decade or so!"
And the table debates go on — teacher training, vocational learning, do all kids need to go to university or should some of them be allowed to move into skill development and so much more. At the end of the day, an educated person is an independent individual, who will enjoy the capability to decide for themselves and eventually the country. Maybe, these table talks are more important than we think. 
The writer is Editor, Star Weekend, The Daily Star.