Ensuring quality in construction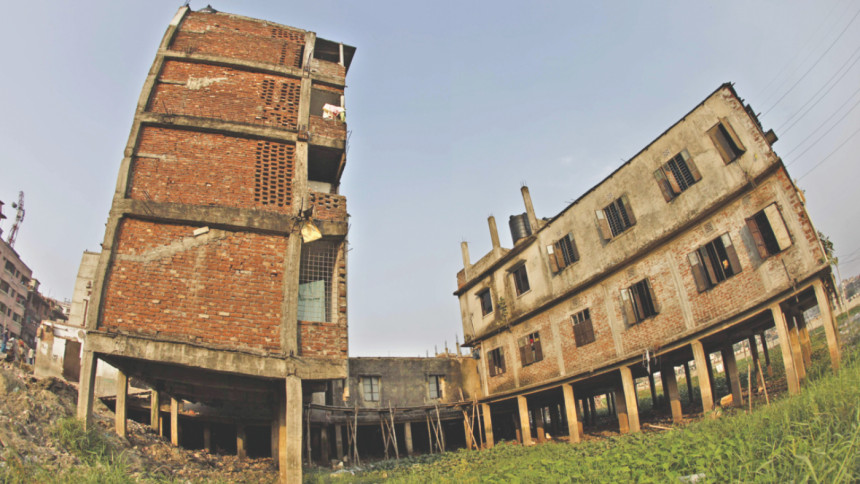 There is a construction boom going on in the country at the moment. Residential houses are being built, office and factory buildings are being built, shopping malls are being built. Given the limited land space and a steady economic growth rate in the country, we expect a scenario to go for higher buildings demolishing the old ones and also to have more roads and bridges to meet increasing connectivity demand. We do need to have the optimum use of our limited land and resources as well. Constructions are going on both in public and private sector. With such spur of activities, there comes the prime question on the quality of materials that are being used for construction. The next, but more professional question comes regarding the factors that really affect the quality in construction. Most of the old buildings in Bangladesh are not resistant to earthquake. Old bridges also have limited earthquake resistance. Recent building collapse and construction time bridge collapse have however pointed out our limitations in assuring the quality of finished construction with respect to design, construction methodology, construction arrangement, construction supervision, proper use and maintenance of the constructed facility. These are important not only to increase the safety but also to enhance the life cycle benefits of the facility. It is the owner who will get the ultimate benefit when these key issues are properly addressed. When a construction time or a post construction disaster strikes, immediately there develops an apprehension regarding quality of the finished structure, we often want to hint at the use of materials of poor quality. The total extent of quality control, in fact include the (i) Quality of construction materials used, (ii) Quality of the finished construction elements, (iii) Quality of equipment and arrangement used for construction, (iv) Quality of construction methodology and sequence adopted, (v) Quality of safety practice exercised during construction. Let us have a simple look on these key aspects.
Designers' perspective
Any engineered construction must use materials meeting a specified quality or strength. When an earthquake hits, it is important that a building or a bridge shows its performance as was anticipated in the design. Here, there is a definite role of material quality. However, earthquake is not the only leading factor considered in an engineered design process. First a designer considers the general stability of the structural system. Let us take the example of the disaster that happened due to Rana Plaza collapse. It was not the result of any earthquake. A building or bridge, at first and foremost, must be capable of carrying the gravity load and then also the load of other things that we put on it i.e. the loads coming from its usage type. Next, the designer emphasises on its resistance against natural calamities like earthquake and severe storm that a facility 'may' experience during its life cycle. Use of materials of better quality may offer additional safety margins against earthquake or other unforeseen natural calamities. Magnitudes of loads coming on the structure from such calamities are often quite unpredictable. Many of the existing old buildings in Bangladesh are not fit to face a big earthquake, if it really hits. It will cost a lot on life and property.
Construction perspective
No engineered construction can proceed without having a design from an engineer. The design shall contain geometry of the structure, materials and proportion to be used. The construction method and sequence to be followed will also be mentioned there. Construction will take place under the supervision of engineer who will ensure that designer's expectations are fulfilled at field. It is the responsibility of the owner to appoint able engineer(s) to design and also to supervise. Owner shall also appoint an able contractor who will engage gears, materials and know how to implement the design in the field. Quality of construction equipment and arrangement are important to ensure the quality of the finished product, pace of work and also the safety during construction. The contractor will mobilise these important things. It also includes props, formwork (commonly termed as shutter) and temporary works, including shore piles/ sheet piles/ bracings etc. for earth excavation to construct the basements.  These may vary depending on the project and the goal is to satisfy the benchmark requirements.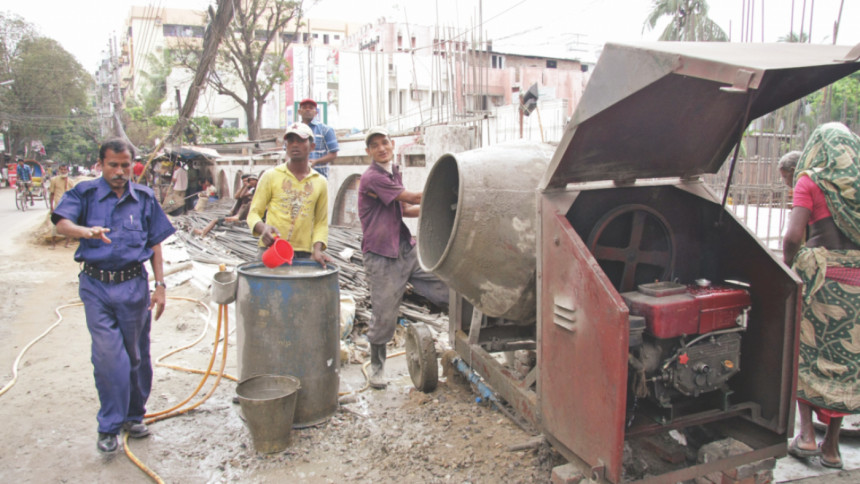 Material quality
Most of the companies maintain international standard. BSTI is the regulatory body in Bangladesh to specify and enforce the quality. But proper use of a material through a good construction practice is important. Good cement does not mean good concrete. For it you will need good stone; good sand and good workmanship. Most of our cement companies import clinker from abroad. Steel billets/steel ore is also imported. In Bangabandhu Bridge construction, stone was imported. For Padma Bridge, we also face similar challenge and decide appropriately. Sands from our river beds are always plenty in Bangladesh. Sands collected from rivers far away from sea will contain lesser salt, hence to offer better durability in construction.
Who will ensure the quality?
All should be conscious of proper engineered supervision during construction of a building or bridge. If people take advices from any professional engineer, they can minimise cost in many ways. Only a professional engineer knows the proper use of construction materials to get maximum benefits out of it. Columns and foundations should be constructed with care because these elements carry the total load. These are the most critical structural elements. We had a finding during investigation of 'Spectrum Sweater Factory collapse'. It had flat plate structure/beamless slabs. Risk of disaster was high in such structural system. But the failure triggered due to weakness in construction supervision. Inadequate design and use of materials of not so good quality increased the risk, leading to a catastrophe. We have ignorance in many works. We take much care in casting a roof and cure it with water but we have carelessness with the construction of columns. Supervision from experts is important. Media can spread our message to all. They can have a safe accommodation as well.
Maintenance of the constructed facility
A building or bridge when in use shall also be maintained properly. Repair works shall have to be carried out in a time efficient manner. Vigilance from the owner (and often the user) is important. Like a human being, buildings and bridges also have a life cycle. If not properly used or maintained, today's buildings cannot bear their loads of tomorrow. So the point of maintenance, repair and strengthening comes into picture. We have to build our constructions with products that are economic. In this regard, we have to consider two things: is it economic for now? Or is it economic for a longer life time with minimum maintenance cost to yield the lowest life cycle cost?
Challenges for strengthening existing buildings or bridges
Strengthening is needed when we are in need of using a distressed or unsafe facility for some more time. We can't afford to demolish it for building a new one. In that case, strengthening can be a viable option to avert a disaster. However, strengthening is many times more difficult than constructing a new building. Challenges are in many dimension including technicality, practicability and economy. It is often similar to treating a patient in the Intensive Care Unit. So we, the owners must consult the specialists to design and to supervise the work in field. We cannot even handle a small disaster. We do not have enough equipment or rescue plan. Existing noncompliant buildings must be strengthened. We need a strong enforcement effort from the government in this regard. Many of our construction industries still do not have enough know-how on the materials and techniques used worldwide for strengthening structures. These are imported from abroad. We also need to customize those materials and technologies for use in our local context.
Choice of materials: Steel or concrete?
Hardinge Bridge, made about 100 years ago, was built by British engineers with steel. We are going to celebrate 100 years of Hardinge Bridge next year. British India could afford to build it with steel for the intended economic needs of that time. There was no other alternate material available either during that time to go for longer spans to bear heavy rail loads.  The popularity of using prestressed concrete for bridge construction in Europe increased significantly around the 1950s and 60s. However, a history of problems has encountered that cast doubt over the long-term durability of such structures. Due to poor workmanship or quality control during construction of prestressed concrete, sometimes the ducts containing the prestressing tendons are not fully filled, leaving voids in the grout where the steel is not protected from corrosion and reduces durability. Bangabandhu Bridge, a prestressed concrete box girder bridge was opened to traffic in 1998. We are now going to build Padma Bridge with steel sections with a concrete deck for road traffic. So which material will be used in construction depends on our affordability. The life cycle cost of materials depends on that choice. Life cycle cost of concrete is often costlier than that of steel. We could not afford to build any remarkable bridge with steel in the last 50 years in the country. However, any steel structure will ideally be lighter, faster in construction and to last longer, particularly in areas not exposed to salinity or other corrosive environment.
Special consideration for salinity
Salinity promotes in an acidic environment. Salinity and reinforcement steel has an inter relation. Acidic environment promotes corrosion. So we need additional protection in this regard. Concrete gives steel an alkaline environment which is opposite to acidic environment. Moisture cannot reach steel in a less permeable concrete. In case of saline environment, clear cover (gap of concrete and steel) should be enhanced. This will require larger concrete sections. Concrete should be dense as well. A salinity zoning map of Bangladesh needs to be developed for use in design. We are yet to have one.
Quality of bricks
Bricks are used in making walls and also making concretes by crushing bricks to produce aggregates. We have not enough stones in Bangladesh. Standard of bricks depends on soil or clay that we use to produce the brick. This reduces the quality of our agricultural land from where we harvest clay. Cement based bricks from recycled concrete or sand is an option to explore. 'We build so many walls but not enough bridges'-Sir Isaac Newton. It is one of the favorite quotations any one can remember.
Final remarks
All should consult with the proper and educated people before any construction. I have not learnt formally how I should cross a road before studying Traffic Engineering at BUET. But the syllabus of primary and secondary education should include the basic steps for constructing a safe building where we will work for the whole day or sleep in the house at night. Everyone does not need to be an engineer but we have to have basic knowledge of following good construction steps. The definition of literacy should perhaps be redefined.
The writer is a Professor of Civil Engineering at Bangladesh University of Engineering and Technology.