Tader Tore: A fundraising campaign for the transgender community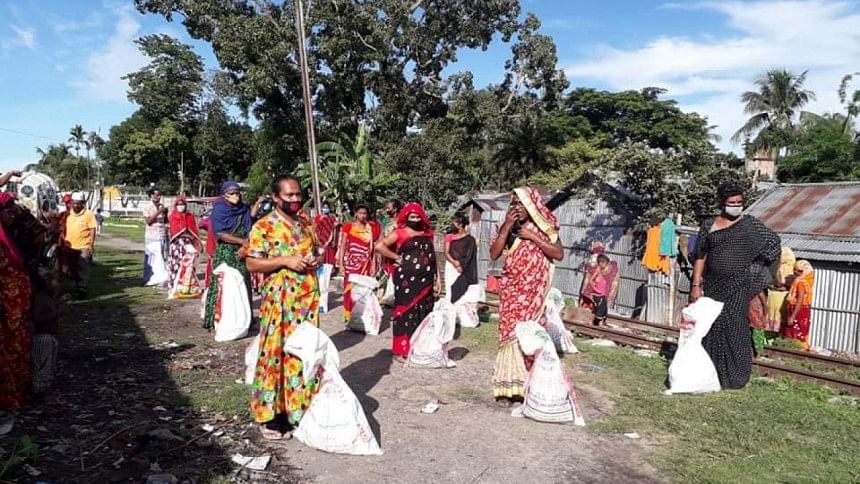 Youth-led organisations ProjectDebi, TransEnd and Orodhdho Foundation joined hands to organise a fundraising campaign for the transgender community.  
Trans people living in Bangladesh are often left with little to no livelihood opportunities and they have been harshly affected by the pandemic. "These people, like most of us, cannot step out of their homes and are locked indoors with little to no savings to rely upon," said Lamea Tanjin Tanha, founder, TransEnd. Since TransEnd is a very new organisation, they received no initial funding or sponsors and the founder had to manage their relief packages with the help of other organisations. "I have successfully managed food for over 120 people in the last one month," added Tanha. While working for the project, Tanha realised that the donations are not sufficient because most charity organisations do not want to fund trans people. "This pushed me to start my own donation programme. Later, ProjectDebi and Orodhdho Foundation stepped in to help," she further shared. 
ProjectDebi, founded by Muhammad Abrar, has been working on issues related to women, since 2018. After the pandemic subsides, the organisation plans to organise an exhibition to raise awareness on the transgender community, and also host multiple workshops for the skill development and academic development of trans people.
Oroddho Foundation is a voluntary organisation that tackles deep-rooted social problems. They are currently working to incorporate topics like consent, sexual education and health, toxic gender roles, and interpersonal relationships into a lesson plan targeted adolescent across the country. On the other hand, the team also creates media content in the form of videos, blogs, and webinars, to spread awareness on these issues.
Till now, the ongoing campaign has helped over 60 people from Kushtia and Mugda by providing them with daily essentials, including food and hygiene products.