Sudip Chakroborthy: A Mighty Dream Conqueror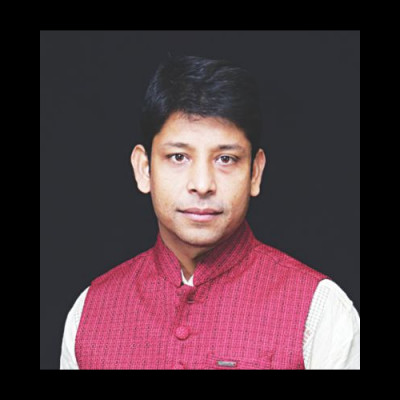 Sudip Chakroborthy, an acclaimed and multi-talented theatre artiste as well as a teacher, has succeeded in setting an example for the youths who wish to pursue their passion through hard work, perseverance and full sincerity. He has recently been awarded with the Commonwealth Scholarship 2017, funded by the UK government. Being the first ever person from Bangladesh to be awarded with this scholarship for studying PhD in theatre, Sudip Chakroborthy has started pursuing his research on 'Performing Bangladesh: identity, violence and conciliation from 1971 to 2013' at Theatre and Performance Department of Goldsmiths, University of London.
Born and raised in Nabiganj of the Habiganj district, Sudip Chakroborthy felt an inclination towards the theatre and cultural practices since his college days. His journey into the world of theatre started from a local theatre group named 'Theatre ShakhaBorak'. Later, in 1999, with his enrollment into the Department of Theatre and Music of Dhaka University (now Department of Theatre and Performance Studies), Sudip Chakroborthy's passion regarding theatre practice took a real form. On the completion of both graduation and post-graduation degrees by achieving first class first, Sudip Chakroborthy was offered to join his department as a part-time teacher in 2006, and appointed as a full time faculty from 2008. He served as the Head of the Department from September, 2014, until July, 2017.
Besides nurturing young minds, Sudip Chakroborthy also took interest in conducting workshops and directing, planning, and researching on plays. In the past 15 years, he has been actively involved with numerous local, national and international theatre workshops, seminars, and festivals across Bangladesh, India, South Korea, England, Scotland, Wales, and United States; leading him to explore new and diverse art forms.
Chaka, Mohajoner Nao, Lal Jomin, Raktakarabi, Dokkhina Sundori, and Macbeth are a few amongst the 25 theatre productions directed by Sudip Chakroborthy. Also, for over 50 plays produced in Bangladesh, India, UK and US, he has been in charge of planning the stage, lights, costumes, props, masks and more. His theatre directions were invited and showcased on the stages of UK's 20th Commonwealth Games, Contact Theatre Festival, A Season of Bangla Drama, South Korea's Keochang Festival, India's Rabindra Bharati University, Assam University and etc. Besides being awarded with various honorary theatre awards and bursaries, Sudip Chakroborthy's research works have been published by the Bangla Academy, Bangladesh Shilpakala Academy and Asiatic Society of Bangladesh.
By emulating Sudip Chakroborthy's tireless devotion to succeed, the younger people can surely gain a momentum to reach out and make their dreams come to life. One must look out for a role model he or she can be inspired from; and Sudip Chakroborthy is surely no less than one.