Longadu burning
The indigenous people of Longadu flee to remote jungles escaping violent rioting
Photos: Prabir Das
It is a three-hour trek through muddy roads, hillocks, jungles and inaccessible wetlands to reach the jungle-covered hills of Manikjor Chhora from Longadu. Men, women and children, irrespective of age and ability, were climbing mile after mile through the hilly terrain and marshes to escape a fearful fate. 
Carrying their last belongings on their heads, which they recovered by rummaging through burnt and destroyed houses, they were fleeing to take shelter in the hills of Manikjor Chhora, which has a natural defence of huge surrounding wetlands criss-crossed with torrential rapids. Around 100 indigenous families from three villages of Longadu upazila took shelter there after the barbaric attack of June 2, 2017. Even two days after the attack, hundreds of indigenous people were seen marching towards the hills of Manikjor Chhora in fear of renewed attacks. 
Many of them were fleeing even deeper into the jungle of Kalo Pahar area as they feared that rioters might also attack the hills of Manikjor Chhora.  One of them was Buddha Chakma, a native of Baittapara village. For two days, Buddha, his wife and two children had been hiding in the nearby jungle. On Monday (June 5), Buddha sent his wife and children to the hills and went back to his destroyed home in the hopes of recovering whatever little he could. However, he found almost nothing.  
"At least 90 houses of Chakma people of our village have been razed to the ground. I found only some broken pieces of crockery and a bit of half burnt wheat in my house. All of my furniture, important documents such as land deeds, and cash currency have been looted or destroyed," says Buddha. Buddha planned to take his wife into the deeper jungle of Kalo Pahar area as he thought Manikjor Chhora might also be attacked. And like Buddha, hundreds of indigenous people were fleeing to the jungle several days after the attack.
It was no less than a death march for them. According to Rangmati district police, around seven to eight thousand Bangalees invaded their villages. They only got time to flee with their lives to the nearby jungles. "Jungles near our village were not secure for us. The attackers also chased us and drove us away from our hideouts. They hounded us down until we came down to the wetlands. Then we crossed the marshes and hills to reach Manikjor Chhora," adds Sadhan Karbari from Baittapara village. 
However, Kalasona Chakma, who was sobbing hysterically, was not that fortunate. Sensing the disaster, she sent her mother to take shelter at the residence of Kulin Mitra Chakma, the chairman of Longadu Sadar Union Council. However, on June 2, 2017, Kulin's home and hundreds of other Chakma residences were also set ablaze and burnt to the ground by the Bangalees. Since then, Kalasona's mother, Gunamala Chakma has been missing. 40-year old Kalasona not only lost all of her belongings, but she also lost her beloved mother.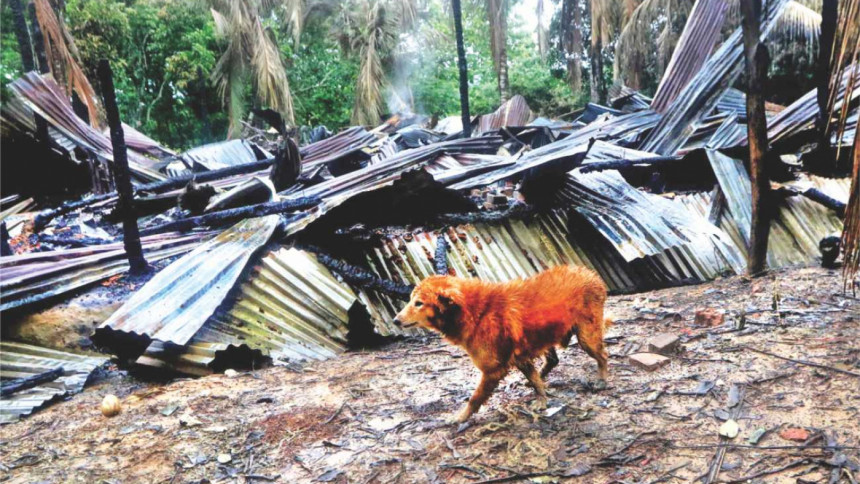 According to Kulin and his neighbours, when they were fleeing from the terror, Gunamala, a hearing-impaired septuagenarian, could not get out of the building in time. She was pushed inside the burning building and burned to death. "We could not save her as the looters and arsonists drove us away from the site. They also took away the remnants of her dead body. Therefore, we could not perform any funeral for her," says Kulin. 
Officer-in-Charge of Longadu Police Station, Md Mominul Islam says, "We are not sure of any human casualty in the incident. Some Chakma people gave us some bone samples and claimed that those were the remnants of Gunamala Chakma's dead body. We have sent those for forensic testing." 
Those who survived the disaster are living in unspeakable conditions in the jungle. These people, many of whom are injured, elderly, sick, women and children, are passing their days without food, shelter or medicine. All day and night they are drenched by the heavy monsoon rains, only to be baked in the extreme heat of the tropical sun and plagued by the malarial mosquitoes of the jungle. Renu Chakma and two of her children reached the Manikjor Chhora in the afternoon of June 3, following a whole day's march from Tintilla village. For two days, she had nothing to consume but water. She is trying to feed her children with some tubers and roots which she gathered in the jungle. "I have been living in the jungle for three days without any food. If I return to the village, they will slaughter us. If I stay in the jungle for few more days, my children will die of malaria or from hunger. My husband died a year ago from an accident. I don't know where to go with my two orphan children," weeps Renu. 
Unlike Renu and her two children, those who were fit and strong enough were fleeing to the jungles of Kalo Pahar area in fear of more assaults that might eliminate their entire community. Ashni Chakma gives a horrifying account of the incident that displaced him and hundreds of indigenous people of Tintilla village. "By Thursday (June 1), the situation was already abnormal. I was hearing rumours that Bangalees were blaming Chakma people for the murder and they might take revenge. So, I advised my three daughters and our neighbours to take shelter in the jungle." However, Ashni and his wife Kananbala Chakma stayed back and thought they would request the attackers to at least spare their food crops, which they harvested only a few days back. However, the Bangalee rioters broke into Ashni's home from two sides and paid no heed to their request. Rather, they started to beat up Ashni and looted all of his belongings. "When they surrounded my home and poured petrol over it, my wife and I fled into a bamboo thicket. I was injured and could hardly walk. I saw my house and my granary full of 300 maunds of rice go up in flames right in front of my eyes," states Ashni.
Sadhan Karbari from Baittapara village recounts that the miscreants even brought a tractor with them to carry the ill-gotten gains. Sadhan and his wife Nandibala Chakma witnessed the attack from a bamboo thicket. After destroying all the houses in the village, the arsonists gathered the goods, loaded them onto a tractor and drove off. "Some of the looters brought jars of petrol with them, which they poured over our house and the granary. Everything in our house and every single grain in our granary have been destroyed," says Sadhan. 
After the last riot that occurred in 1989 and claimed 35 indigenous lives, around 20,500 indigenous people in Longadu upazila of Rangamati district were living side by side rather peacefully with their Bangalee neighbours, whose numbers are three times larger. However, the sudden attack on June 1 completely destroyed the 27-year-long effort of rebuilding their lives and villages. 
However, the incident that sparked such barbaric vandalism did not even take place in Longadu. A youth named Nurul Islam Nayan from Longadu was killed on June 1 by some unknown miscreants. That day, his corpse was found in Khagrachari's Dighinala upazila. However, a rumour was spread among Bangalees in Longadu that Nayan was killed by two Chakma youth who allegedly took a ride on Nayan's motorbike that day. When Nayan's body was brought to Longadu, agitated Bangalees brought out a funeral procession. According to the local police, some youths in the procession threw brick chips at indigenous houses, initiating the riots. After burying Nayan's dead body, on Friday morning, thousands of Bangalees gathered in Longadu and attacked three indigenous villages named Baittapara, Tintillapara and Manikjor Chhara. 
According to Mohammed Shafiul Sarowar, additional police superintendent of Rangamati district says, "In Longadu Police Station, we have a troop of only 40 policemen. On that day, around seven to eight thousand Bangalees from surrounding villages came to attack the indigenous villagers. It was an impossible task for these 40 policemen to control such a huge number of people."
The fleeing villagers allege that the law enforcing agencies did nothing to protect them. All of the interviewees even objected that law enforcing agencies allowed the vandalism to continue by preventing them from fending off the Bangalees. In this regard, Lt. Colonel Abdul Alim Chowdhury, zone commander of Longadu area says, "When I got news of the riot, then and there I mobilised my troop and found the Bangalees and tribal people standing face-to-face, on the verge of attacking each other with bamboo sticks. I ordered my troops to take position in between the two conflicting parties and thus averted a clash without firing a single shot." 
However, by then, the damage was already done. The burnt and demolished houses still bear witness to how the law enforcing agencies failed to prevent such barbarism. Currently, the indigenous people are too terrified to return to the village to obtain relief. On June 4, the district administration supplied 20 tons of rice to Longadu as relief. However, even on Monday, while writing this article, none of the indigenous people came to receive the relief goods. "What will we do with that rice? We have no shelter, we have no stoves, and we have no pots. How can we cook rice in the jungle? What is the use of money in the jungle? We will not take any relief unless and until our houses are rebuilt and the criminals are arrested by the government," says Buddha and his thoughts were echoed by all the indigenous people who lost their belongings in the attack.
Attacks on indigenous people in the Chittagong Hill Tracts (CHT) have become a common phenomenon in Bangladesh. The attack on Buddhist monasteries in Ramu in 2012 and the demolition of 35 indigenous houses at Taindong village of Khagrachari in 2013 were some of the worst examples in recent history. However, in most of these incidents, poor villagers like Buddha are the worst victims who never get adequate compensation and justice. The indigenous leaders are trying to find a solution to this relentless problem by implementing the CHT Peace Accord, which was signed 20 years ago in 1997. Bijoy Ketan Chakma, President of M N Larma Memorial Foundation states, "Until and unless we fully implement the peace accord, peace will not come to the hills." 
In this regard, Sultana Kamal, human rights activist and co chair of CHT commission argues that, "The accord has to be implemented to empower the indigenous people. Government is conducting land survey, government is forming land commission but they hardly took any step to empower the indigenous people politically and economically."
However, the ceaseless barbarism that turns thousands of indigenous people homeless, the continued encroachment of their ancestral lands, and the systematic failure by the government to arrest the masterminds who incite such heinous crimes, are the bleak signs that show us how we have failed to give our fellow citizens the basic rights to live safely in their own land.
Additional reporting by Minhaj Uddin, Reporter, The Daily Star.
The writer can be contacted at shahnawaz.khan@thedailystar.net.