The Manmade Deluge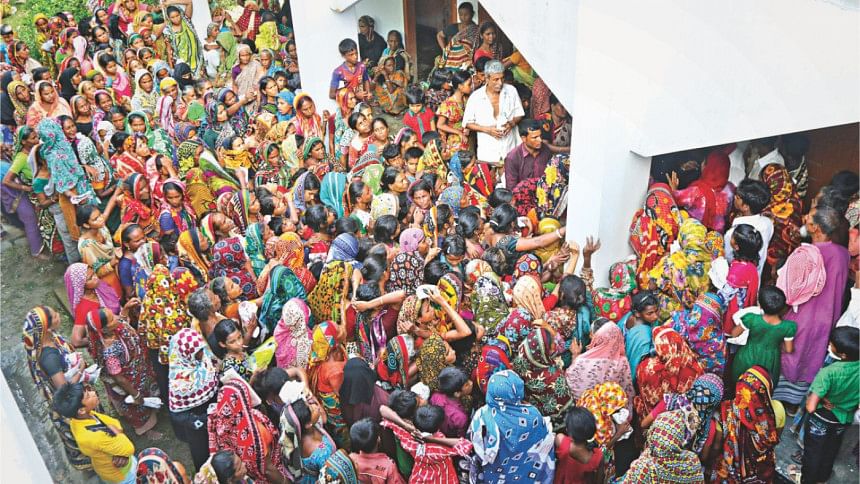 Photos: Amran Hossain
During the drier seasons from November to March, anybody visiting the northern districts of Bangladesh will come across a sight that cannot be compared with any other part of the country-- vast sandy plains stretching hundreds of miles resemble more with the desert wilderness of Arabia or the Sahara. And, in the northern districts like Kurigram, Gaibandha or Lalmonirhat, the sand is invading more and more lands. Due to high velocity winds, the sand is taking over the adjacent fertile plains turning huge amounts of land into barren desert every year.
However, just from April and onwards, this huge sandy plain turns into a raging inland sea. The furious current washes away everything in its path; monstrous waves destroy each side of the river bank leaving hundreds and thousands of people homeless and destitute. Hundreds of populous, rich villages get wiped out from the map of Bangladesh every year due to this completely contrasting nature of the once mighty Teesta River.
This year, Bangladesh has suffered from the most devastating flood in the last ten years. More than three million people have been affected in at least sixteen districts of the country by the surging waters of Jamuna and Teesta rivers-- the two main distributors of Brahmaputra River that flows in India and Bangladesh. More than 15,000 homes have been washed away by devastating river erosions. According to Engineer Jahangir Kabir, Director General of Bangladesh Water Development Board, "There are three river systems in Bangladesh which are Ganges river system, Jamuna river system, and Meghna river system. 93 percent of the catchment area of these three river systems is situated outside Bangladesh."
"Heavy rainfall during monsoon in the upstream catchment area of these river systems situated beyond the Bangladeshi border is actually the main reason behind this year's flooding," he adds. So, to look at what causes such devastating deluge we have to go outside the borders of Bangladesh.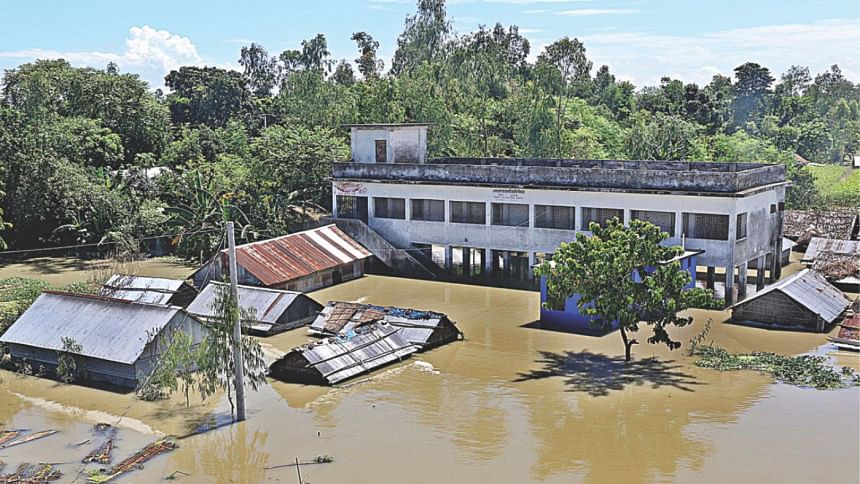 Before, 1987, Teesta was a river of prosperity. The River used to nourish the fertile plains of Bangladesh's northern districts with mineral rich alluvial silts. Chillmari river port of Kurigram district on Teesta was a booming centre of riverine trade and commerce.
Then in 1987 when India diverted the upstream waters of Teesta River with Gojoldoba barrage to irrigate its agricultural lands during dry season, the situation started to deteriorate in Bangladesh. Due to this barrage situated only 70 kilometres from Dalia point in Nilphamary, now the river bed of the once mighty Teesta River turns into an arid desert plain during every dry season. And, during monsoon, when the Gojoldoba barrage has been opened to drain away the excess waters of Teesta, the rushing water overflows the dried up, sand covered riverbed resulting in distressing floods and erosion of  huge land mass. Besides this, the Indian government has also built several dams across Teesta River to produce hydroelectricity.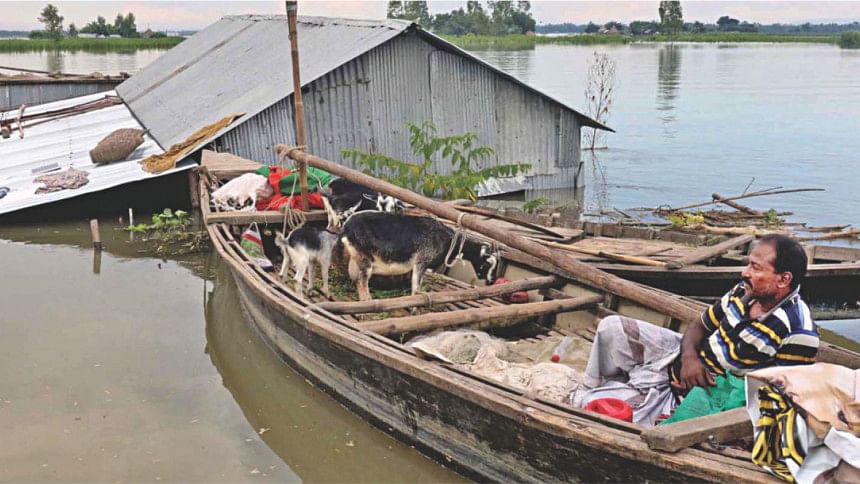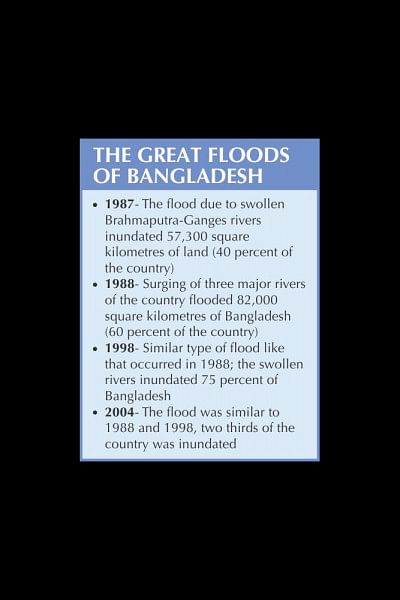 On the other hand, according to a 2016 report published by Assam Science Technology and Environment Council, destruction of forests, and growing human settlements in the hills have degraded the catchment area of Brahmapautra River, which is the 10th largest river in the world in terms of discharge of water. As a result, during monsoon when the catchment areas of Brahmaputra are showered with around 12,000 millimetres of rainfall, the river, which has already lost its depth due to sedimentation resulting from soil erosion, expands many folds in width, failing to hold the rush of water like the Teesta river and swallows villages and towns which again contribute to sedimentation of the river. The main brunt of such flooding affects the lower basin of these mighty river streams which are mostly located in Bangladesh. Thus, abnormally overwhelming monsoon floods in Bangladesh is the glaring example of how unplanned modification of natural resource can bring about deadly catastrophes for mankind.
However, experts in Bangladesh have claimed that this year's flood is not as devastating as the one we had experienced in 1998 and 1988, in spite of the fact that in Jamalpur, on July 28, waters of Jamuna River flowed 121 centimetres above the danger mark level, whereas during the flood of 1988 it flowed 112 centimetres above the mark. "If flood water remains clogged for a long period of time then we can call it a devastating flood. The flood water is now receding. Some places of the country have been inundated but compared to 1998 and 1988, this inundation is not that significant," says Jahangir.
However, the receding flood water is making way for new catastrophes which is no less dangerous than the inundation. Besides loss of property, waterborne and other skin diseases have turned into epidemics in the flood affected areas.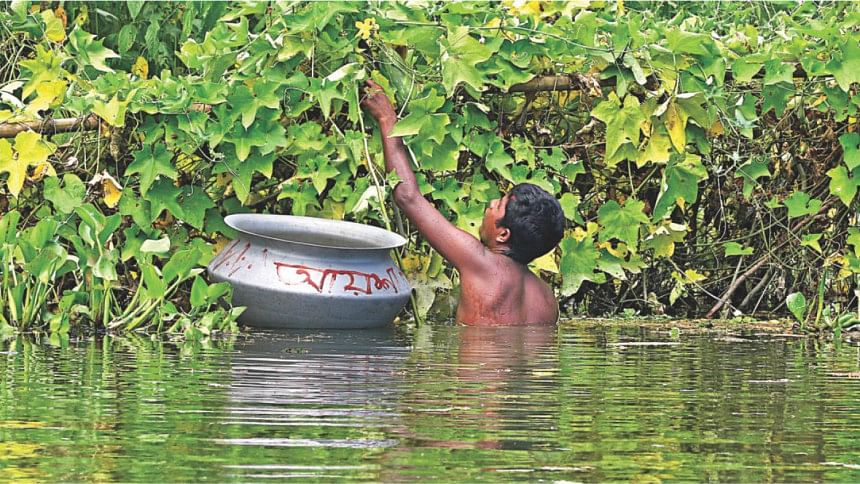 Akkas Ali with his 3 children and wife are still living in their dinghy as his household has washed away by the flood and the plot of his shanty is still soft and muddy. "My wife and my youngest daughter have been suffering from diarrhoea for last three days. All my skin is covered with rashes and sores. I cannot even walk due to acute pain from my sores," says Akkas Ali, a small farmer living in Hatathpara village in Udakhali union under Fulchhari upazila of Gaibandha district.
"We cannot go to the doctor as all the roads and bridges have been washed away. I do not have any money to rebuild my house", adds a hopeless Akkas. The aftermath of the flood has worsened due to scarce relief and rescue operations. A huge number of people in most of the affected districts have not been contacted by any government representative with relief. "Nobody has given us any relief. We have no food, no medicine and no home," says Golejan Bibi a villager of Hatathpara village. "You think members and the chairman of our union council will send relief for us? They will never come to us. They will steal all the relief goods for their own use," adds Akkas. However, according to data shown by The Directorate of Disaster Management Tk 55 million and 6,000 tonnes of rice were distributed so far among 3.1 million affected-people. But reflection of such appreciable activity can hardly be seen in the flood affected areas.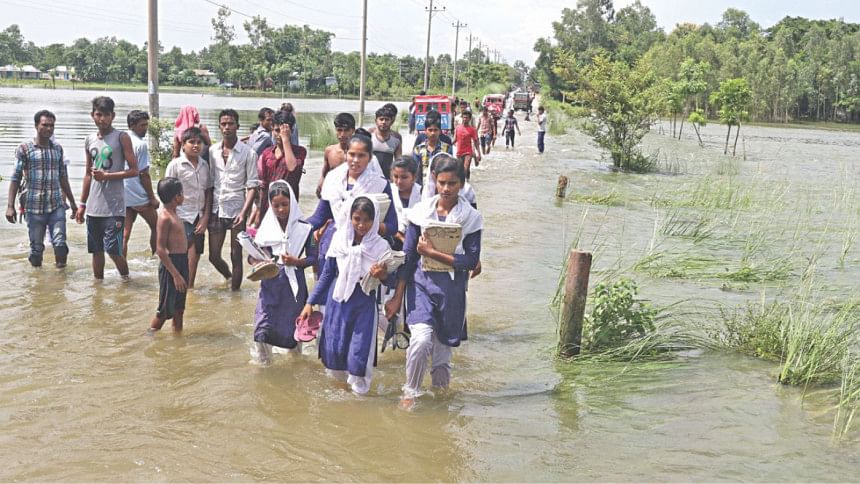 "We do not want relief. We want a safe place to build our home. We want strong dykes around our village which will not be washed away every year," says Golejan Bibi. Millions of people like Akkas and Golejan Bibi are now homeless, ailing and starving in Bangladesh. As the floods have washed away their homes, food crops and fishing ponds, they will suffer more crises due to food shortage and loss of property. If immediate relief response cannot reach these destitute people, the consequence might result in famine or further breaking out of diseases. 
However, to reach a sustainable solution to this regular catastrophe, there is no alternative to reach a bilateral consensus between Bangladesh and India to make an acceptable division of the waters of the two country's common rivers that has remained a pending issue for more than thirty years. Without solving this issue, there is no doubt that tragedies like this will descend upon the impoverished people of Bangladesh with greater extent of humanitarian disaster in the near future.