Rotting Behind Bars
Lack of manpower, corruption and negligence has turned Bangladeshi prisons into a breeding ground of crime and injustice.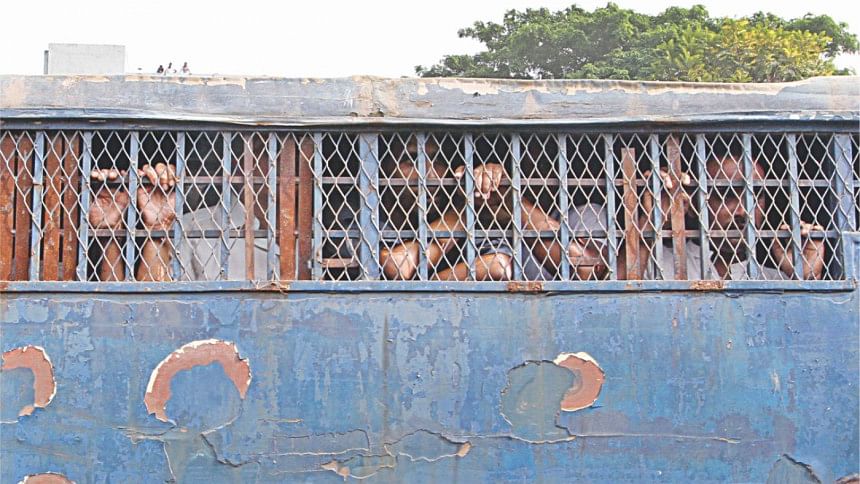 Photos: Prabir Das
"Hey, people, welcome to your new home. Now you are the dwellers of one of Bangladesh's most famous buildings. Here, we have two packages for you. If you can pay 5000 Taka you will be allotted to a cell where you can get 'homely' comfort. You can also stay in the ward which will cost only 3500 Taka. Now, people, give us the contact numbers and let's call your relatives to arrange the payment." 
That was the 'briefing session' in Amdani, a hall room, where all the newly admitted prisoners are rounded up for it and to be allotted to the specific wards and cells. This is how, right from the start, jail guards and officials extort money from the prisoners, according to Abdul Jalil (pseudonym) who has spent three terrible months in Dhaka Central Jail (DCJ).
Throughout their stay, the inmates have to pay extra money for each and every facility which they were supposed to get free of cost. Even, according to the former prisoners, they can get any undue and illegal privilege by bribing the guards. For example, using mobile phones inside the prison or getting alcohol or narcotics, like marijuana or methamphetamines, is no problem at all.
The prison system is one of the largest government run citizen welfare systems in Bangladesh. It is also one of the most neglected departments. There are 55 district jails and 13 central jails in Bangladesh. The total prisoner capacity of all these jails amounts to 33,430, whereas currently the number of prisoners is more than 75,000. As a result, the condition of the inmates is appalling.
Jalil says, "As I could not pay any money to the officials I had to stay in a normal ward. 65 prisoners were crammed into a room suitable for 20 people at most. We had no place for sleeping. We could only sit with our legs up. This is how I had to spend every night during my 3 months of incarceration.
The hygiene condition inside the jail is also terrible. "You cannot have what we call toilets inside the jail. There is a tub attached to every ward where prisoners have to urinate or defecate. Those tubs would overflow with human waste in no time and all of it would be smeared across the jail floor," says Jalil.
Nutrition condition of the prisoners is also equally dreadful. In the morning a prisoner gets two thin slices of bread with molasses. During lunch and supper, the prisoners get rice with curry; however, with numerous pebbles in the rice, the meal, already very poor in quantity, is not edible at all. However, bribery brings the solution here too.
Rashidul Karim (pseudonym), another former prisoner of DCJ, and the student of a reputed public university says, "I used to buy meals from the stalls inside the jail. However, the price was excruciatingly high. I had to pay 650 Taka for a chicken and 200 Taka for one kilo of rice."
However, nothing can be obtained in the prison without bribing the jail guards and their subedars. In front of the jail gates, they can be seen bargaining with the relatives of the inmates. Taslima, with her 8 year old son, comes to see her husband. A jail guard informs her that her husband is in a ward called School Ghar. If she wants to give food or money to her husband she has to pay 500 Taka. If she wants to talk personally with him, the rate is 3000 Taka.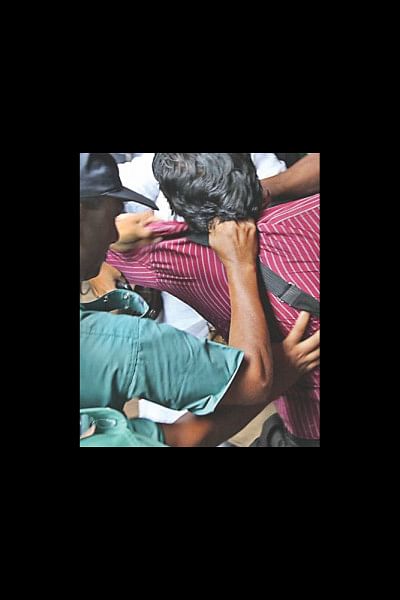 Taslima sends food but cannot afford to see her husband. When she asks the guard only to tell her about the physical condition of his husband, the guard demands 500 Taka more for the information, and helpless Taslima is forced to pay the extra money. 
However, there is a facility in the jail where prisoners and their relatives can meet by buying a ticket from the jail authority. Taslima says, "The visiting room is so crowded that nobody can see or hear anything. But if I pay to these guards, they can arrange the meeting in a calmer and quieter environment."
In this way, millions of Taka is exchanged illegally in the jail premises. After extorting money from the relatives, the jail guards take bribes from the inmates. However, usage of currency is prohibited inside the prison. So, instead of money, the prisoners and their guards have devised a new currency-- cigarettes. Prisoners give packets of cigarettes to the guards to get anything they want. Rashid says, "I don't smoke. However, I used to call my father to supply me with packets of cigarettes. It was very embarrassing. But to buy better food I had to bribe the guards with cigarettes. It is the only 'recognised' currency inside the jail."
Brigadier Iftekhar Uddin, Inspector General (Prison) says in this regard, "We must eradicate corruption from its root cause. Whenever we get allegations of corruption, we take immediate official action. In my office, at the prisons HQ, I personally supervise so that no act of corruption can take place," he adds.
The situation has deteriorated inside the jail due to overcrowding as for the last couple of years all the jails have been flooded with political prisoners. "Most of our prisons are carrying two, three or even five times more prisoners than their capacity," says Iftekhar. 
Professor Dr Mizanur Rahman, chairman of the National Human Rights Commission, has recently visited some of the prisons. He says, "The convicts inside the prisons are treated inhumanly. Our prison management system is archaic. This system treats the prisoners as the convicts who can have no human rights. We must change this mindset. We should realise that the purpose of a prison is to rehabilitate the convicts not to punish them." 
There are thousands of prisoners who have committed very minor crimes or even no crimes at all. But after experiencing the terrible environment and getting in touch with the imprisoned criminals, many of them get involved with the underground world. 
Jalil shares his experience, "I saw two youngsters in the jail who were merely 16 years old. They were sent to the prison for stealing rear view mirrors of vehicles. After a few days, another group of four youngsters were admitted to the same ward for the same crime. Then those six boys formed a gang and pledged that they would work together after getting out of the prison."
Psychological disorders and severe frustration are also very common among prisoners after suffering from a prolonged period of incarceration. Many of them become addicted too. There is no counseling facility in the prison. Medical facility is also very inadequate. Among 170 posts of prison-doctors, only seven are occupied and functioning. However, jail authority provides some free medicine prescribed by the doctor to all the prisoners.
Brigadier Iftekhar says, "We have severe lack of manpower, and resource constraints. In Dhaka Central Jail we have only two class one officers, six second class officers and 750 jail guards to manage 7,500 prisoners. Many of our prisons have been increased in area. However, we have been managing the prisons with the manpower structure formulated in 1984."
Dr John Braithwaite, the renowned criminologist and expert on restorative justice, suggests a solution, "Implementation of restorative justice can contribute a lot to improve such crisis. It is a process where all stakeholders involved in a justice have an opportunity to discuss its effect on people and decide what is to be done to attempt to heal the wounds."
"Bangladesh's local courts called Salish can be a very effective tool for implementing restorative justice. If minor crimes and local disputes can be solved through these Salish, pressure on the prisons will be reduced and it will be easier to protect the rights of the prisoners," adds John.
Experts like John Braithwaite, distinguished judges and police officers from all over the world recently visited Bangladesh to attend an international conference titled "Restorative Justice: From Crime Prevention to Conflict Transformation" and gave their suggestions to solve this humanitarian problem.
Despite of limited resources and severe manpower constraints, Bangladesh jail authority has taken some appreciable steps in rehabilitating the prisoners. In the Kashimpur jail facility, a digital printing press has been established to train the prisoners on modern printing technology. Prisoners are also getting training on garment sewing, handicrafts making, food processing etc. In every prison, there is a sales corner where products made by the prisoners are displayed and sold. The revenue from the sold products are deposited to the prisoners' accounts and given to them at the time of their release.
Despite the slogan of Dhaka Central Jai l– "We shall keep you safe and guide you towards enlightenment" – which expresses the ultimate vision of a prison, the reality of it is quite the opposite. Many of the prisoners, who once entered the place for a minor crime, come out as reckless, organised criminals. Besides intense corruption, injustice and mismanagement, and social stigma against the former prisoners is also a reason behind this. If we can't change our mindset and fail to rehabilitate these helpless people, social unrest will inevitably increase and it is us who will ultimately have to pay the price.

The writer can be contacted at [email protected]