spotlight
Is BTV obsolete?
Photos: Kazi Tahsin Agaz Apurbo
Arbovirus isn't exactly a mainstream music band. They have, however, over the years, managed to gain a tremendous fan base, courtesy of their unique sound and reputation for breaking boundaries during their live performances. From smashing guitars to playing on rotating stages, they have done it all.
And so, when the rock band announced last year on its Facebook page, which has close to four lakh subscribers, that it was going to be featured on Bangladesh Television (BTV) in an Eid special, there was quite an uproar.
On the day their performance was aired though, the band's fans were taken aback. For some reason, the group's guitarist had taken over the position of its vocalist and was emotionally mouthing the words of the song in front of the microphone. In a similar vein, the band's vocalist resorted to the bass guitar, while the band's bassist went to the drums and the drummer took up the responsibility of the rhythm guitarist.
They were lip-syncing. And the change in roles?  It was a clear way of sending a message to the audience that this was not a live performance. 
While the band did not provide any official statement regarding the performance, it was quite obvious that the musicians were protesting against the age-old practice of lip-syncing in studio shows. The video now has more than 50,000 views and is one of the band's most-watched performances. The other rock bands, which had "performed" in the programme, were also reportedly not too happy with the way it was conducted.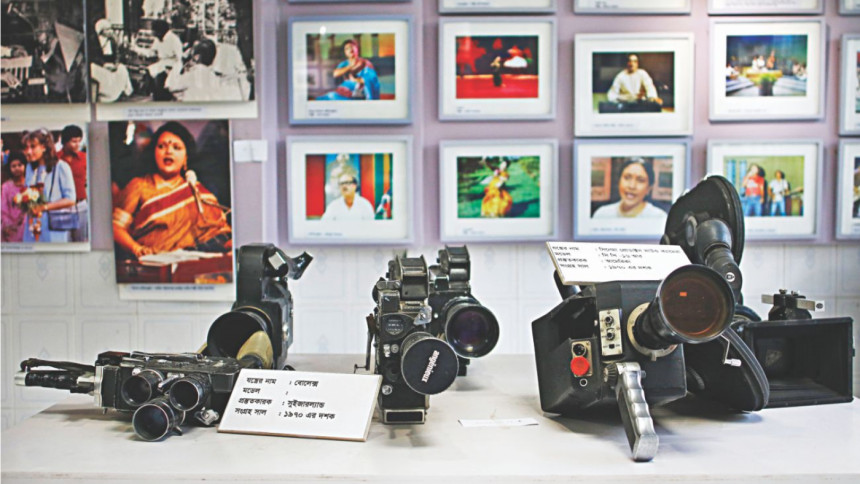 That the organisers let such a thing happen raises questions about whether they did even the most basic research to find out which band member does what. The above programme, in a way, describes the dire situation of BTV. BTV, at best, is a nostalgic reminder of the past—of the powerful, yet entertaining serials and dramas of the 70s and 80s—when it was the sole broadcaster of the country.
As far as the present scenario is concerned, almost everyone asks the same question: why hasn't BTV, despite getting a significant head start, managed to adapt itself to the changing times?
BTV's Director General, Haroon-Or-Rashid, who has been in charge of the channel for close to two years now, is quite frank about the channel's progress—or the lack of it.
"If BTV does not change within the next three years, it will be become absolutely obsolete. There's no point of decorating a shop if you don't have any customers," he admits.
"Look at our state. We run three channels: BTV, BTV World and BTV in Chittagong. We run nine news programmes every day and yet we don't have any reporters. We have four news producers who have to work as reporters as well. That does not work out. We don't have anyone to take the place of General Manager. We also don't have anyone to give the position of Programme Manager to. In addition, we just have two graphic designers," he complains.
In fact, the last time a proper recruitment process took place in BTV was more than 20 years ago. "Do you think it's possible to run a channel like this?" a dismayed Haroon asks. 
In order to cope with the lack of manpower, the channel depends upon a host of contractual employees. For instance, there are more than 40 part-time reporters and sub-editors who work with the news team. However, according to Haroon, this setup does not work well.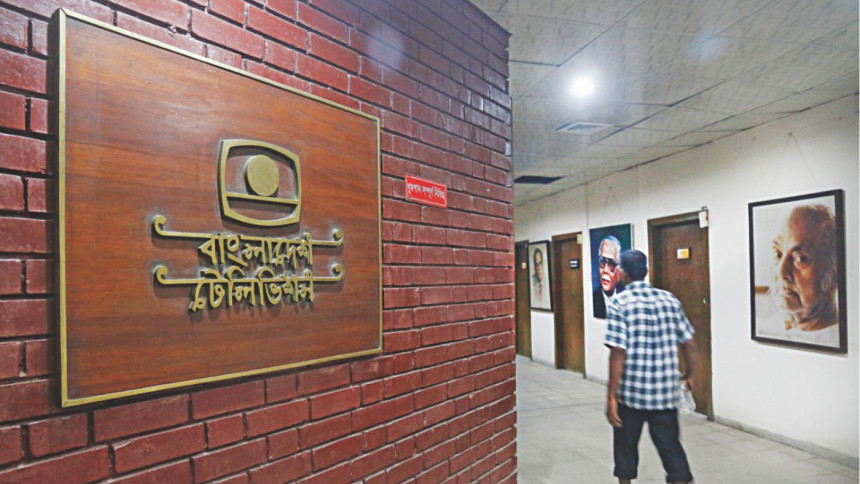 "Contractual employees come and go. It's not possible to work with piecemeal reporters. Once they leave, you need to find new people and train them again. It's a huge hassle. If you don't have your own reporter, you are stuck in that vicious cycle," he explains.
But then again, there's not much that the BTV administration can do, because the process of hiring someone or creating a job position is quite tedious.
For instance, if BTV does want to create a new position or hire someone, they first need to draft a job description and then send it to the Ministry of Information. From there it is forwarded to the Ministry of Public Administration, from where it goes to the Finance Division for determination of the pay scale. Eventually the request is forwarded to the Secretary where the organogram is finalised. According to Haroon, a process like this can take up to two years. "It may take even longer if they don't believe that we actually need such a position," he says.
As Qamrunessa Hasan, who worked as the Deputy Director General of the channel till 2011, explains, problems related to BTV's recruitment are nothing new.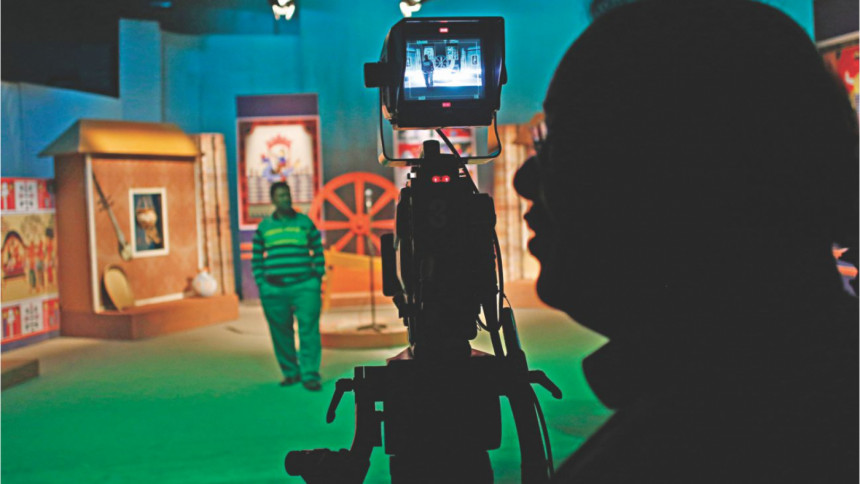 BTV initially began as Dhaka Television in 1964. Jamil Chowdhury was the Station Manager in Dhaka back then and he began the journey with several other greats such as Mustafa Monwar, Abdullah Al Mamun and Atiqul Haque Chowdhury. Several people from the cultural field were recruited until 1969. However, it was in 1977 that a liberated Bangladesh witnessed its first ever recruitment for BTV.
"BTV was the only channel back then and it had garnered plenty of attention. I remember thousands and thousands of boys and girls giving the written exam to get a chance to work for BTV," recalls Qamrunessa.
"It was a four-hour-long, 1000-mark exam. It took place in the Motijheel Central Government School. Of all the applicants, 60 were selected for the viva round. After the interviews, nine were finally chosen. Among them were Ali Imam, Abu Taher, Mahbubul Alam, M Hamid and Nasiruddin Yousuf Bacchu. I was one of the two women, who were selected, the other being Shahida Robi," says Qamrunessa.
The selected candidates eventually started working for BTV in 1980. Back then, as per the policy of the channel, it was required to recruit 75 percent of the employees from outside the organisation and 25 percent from within.
A decade later though, the lower subordinate staff of the BTV protested. It brought about a huge modification: 25 percent of the employees would be hired from outside, and 75 from inside.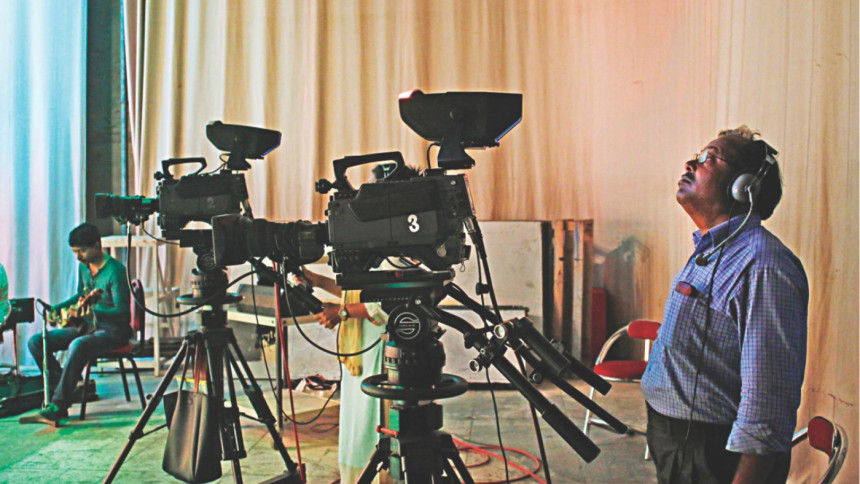 The aftermath of that decision, according to many former BTV officials, did not work out well. If any position opened up, the channel would wait for people from inside the organisation to get a promotion and then give them the position. This essentially meant that a person who used to hold the cable eventually became a cameraman and a person who used to hold the microphone, became an audio recorder. Their education level wasn't a factor. 
As a result of the lack of manpower, the "package" system was introduced in the mid 90s, where the channel was opened to dramas or programmes created by people outside the channel. BTV would broadcast those programmes at a certain cost. However, many claim that the selection of these programmes were influenced by people belonging to political parties and, as a result, talented filmmakers and programme creators eventually lost interest in making good programmes for the channel.
That was also the time when Bangladesh witnessed the birth of private television channels, which began hiring a number of these people.
The current DG of BTV believes that he has found a way to bring back BTV's soul. He says that he has managed to convince the government to create 200 new positions in the channel within the next three years.
"There is a huge requirement now and the government has accepted that fact. The Prime Minister herself has talked about this and our ministry is working on it," says Haroon.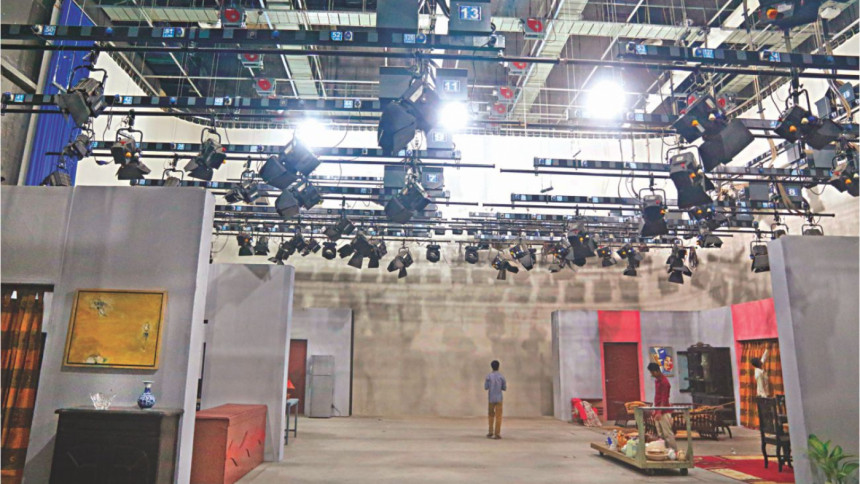 "Hopefully I will get people who can actually benefit the channel with their creativity. I don't need any more clerical staff members. The people who will be recruited will be young and I am positive that after they receive proper training, they can do wonders," he adds.
If this move does take place, there's no doubt that it will provide the channel with a much-needed boost. However, the candidates are likely to be selected through the Bangladesh Public Services Commission (PSC), a move which has been criticised by former BTV officials. They believe that the channel needs more people with literary and cultural backgrounds.
"PSC is for traditional jobs. You can't do creative work with people from PSC. Working in the television industry is not a normal job," opines Nawazish Ali Khan, who worked for BTV from 1972–2000.
He also believes that the government needs to employ officials who are aware of the television industry in order to bring about change.
"When a normal bureaucrat goes from one ministry to another, things work out because the basics of the job are the same. But television is completely different. This does not fall under routine work. I don't think BTV has seen too many dynamic officials. Then again, there were many who were capable, but didn't want to take the pain and fight to change the system, since they knew that they wouldn't be here for a long time," he explains.
Qamrunessa echoes the sentiment. She believes that it's high time the government forms a different committee consisting of members who worked for the channel in the 70s and 80s to provide guidance and build a separate recruitment system. 
"The committee should also be allowed to strategise three-month plans on what programmes will be shown on the channel," she says.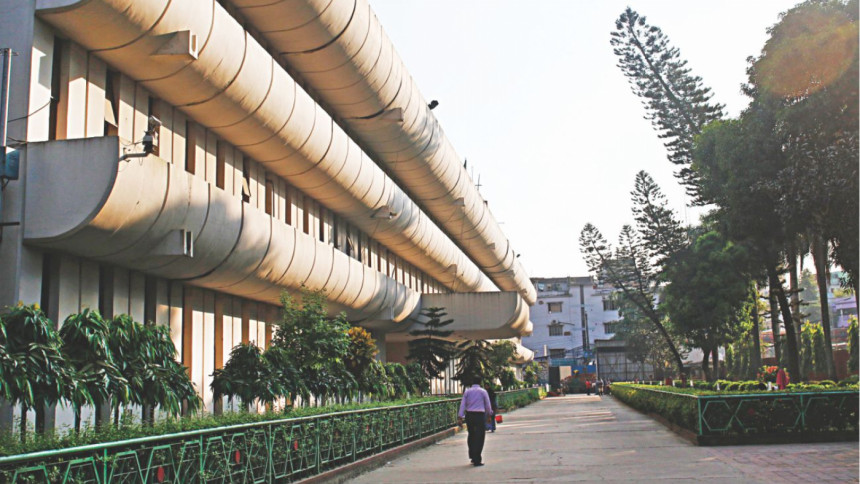 According to a former BTV official, the planning of programmes is heavily politicised these days. 
"People with political backgrounds try to force their way into programming even though they don't have any sur or taal (expertise). It's not as though this directive is given from the top level of the government, but these people from the lower strata try to show their power this way," the former official explains. 
Another aspect that the current DG wants to focus on is gaining the trust of the viewers as far as BTV news is concerned. He admits that there is fear among those working in the BTV newsroom to publish anything that is against the government.
"Look, many people tell me that the government orders me to publish news in a particular way. But honestly, speaking, in these one-and-a-half years, I have received no instruction from the government. 
"I understand when someone does not want to do a report on something that is politically sensitive. But what about a social issue? Or a health issue? Or an issue of a traffic jam or that of some corrupt activity taking place in a government organisation? There is no problem in reporting these issues. 
"The other day one of my reporters asked me if he should cover the procession held by BNP. And I said why shouldn't you? Aren't they a big political party? The problem is that there is this stereotypical style of thinking among our reporters. They assume that if they do news pieces like these, the government will get angry," explains Haroon.
"What they don't understand is that as a public service broadcaster, you have to gain the public's confidence. I think that can only happen once we have our own permanent reporters," adds Haroon.
When compared to the target of improving BTV's programmes, this particular aspect of gaining the people's trust as far as news is concerned, is likely to be a lot more difficult.
As Nawazish puts it, BTV has traditionally acted as a mouthpiece for the various governments that came into power. For that mentality to change, there's no doubt that Haroon will have to work a lot harder.
Despite all the criticism, the one aspect that several media officials accept is that it is still possible for BTV to bounce back strongly in the future. The advantage that the channel has is that it does not have to worry about making profits.
The government's stance on BTV is that it should focus on making programmes that spur positive change and development and does not have to focus on advertisement or marketing. That is perhaps one reason why watching cricket on BTV, with fewer advertisements, is a lot more fun compared to private television channels.
However, the question remains as to whether the government will ever realise the depth of the potential that BTV has.