Restorying Partition: Pushpa Nangia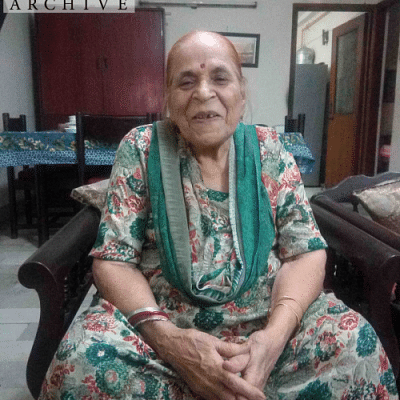 Currently Residing: New Delhi, Delhi, India

Age in 1947: Not available

Migrated from: Nowshera, Pakistan

Migrated to: New Delhi, Delhi, India
Pushpa Nangia was born in 1939 in Murree Hills, Rawalpindi. Her father was an engineer for the Military Engineering Services (MES) and her mother was homemaker. The Mukker family migrated from Nowshera to Delhi just a few days after the Partition, which also happened to be the day of Mrs Nangia's eighth birthday.
One morning the milkman came crying to Mrs Nangia's house in Nowshera. He informed her mother about shooting in the streets and the many deaths he had witnessed. Soon, the Military Engineering Services truck came to take about 50 to 60 families to Risalpur Camp. In the midst of rampant firing, crowds of people rushed into the truck. Mrs Nangia was kept in the front seat, while the majority of people were in the back carriage. All throughout the journey, Mrs Nangia remembers hearing cries and bullets whizzing past. Her father was in the line of fire, but fortunately not hurt. The family stayed at Risalpur Camp for about two months. The conditions at the camp were horrible. There was not much more than a shelter above their heads. Everyday, they would eat rajma chawal, the sight of which was nauseating to Mrs Nangia for many years afterwards. Eventually, the family was flown to Palam Airport by the MES. When her uncle came to pick the family up at the airport, he couldn't recognise his family, as they were malnourished and traumatised beyond recognition.
The Mukker family settled in Delhi and Mrs Nangia resumed her education at Rai Kedarnath Girls School. She graduated from Gandhi Memorial College and had a successful career as a market researcher for HUL from 1960 to 1989. She took premature retirement from her job, which had required her to travel extensively, and she wanted to spend more time with her family. Mrs Nangia shares that no one thought the Partition would be permanent and left almost everything behind. She suffered nightmares of the refugee camp and the violence for many years.
Interviewer: Siddhant Kalra

Camera Person: Siddhant Kalra

Archivist: Sneha Mahapatra

Story Donor/Sponsor: Motihar Scholarship

Photo and content sourced with permission from The 1947 Partition Archive (www.1947PartitionArchive.org)
---
See

States of being divided

for the full list of articles on this special issue of the Star Weekend.