The hero on and off screen
Ilias: A long road for road safety and the many stories in-between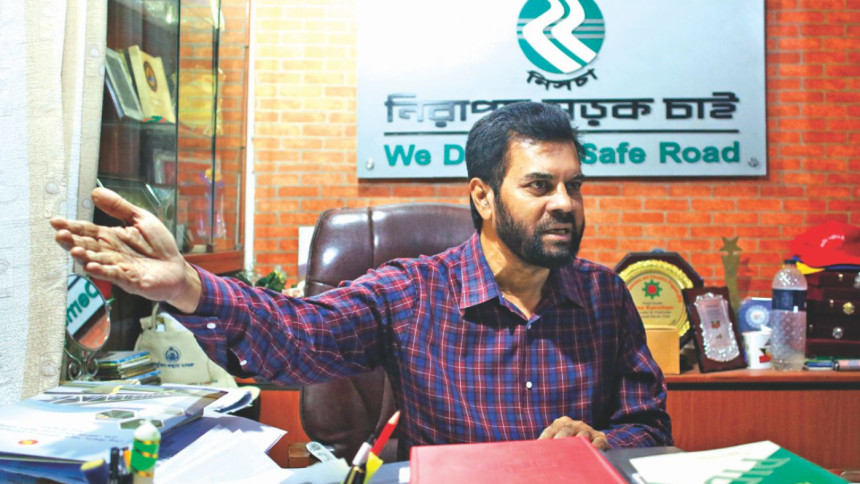 Ilias Kanchan, the inimitable silver screen actor, lived an almost cinematic life himself. The son of a farmer from a small village in Karimganj of Kishoreganj, he rose to the height of Bangladeshi cinema in the 90s, starring in classics such as Beder Meyer Josna, Porineela and Aakhi Milon—in the process winning the hearts of millions. At the peak of his career, however, tragedy befell the film hero, and it was under the most trying circumstances that he found his cause—the fight for safer roads.
As we talk about his ups and downs, tracing his life all the way back to his childhood, it feels as though this brooding man is one who has always been guided by his ideals.
Oldest of his siblings, Kanchan spent very little time in his village home before moving to Dhaka—a student of Class 3 at the time.
"I was sent to Dhaka for my studies and honestly speaking I was excited about the move. I had been to Dhaka only once before and had the chance to go to the movies and I was enthralled!" he says, all smiles, his signature beard one of the more striking features on his gaunt frame.
In between signing important paperwork and approving posters and papers for the upcoming National Road Safety Day on October 22 in his cozy office room, Kanchon doesn't miss a beat as he launches into the story of his life.  It is evident from the many fixtures he has set up in his room—a small refrigerator, a change of slippers, a cushioned sofa, photographs of his late wife Jahanara Kanchan as well as his family alongside hundreds of thousands of stockpiled papers—that he works late into the night.
The movie magician
As Kanchan shares stories of his childhood and how he made it into the movies, he increasingly reminds me of a child in love with the world of cinema—of Toto in Italian director Giuseppe Tornatore's seminal work Cinema Paradiso.
When he came to Dhaka in the then East Pakistan, Kanchan was enrolled in a school in Old Dhaka and was living with his paternal uncle.
"I pretty much failed all my subjects that year!" says Kanchan.
Good thing he failed—he was sent for tutoring classes with a teacher who also happened to be friends with the great actor, "Nayok Raj" Razzak.
And as luck would have it, one day Razzak walked into his friend's house while Kanchan, then a student of class five, was attending classes there.
"I was overjoyed at his sight and the little actor and movie buff inside me jumped in joy and I immediately went up to him and told him with much confidence—"Sir you cast a lot of young people in your movies, surely there is a role for me too, please take me one day in one of your movies.""
"He said he would and being the innocent child that I am, I believed he would call me one day or the other."
When war broke out in 1971, Kanchan wanted to go off and fight for the independence of Bangladesh. "I was just a student of class eight then. But one of my friends and I ran away from our house to go fight the war." Unfortunately, he says, some elders intercepted them and brought them back home. "I was in my village for most of the last months of the war. Our home was even shelled and one of my younger sisters was left crippled in the attack."
In an independent Bangladesh, Ilias continued to nurture his dreams of someday making it to the silver screen. He made his debut with the movie Bashundhara, in 1977.
The movie did not do well commercially but it made Kanchan famous nonetheless.
"After that movie, every time I went to the university—I was a student of sociology at Dhaka University—people would recognise me. One time, I saw another student with a face full of beard and they said they were trying to be Ilias Kanchan."
As his movie career grew, so did his fanbase. At the height of his career, Ilias starred in Beder Meye Josna, directed by Tojammel Haque Bokul and released in 1989. In the era of Hussain Muhammad Ershad, theater goers rejoiced at the fall of the "wicked king" in the super-hit Beder Meye Josna.
Ilias kept starring in one hit after another—he seemed unstoppable at the beginning of the 90s.
"It was when everything was going so well that I had a premonition that something would go wrong. I had this gut feeling. I kept telling my wife Jahanara that I felt scared something bad would happen."
Sure enough, tragedy was soon to befall the actor. He was shooting for a movie in Bandarban, where his wife had planned on visiting him.
"But I never saw my Jahanara. She died in a road accident on her way to Bandarban."
Jahanara Kanchan died in a road accident on October 22, 1993.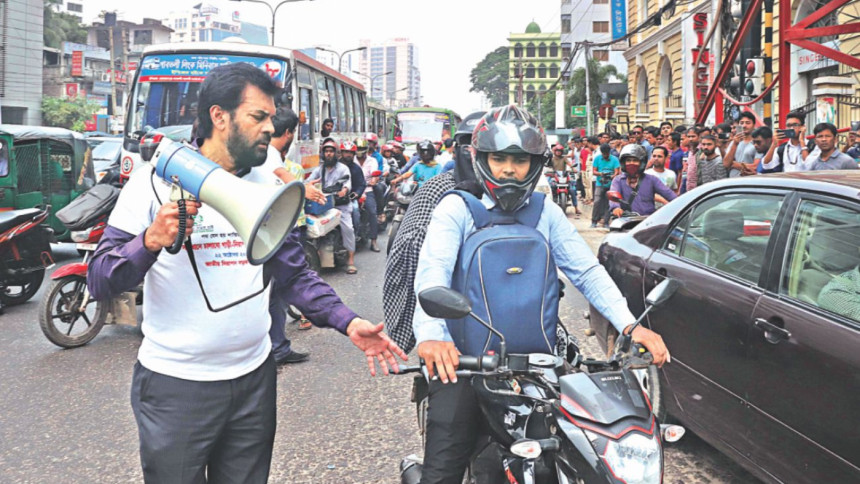 Ilias Kanchan, the activist and fighter
The death of his wife turned Kanchan's life upside down. "I kept thinking I had to work harder, spend more time on bringing up my kids."
It was one journalist, though, who motivated Kanchan to turn his grief into a lifelong work of activism on the streets.
"He told me that he understood my pain and my hurt, but would I just resign myself to fate or would I turn this into a fight? He reminded me of the effect I had on people and how loved I was; that I could use this platform to work for safer roads so that no more lives are lost on the roads.
"I did not answer him immediately. Was I ready to take on this fight? Make enemies on the way or grieve in silence? Move on with life, trying to heal my wounds out of the limelight? Maybe there was always a fight in me—I thought for a good 15 days before deciding to take this on."
His social movement Nirapod Sharak Chai (We Demand Safe Road) was born out of grief and a need for change.
"It has been a long two and a half decades. But my belief is that our work will see results. And I believe, by 2020, we can achieve the vision of reducing road accidents in Bangladesh by half."
In 2017, the government declared October 22 as National Road Safety Day, a move much welcomed by Ilias Kanchan and something he had sought to establish for a long time.
"When I started this movement, I did not realise or grasp how much work was needed at the grassroots level to simply establish the need for maintaining proper rules and regulations on the roads.
"We may have roads and highways—but nobody was taught that they are not meant for slow moving vehicles, for cattle to walk on, or for grains to dry on."
Kanchan emphasises on the need to continue training drivers and creating awareness. In this regard, his organisation has established a training center for drivers, which also helps with issuance of drivers' license. Additionally, the organisation takes up tasks such as mending small portions of broken roads.
He laments on the lack of key elements in the road infrastructure of the country and says, "I have fought for the construction of road-dividers and I feel this is key to reducing head-on collisions in the country."
"Accidents involving rear-end collisions are also prevalent on our highways. Cars and industrial heavy transportation do not run at the same speed. As a result, the slower cars are often hit from the back."
As Kanchan talks about his work on the roads, he gets animated, sometimes smiling at the possibility of change, and sometimes getting agitated at the still unfulfilled promises of policymakers over the decades. 
Ilias Kanchan ends the interview abruptly as the clock ticks 10:00 pm and he tells me, "It is late, I really need to get to work."
October 22, the National Road Safety Day, is just around the corner and as I switch off my recorder, I see him quickly dive into his work, giving feedback to his colleagues on designs and approving the itinerary of the day.
Through the corner of my eye, I catch a last glimpse of Ilias Kanchan, by now completely engrossed in his work. And as I leave, his promise to continue the fight for safer roads till the end of his life is the one lasting thought that lingers.