Check anarchy in bus transport sector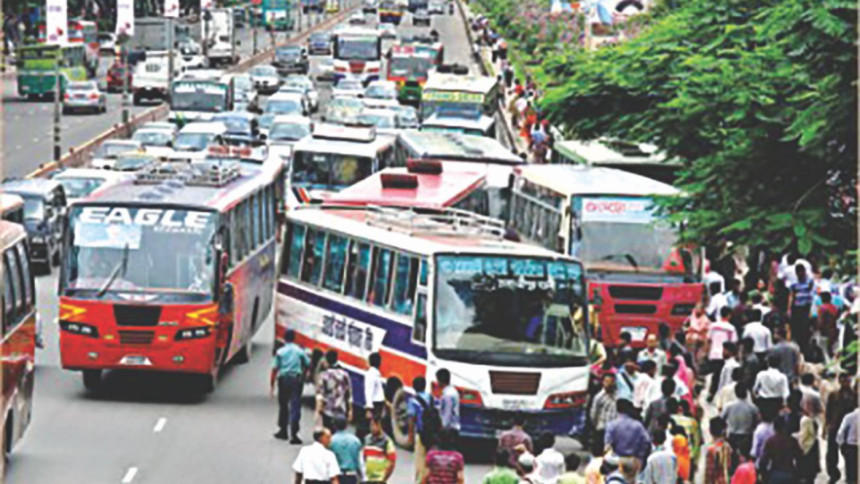 Public transport in Dhaka is regarded as of low status and poor service. Poor bus conditions due to lack of maintenance, lack of proper bus stoppages, and no rules regarding passenger safety make it the most unappealing option for city dwellers. The condition of the roads is not much better. Bus drivers stop in the middle of the road as passengers wish. The footpaths are occupied by hawkers, construction materials, and even foot over-bridges are not clean or pedestrian-friendly, forcing pedestrians to cross or walk on the road leading to accidents.
Lack of BRTC bus service is a longstanding issue. Why don't we see the state-owned bus service on all routes? Even they are run by private companies which dilute the state's responsibility towards the public. As the private sector creates a monopoly, taking control over buses and other forms of transport and raise fares, public interest is of least priority. All buses ply on a contractual basis and drivers adopt unfriendly means towards passengers. None of this is to the passengers' benefit. In the end they are the ones who have to pay extra and suffer.
Bus passes which can be bought beforehand would save a lot of hassle and all bus companies would be bound to charge the same fare. Road signs need to be placed more precisely so they are visible. Drivers and helpers need proper traffic education immediately, such as stopping at zebra crossings for pedestrians (which should work in tandem with traffic lights). Traffic police should be stricter regarding the enforcement of rules and regulations—using speedometers and speed breakers to stop speeding buses.
Zubair Khaled Huq