Sitting service, gate-lock to Trappist-7
If Bangladeshis were a spacefaring nation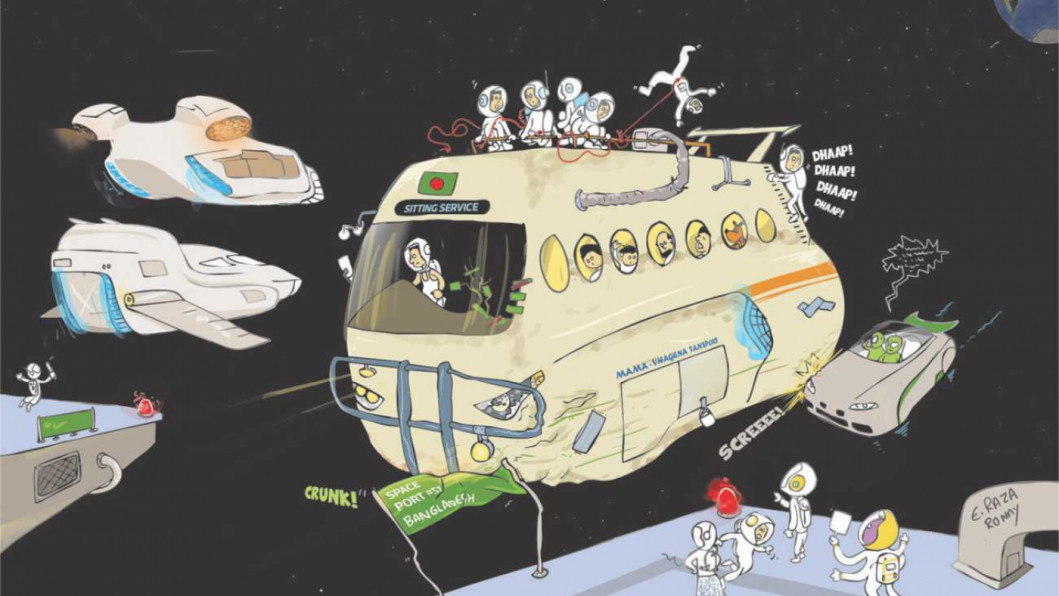 As far as improbable ideas go, the thought of humans being a spacefaring race with the possibility of colonisation of other planets requires such a stretch of imagination that most people would rather not think about it, except perhaps on lazy weekend evenings when the beef curry lunches are well digested and the time is right for some light reading to nod off to. But probability works in weird ways, and by some inexplicable stroke of luck, you, the reader, are now expected to exercise your imaginative powers by digesting, alongside aforementioned beef curry, the idea of Bangladesh as a spacefaring nation, tasked with colonising planets in far-off star systems.
If we must have a conversation about this topic, and in lieu of a scientist on hand to explain the specifics of how exactly the Bangladeshi spacefarers would ever reach far off star systems to colonise them, we must first address the cow in the room – what exactly would a space ready Bangladeshi eat? Obviously the question of a healthy diet would be out of the question, since the affinity for rice automatically means we would never actually be able to survive the cold dark void of space, but for argument's sake we could say there'd be rudimentary crops grown in artificial environments on board the space vessels. But what of beef, chicken, tilapia? Would there be nehari, or sufficient dough to make the bakorkhani rise in space ovens? Unlikely. If the glorious eating habits of the average Bangali need to change to be suitable for space, they'd rather not go. 
Assuming for a moment that the nutritional (!) aspects of space travel and eventual colonisation of planets are dealt with, what would Bangladeshi society in space be like? Considering the gravitas (ha-ha, like, uh, gravity?) required in the task of colonising a planet, there's reason to believe we'll probably be quite good at it without actually intending to. Let loose after decades of family planning has taken the fun out of Friday nights for millions of well-meaning couples, Bangladeshis will stride forward with what is essentially a baby-making venture with a lot of seriousness. It won't be well-planned out, but who cares? Dhaka is living proof of how an unplanned system can be made to work through sheer willpower. Plus, we won't be limited to a tiny landmass that most people don't even bother penciling into a map of the subcontinent whenever the economic prowess of India needs graphic detailing – we'll have an entire PLANET. At first the huge amount of space may disorient our noble spacefaring nation, but considering our love for taking what we see fit, we'll lay down our markers with gusto, finally, legally grabbing land without having to go to the lengths of lobbying with local politicians or threatening the current owners. Speaking of, considering our talents at scaring off foreigners and uprooting indigenous folk from their own lands, possible alien life will quickly scurry off in fear as we either stare them down unashamedly or round them up in droves and basically deny them their rights to their own lands. No alien life will be a match for the glorious, slightly racist nation of Banglaspacedesh. 
As far as demographics go, it's likely the majority of our colonising force will be comprised of Sylhetis looking to upgrade from "Bilat", because the obvious step up from taking over British migrant statistics is to take over migrant stats of the entire known universe, all the while sending back the fruits of their hard earned labour to Moulavibazaar and Sreemongol: in this case, expect the entire Sylhet region of Earth to be a hub for space-rock trading. After the Sylhetis, the good people of Barisal would be most adept at making the trip mostly because surviving nights on launches is pretty good training for space travel. 
What of commerce? With a lack of innovative ideas about what to do with their lives, Space Bangalis will offer to do household chores for each other for meagre amounts, never really realising their self-worth, which will then obviously be exploited by the slightly business savvy members of the colonies as they set up massive factories which supply tunics and space-suits to the rest of the universe. In the span of a few short years, these titans of industry will be able to afford the latest Toyota Spacecruisers while their employees will frequently go on strike, futilely asking for higher wages and more humane working conditions. 
In a bid to assist this flurry of economic activity, the space government will build massive rings around the local star, harnessing its power and squeezing out every drop of it till everything goes dark and we literally use up our life source. In its dying breath, the government will still insist: "But you wanted renewable, what's more renewable than taming the power of a sun?"
To be completely fair, asking you, the reader, to use your imagination was quite wrong of me. At the end of the day, no matter how much things progress, the more they stay the same. The embittered cynic, however, shouldn't be allowed the pleasure of being right, because despite the other-worldly fantasies pushed by NASA, in the words of Carl Sagan, "Like it or not, for the moment the Earth is where we make our stand."