Human Rights
Wounds yet to heal
Ostracism and threats of reprisals confine the Hindus of Thakurpara to their homes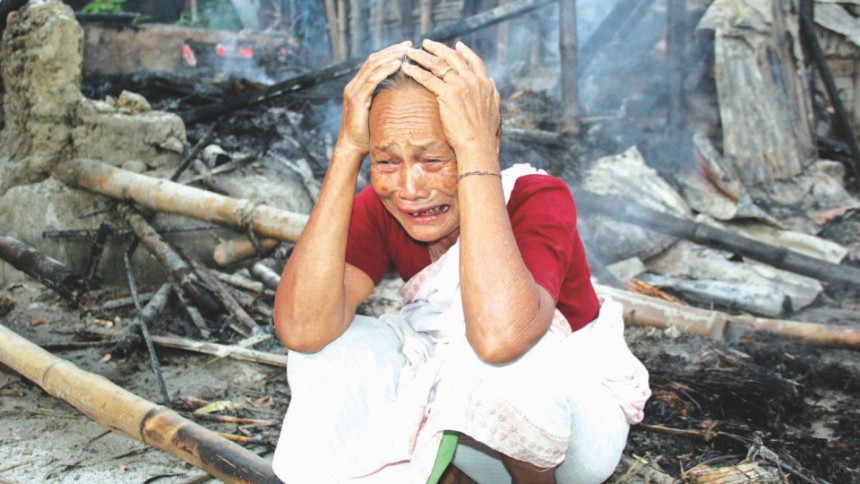 Thakurpara, an impoverished, tiny village of Rangpur district, houses around 50 extremely poor Hindu families, most of who make ends meet working as day labourers. Beside their lower socio-economic status, they are doubly marginalised due to their religious identity as well as their caste. For these poor villagers, who can hardly earn a square meal daily, it was far beyond their imagination that they would be attacked and their homes vandalised for some abusive Facebook post. Most of these villagers don't even know what Facebook is. However, on November 10, the agitated mob from the surrounding villages attacked Thakurpara from all sides, torching the village and razing 30 houses to the ground. They demanded the death penalty for an individual called Titu Chandra Roy, who left the village four years ago and never came back. It was a tragic and unprecedented incident in the lives of these ultra-poor families.
"We are poor, landless labourers. We are so poor that nobody looted us even during the Liberation War. We lived in peace and harmony even after the last election. We have no idea who posted what on Facebook. However, we lost all our belongings in a single day and what we lost can never be recompensed," says Bidhan Chandra Roy, a day labourer and an inhabitant of Thakurpara village. He lost all his savings, tools, land records, daily utensils and above all, ancestral home. "The attack was so unexpected that we could not save anything from the fire," he adds.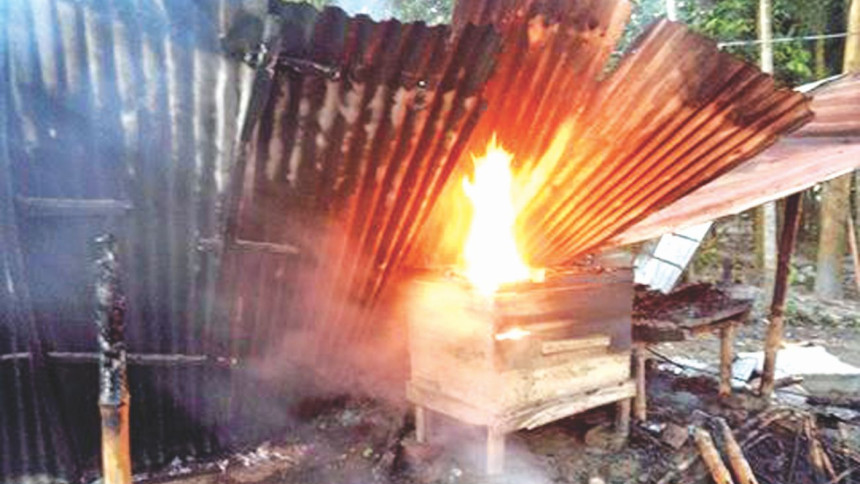 However, the Hindus of Thakurpara village were aware of the fact that their Muslim neighbours were getting agitated over an individual called Titu Chandra Roy who had no involvement with the village for four years. Nevertheless, local influential people used loudspeakers of the local mosques to spread hate speech against Titu Chandra Roy and the Hindu village. Local police and administration completely failed to tackle the situation, which ultimately led to the violence.
"We were informed that the local people would form a human chain to protest the affront to Prophet Muhammad (PBUH) on Facebook. All of a sudden, what was supposed to be a peaceful human chain, turned into a lynch mob armed with sticks and stones. We did not foresee the scale of violence," says Shahidul Alam, Assistant Sub-inspector of Ganga Chara Police Station who is now in-charge of a police outpost set up to guard the affected village.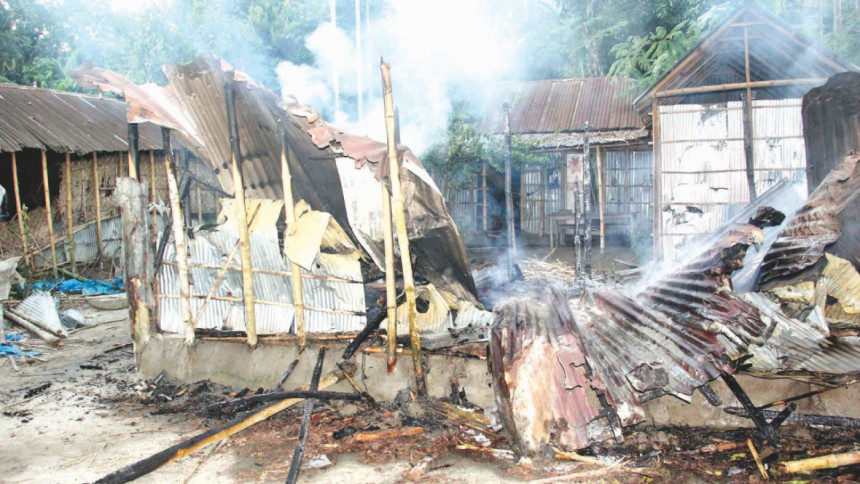 At present, the village and its villagers are still suffering from the wounds left by the vandalism. Although 20 houses have been rebuilt by the local administration, at least 15 other families did not receive any compensation. Madhobi Rani Mohanta and her family are among those unfortunates. Showing her half-burnt cow, she says, "This cow was my only means of livelihood. I used to sell her milk and feed my children with the meagre income. Selling my ornaments, I have been treating her wounds and have already spent BDT 5,000. But I am not sure whether I will be able to save her."
On the other hand, the villagers, who got building materials, are also not satisfied with this insufficient compensation. Khirodh Chandra Roy, an elderly villager says, "We have been given low quality corrugated tin, which is not suited for building houses. They get so hot in the day and so chilly at night that I can hardly stay inside my own home. During summer, the temperature inside these houses will be unbearable." Khirodh's objections are also echoed by most of the villagers.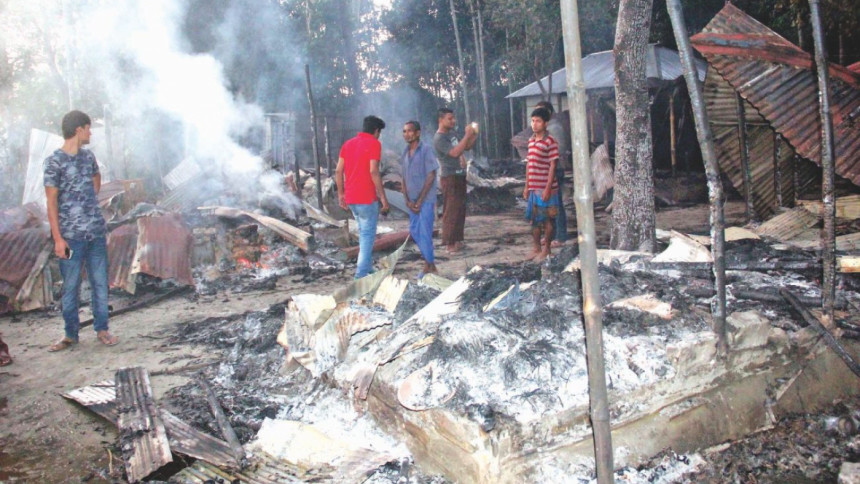 The police outpost which has been set up outside the village to guard the victims has also become an unsavoury issue for them. "Our Muslim neighbours often tease us when we go to the bazaar and say, "You people are so special that you need to be guarded by the police. You better go to India where you won't need any police to guard you."
Even members of the law enforcement authorities are causing problems. A villager says, on condition of anonymity, "Some of the policemen came to our place and demanded food from us. We are poor people. We find it difficult to feed them." When asked about this issue, ASI Shahidul replies, "I didn't know about it. We will take action against the men who are involved in such malpractices."
The sense of fear and apprehension is still quite visible among the villagers. Ostracised by their Muslim neighbours, the Hindus of Thakurpara live in fear of further violence. As the law enforcement agencies are still raiding the surrounding villages searching for the perpetrators, many Hindus of Thakurpara have been threatened over and over again to withdraw cases made against the attackers. In fear of reprisals, they remain confined to their homes most of the time. "We are afraid to send our children to school, we are struggling to find work for our livelihoods. Staying alive has become difficult for us now. We don't want police protection, we don't want further violence. We want peace and a normal life. We don't want to be imprisoned in our own homes," says a desperate Khirodh. 
The ostracism turned so intense that even the lawyers of Rangpur district refused to represent the Hindus of Thakurpara. Four days after the incident, on November 13, Titu Chandra Roy was arrested by law enforcement from Nilphamari district. However, no lawyer of Rangpur court agreed to represent him. Titu's brother Bipul Roy says, "All the lawyers refused us as Titu allegedly hurt religious sentiments. But I can assert that my brother is not like that. He is not literate enough to use Facebook and make comments on religious issues."
However, finally several lawyers connected to the local unit of Bangladesh Hindu-Bouddha-Christian Oikya Parishad and Bangladesh Legal Aid and Services Trust (BLAST) came forward to represent him. After four days of interrogation in police custody, Titu was sent to jail on November 21. Noresh Chandra Sarker, Titu's lawyer, says, "Titu has been arrested under Section 57(2) of the ICT Act. We appealed for his bail but it was not granted and the justice went on leave for winter vacation. We appealed again to the interim judge but were denied again. The court is now closed for winter vacation. When the vacation ends, we will take this case to the High Court."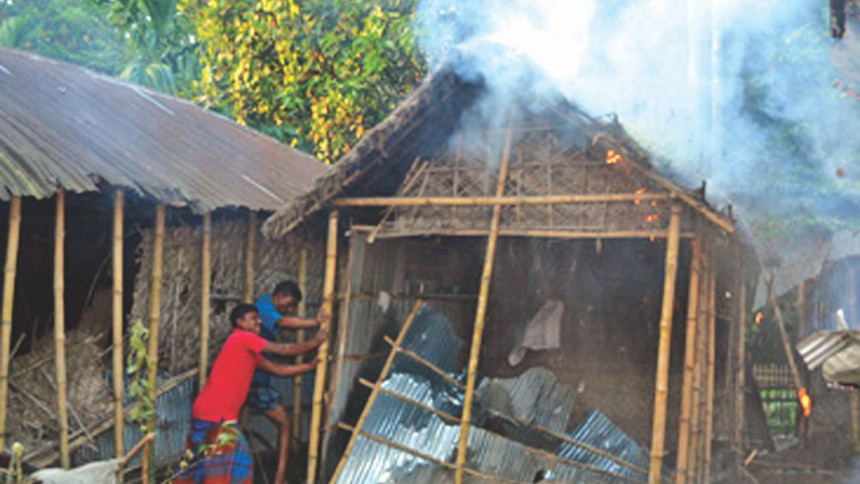 Bangladesh Legal Aid and Services Trust (BLAST) is also working to provide legal assistance for Titu Chandra Roy. Nasima Khanam, Co-ordinator of the organisation's Rangpur unit, says, "We considered Titu a person who was seeking justice, not someone from a particular community. Currently, our first objective is to obtain his bail. Then we will think about further steps."
One-and-a-half months after the incident, the Hindus of Thakurpara village are still living a nightmare. In the name of protecting religion, their houses have been torched in broad daylight; then in the name of protection, they have been ghettoed in their own ancestral homes. One of their fellow villagers has been jailed for "hurting religious sentiment"; however, none of the perpetrators who torched an entire village has been arrested yet. With this tragic instance in hand, can we still call Bangladesh a land of Hindu-Muslim harmony?
Kongkon Karmaker is the Dinajpur correspondent of The Daily Star.