The tree doctors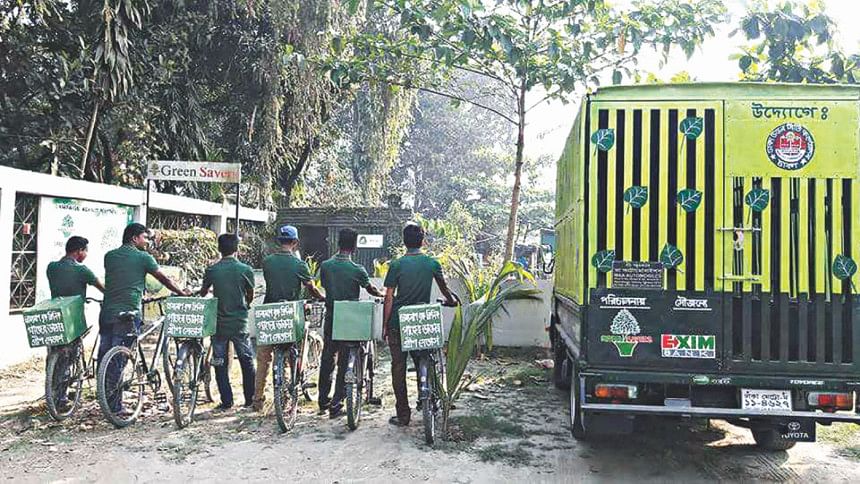 Even though it was monsoon, I watered my rooftop plants before leaving Dhaka during Eid. While travelling in the night coach, I kept worrying about my plant babies. What would happen to them in the absence of water in this sweltering heat and high humidity? Will they survive my seven-day vacation? My fears were confirmed—when I returned, I found that the smaller plants had almost died, while the leaves of the mature ones had turned yellowish.
In the capital, many green lovers must confront this unpleasant scenario when they go out of town. The question on our minds is: is there a way out of this situation?
The solution is only a phone call away! An ambulance—yes, you heard it right, an ambulance for trees—can come to the rescue. To look after each tree, you need to spend only Tk 1 from your pocket every day.
This novel idea was introduced by Green Savers, which formally started its journey in 2011. Ahsan Roni, the founder of Green Savers and a recent graduate of the University of Dhaka, recalls how it all began: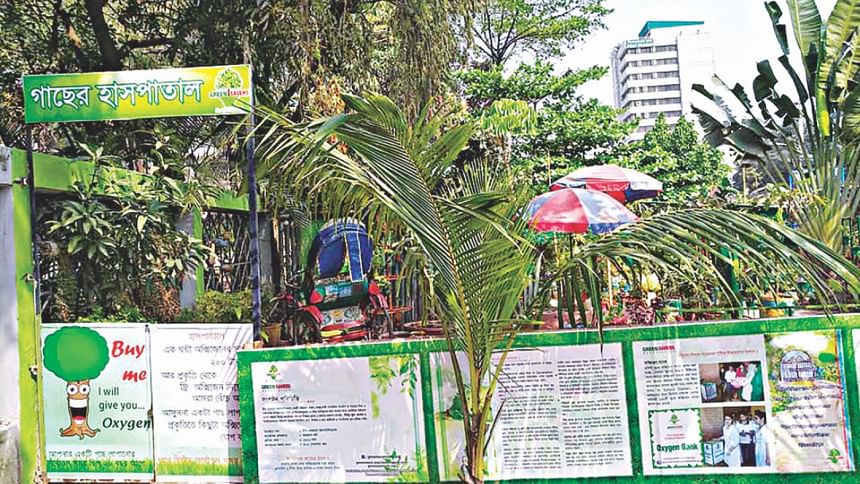 "When I was a third year honours student of DU, I started tutoring a third grade student of Mastermind School. On the first day, when I asked him what his hobbies were, he replied, 'Watching horror movie and playing computer games'. I asked him—why not gardening? His reply was: 'It's the job of a gardener.' The following day, I gifted him two strawberry plants as he loved strawberries and taught him how to look after it."
His student wrote about his discovery of the love of plants for his creative writing class. Impressed, the teachers invited him to give a presentation on how to look after plants on roofs and lawns. "Soon, I started receiving phone calls from students and their parents asking for tips on how to save their plants. That's when I got the idea of Green Savers."
The organisation has not looked back since. Now, at least 19 "tree doctors" on bicycles run from one corner to another of the capital to treat plants. "A person dealing with human disease is called a doctor but a person dealing with plant diseases is addressed as a mali (gardener). We choose to use the title of "doctor" to give due credit to the profession and to encourage more people to join," says Ahsan. Of the 19 "doctors", nine are diploma agriculturists. Depending on where you live and the nature of the work, you can avail the services of the tree doctors by spending between Tk 100 to Tk 500. You can access their services online through the mobile app "Plants Doctor".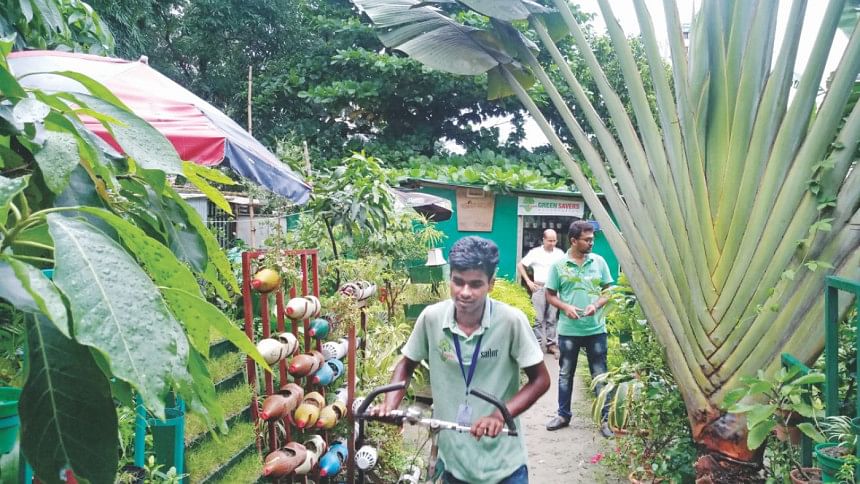 In 2013, the Department of Environment (DoE) in Dhaka's Agargaon provided an office space to Green Savers, which they have named "Tree Hospital".
In 2013, the organisation received the National Award for the protection of the environment. Of 11 projects under the organisation, seven are non-profit. From the profitable projects, the staffs' salaries and other expenses are met. Additionally, they have opened "Oxygen Banks" at 28 schools in Dhaka and 380 schools outside Dhaka, in which students donate money to plant and care for trees on their school premises.
They also give awards to educational institutions to encourage them to plant more trees. Their aim is to make rooftop gardens in 100 schools in the capital by 2020. Meanwhile, 3,600 roofs in Dhaka have already been covered with greenery by the grace of Green Savers.
"Please don't think your job is over after planting a tree," says Ahsan. "Rather, your work just starts from there. So look after it with love. I want to cover all roofs with trees in Dhaka city and appoint 50,000 educated youth as doctors of trees."
Md Mizanur Rahman Himadri is a journalist of The Daily Star. He can be reached at [email protected]