City
A sanctuary for the 'troublemakers'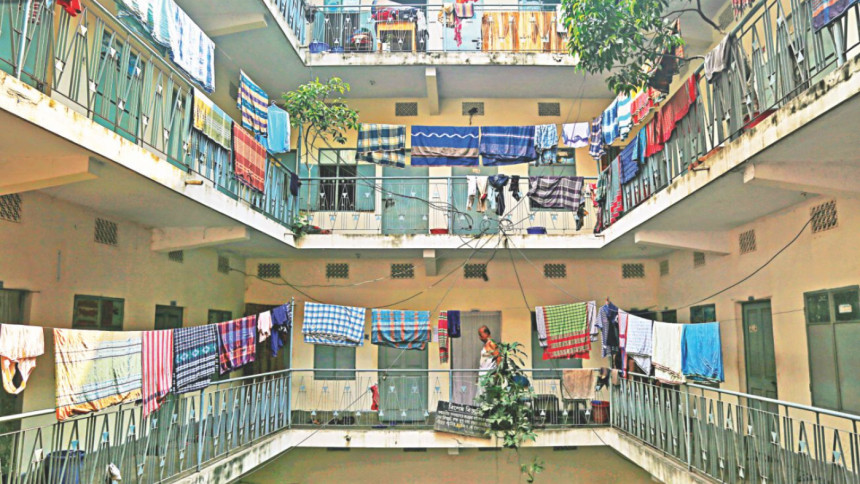 In a world of expensive rentals and shared housing, where bachelors are often treated as troublemakers by landlords, the Sarder Colony of south Kamlapur has become a sanctuary for such people. Five minutes from south Kamlapur, one will find a narrow street to the right, perpetually crowded with young men buying groceries and fresh produce. The road leads to a gate popularly known as 'Sarder Colony' in which eight large buildings house approximately 6,000 bachelors. This 'mess' is regarded by some as the largest bachelor housing in the sub-continent.
The history of Sarder colony is relatively new but still interesting. According to Supreme Court Lawyer Sarder Akil Ahmed Farooque, ex-general secretary of the Dhaka Taxes Bar Association and one of the owners of this 'mess', it was an empty place back in the early seventies. Since bachelors have traditionally been denied rooms to rent without a family, high officials of different banks or other offices near the Motijheel area had to live in primitive tin-shed buildings in the area. And that wasn't the only problem. Local goons or extortionists would often stir up trouble with unmarried tenants.
"We had enough land in that area, our family had some political backup, and one of my uncles, freedom fighter Md Mahfuzul Haque Sarder, was also quite close to some of these tenants, so we were requested to do something about it. That was the start of this 'mess', with a few one-storied buildings. Later in 1985, my eight uncles built eight large buildings designed as bachelor apartments. The buildings were named after our grandfather, Afir Uddin Sarder, a member of the then Panchayet Committee," he says.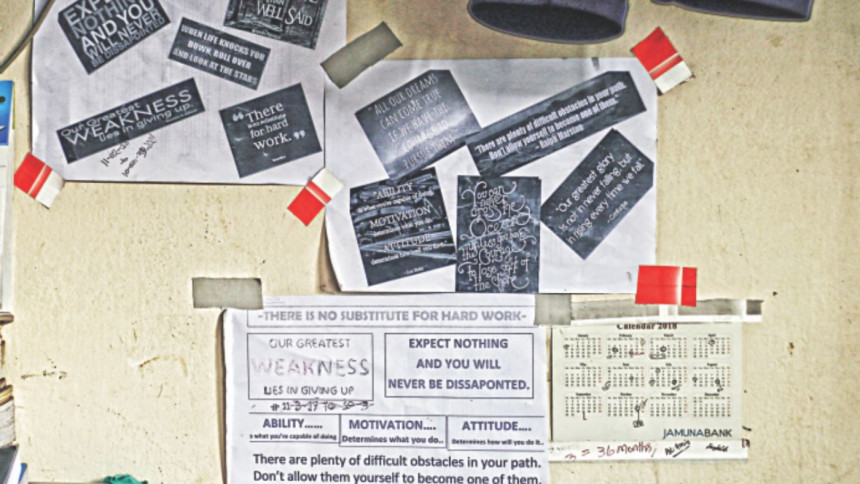 Upon entering the gate, you find the first building called 'Mukti Bhaban' on the left. Numerous signs reading "Roommate needed" or 'To-let" cover the outer wall. If you are lucky, you may catch a glimpse of blooming water lilies floating on a small lake in the centre of the colony. If you look up, however, you will find the less pleasant sight of hundreds of lungis, trousers, and towels hanging from balconies of each floor. Lovely plants twist their way up the sides of some of the buildings. Some of the tenants even grow fresh vegetables in earthen tubs on the balconies.
Although it is familiar as a bachelor 'mess', an overwhelming majority of the tenants are service holders in the city. Some, of course, haven't ever married or are students, while many others have families back home in the village. One of the oldest tenants in this mess is 82-year-old MA Motalib Firoj, who has been there for the past 22 years. Firoj is a retired banker who worked at the Muslim Commercial Bank in the then East Pakistan. He has stayed on past retirement as he doesn't have a family to return to. When asked whether he wants to continue to live here, Firoj replies, "When I will feel like I cannot survive here anymore, I will tell them (the mess authority) to take me home, but now, I have no urgency." According to his roommates, he has never visited another tenant's room, disturbed anyone for anything or been involved in any trouble with other tenants in the past 22 years.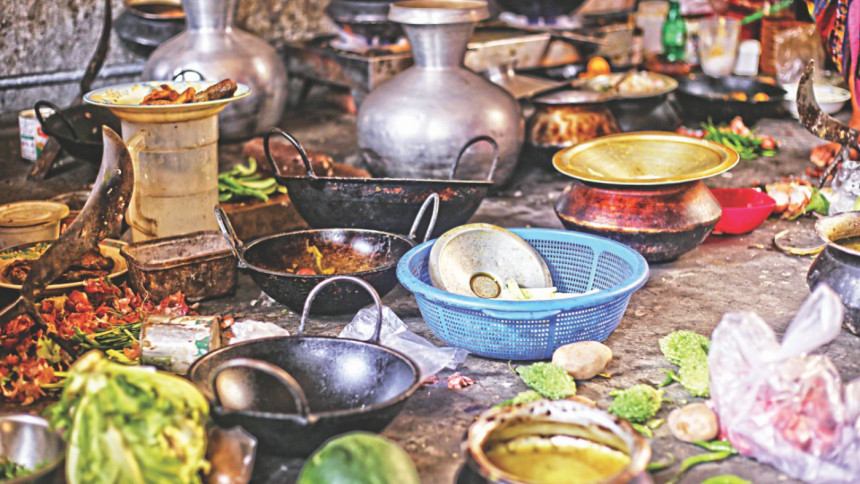 Inside the rooms you will find some tenants busy with their mobile phones, some chit-chatting with their roommates, and others playing cards. Most of the rooms have a table, a clothes hanger and a shelf for keeping their belongings. Sohel Rana was washing clothes in the bathroom.
Sohel, who has completed his masters from the University of Dhaka, earlier lived in a shared room with some of his friends near Gopibag.
"One day, one of our roommates spit out the window and it accidentally landed on a passer-by. Our roommate apologised for his mistake, but the person continued to scold us as if he had done it intentionally. That was the start. We were also forbidden from opening the windows because some female members of a family spent their time on the balcony, even if there was no electricity and we were badly in need of light. After that incident, one of my friends told me about this mess and we moved here," recounts Rana.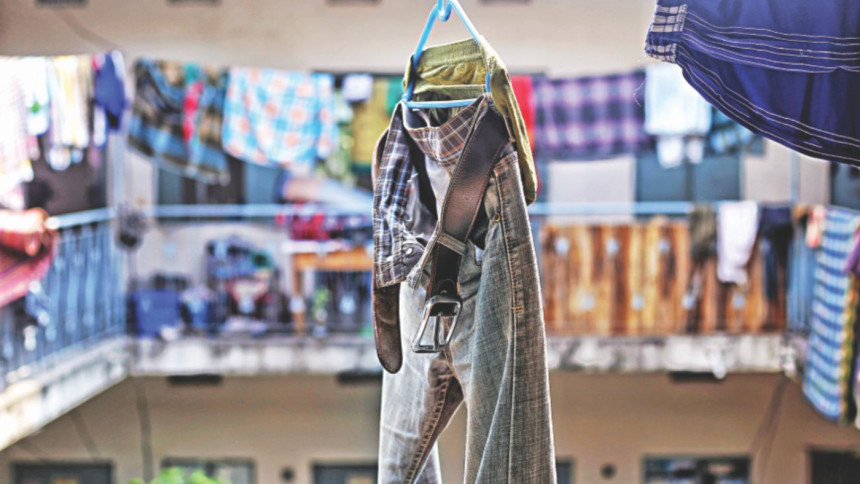 "Now, two years on, nobody scolds us for keeping the windows open! Everyone has a laptop or mobile phone and we can play our favourite songs or sing loudly together. This would have been impossible in a sub-let. Sharing stories and special meals on weekends, discussing the latest movies, doing morning exercises, and the day-to-day merriment has made our mess life so much better," says Rana.
Like Rana, Rokonuzzaman, a 3rd semester BBA student at the European University, lives at Sarder colony, even though his university is a sizeable distance in Gaptoli. Rokon laughs when asked why he didn't rent a room closer to campus, explaining that he has lived here with his brothers since he first moved to Dhaka. "I don't want to move from here because all my close friends and family are here and I don't think I will get such a good environment like this anywhere else," he says.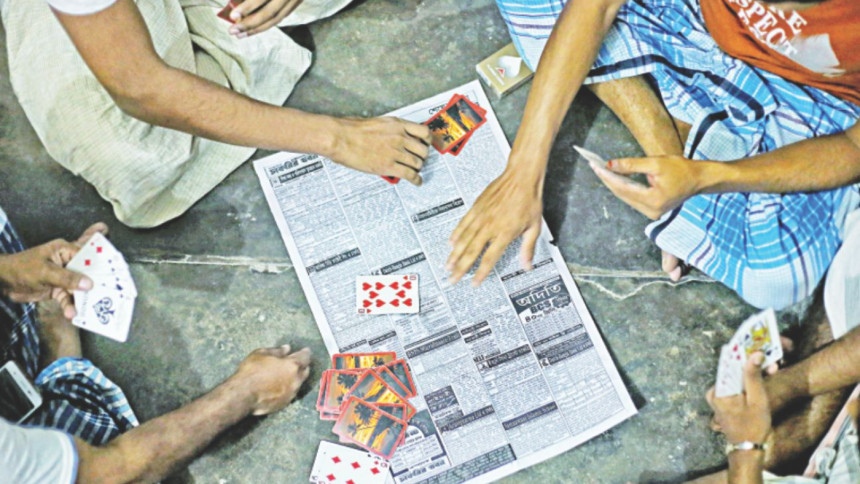 Rent was around Tk 200 per room when the mess was first opened; with the passage of time, the rates have hiked up to Tk 4,500-5,000. At least three to four people share a room. One can even host a guest for a week without charge, but patients visiting from the village can stay for up to a month for free.
Sarder colony is a microcosm of Bangladesh, housing as it does people from almost all the districts. After the hectic hours at the office or in class, the tenants all chat in their colloquial dialects as a family. I asked them if they also quarrel like a family. Glancing at the rest of his roommates, Sumon Hossain, an officer at Agrani Bank laughs and says "Aabar Jigaay (of course)?" "We quarrel for silly reasons and then we patch up," says Rana as Hossain points to a piece of broken glass hanging on the wall.
A large number of people also live here because they cannot afford to live together with their families. Md Tanveer, a businessman from the Chalkbazaar area, visits his family every month. The 'mess' allows people like him to share rooms with up to two other people for Tk 1,700-2,000, which is much cheaper than other accommodations in the area.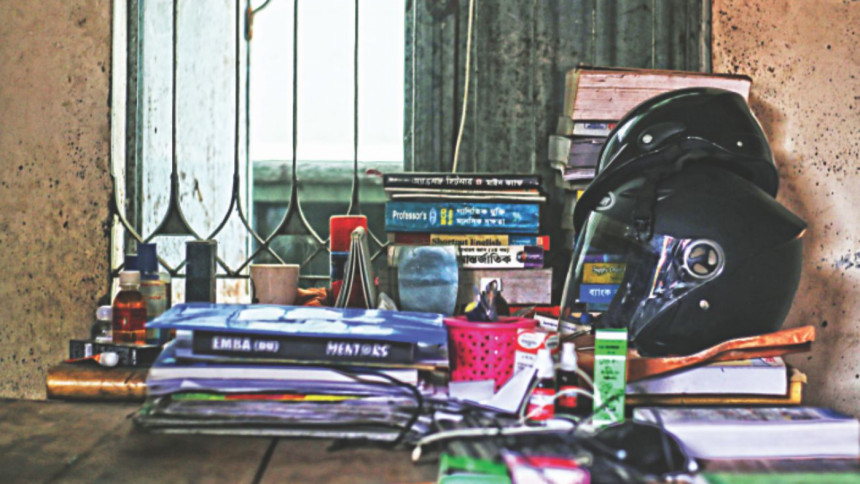 The smell of fried fish and mungdaal lingers around every floor in the buildings, wafting from the kitchen where four to five female cooks work. Each of them prepares food for eight to 10 people thrice a day in exchange for Tk 400 from each tenant. Vegetables, a curry and lentils make the menu. After years of experience, the cooks are now well-acquainted with the culinary tastes of the tenants.
One such cook is 60-year-old Rashida Begum, who has been cooking there for the past 30 years. Rashida's husband, a government employee, died in 1973. "Since I was childless, my father-in-law somehow took the pension money of my husband and asked me to get out. After that, I came to Dhaka and took this cooking job. Few years later, I got a job in this mess. I have grown old here," she says.
Like Rashida, Md Joynuddin Shikder, a caretaker of a building, has also been working in the mess from the early days. Joynuddin started working for the Sardar family from his childhood for eight paisa per day. "I used to take care of their cows; help the workers fill the rice sacks, collect water for the family from the tube well. Later, when the mess was built, I took the responsibility to take care of one of the buildings," he says. Joynuddin got married at the 'mess', and is now father to six children.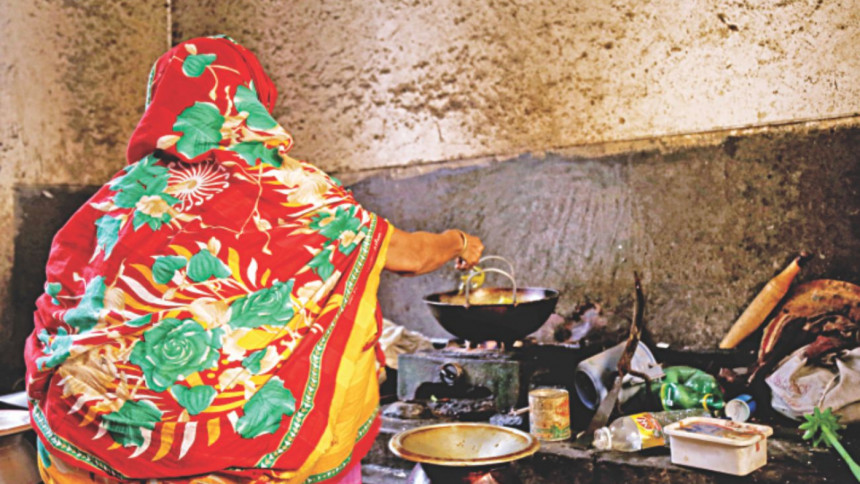 The tenants credit the good environment of the mess to the lack of beggars, hawkers, or local goons. "Even after the Holey Artisan attack, police came to the colony to ask around, but they did not find anything suspicious," says Joynuddin. "How could they? When we rent a space to someone, we take his bio-data and photo and submit it to law enforcers." Showing a bio-data, Joynuddin explains, "We don't tolerate any kind of chaos here."
Some members of the Sarder family are now planning to hire working women in the colony. May be with such initiatives, single working women, who are always in search of a home in this city, will finally get a place to live in peace and comfort as well.