Have we lost something?
22nd National Art Exhibition under scrutiny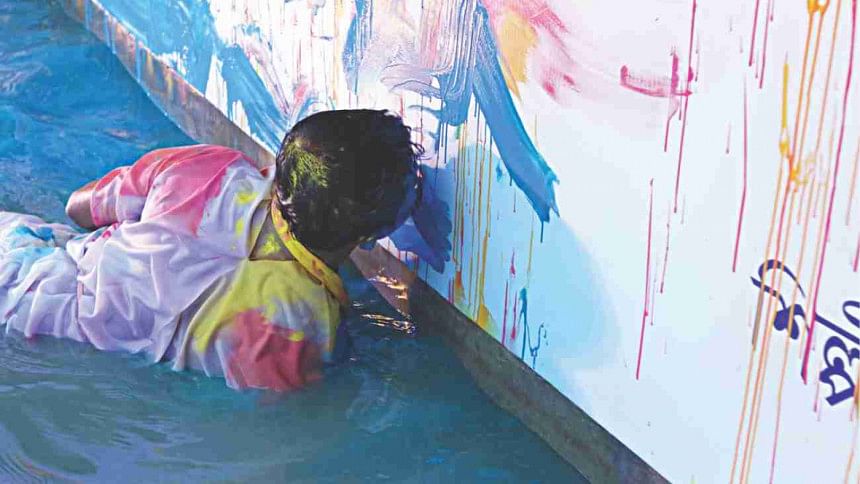 Photos: Sheikh Mehedi Morshed
Bangladesh Shilpakala Academy together with the Ministry of Cultural Affairs has regularly been holding two important art exhibitions—Asian Art Biennale, Bangladesh (AABB) and National Art Exhibition (NAE)—for several decades. The objective of the exhibitions is to bring together artists belonging to different age groups, working in different mediums and techniques. The events have become platforms for encouraging exchange of ideas between Bangladeshi and international artists, critics and art aficionados. To inspire artists in fine art practices, the organisers also give away several awards in both the art shows, held biennially.
Over the years, the participation of artists and representation of countries have increased radically in both instalments. The arrangement and display of artworks have increased too, with AABB welcoming artwork and artists from around the world from last year, going beyond its previous periphery of the continent of Asia only. 
With a grand display of 384 artworks (265 paintings, 63 sculptures, 47 installations including nine videos and nine new media works) by 332 artists, the 22nd National Art Exhibition 2017 was inaugurated on July 26.
But, has the quality of the displayed artworks improved in the exhibits?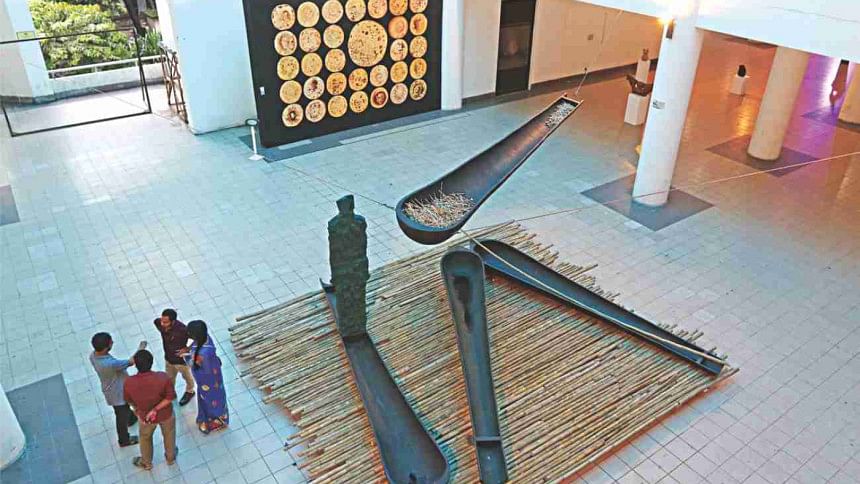 I chance upon Nisar Hossain, the Dean of the Faculty of Fine Arts of University of Dhaka, and exchange some thoughts with him.  
"Exhibited artworks on media like printmaking, sculpture and new media are of a high standard while the quality of paintings at the show has fallen a bit flat," says Hossain. At the same time, he feels that some deserving artworks were not recognised, while those that were awarded appear to be almost copies of conventional art forms. 
He is talking about artist Kamal Uddin's oil painting 'Tradition 2' that draws heavily upon traditional Kolakopa-Bandura (Nawabgon, Dhaka) Sora paintings. The piece won the Begum Azizunnesa Award. 
"The National Art Exhibition should be more stringent with its selection. Choosing properly curated works by a hundred artists is enough, I think," asserts Hossain. 
"The same typecast of art are getting awarded at both AABB and NAE. This is not a good practice. It inspires the award winning artists to continue in one style, hindering their artistic/creative diversity. Other participating artists too start copying them then," argues Nisar Hossain.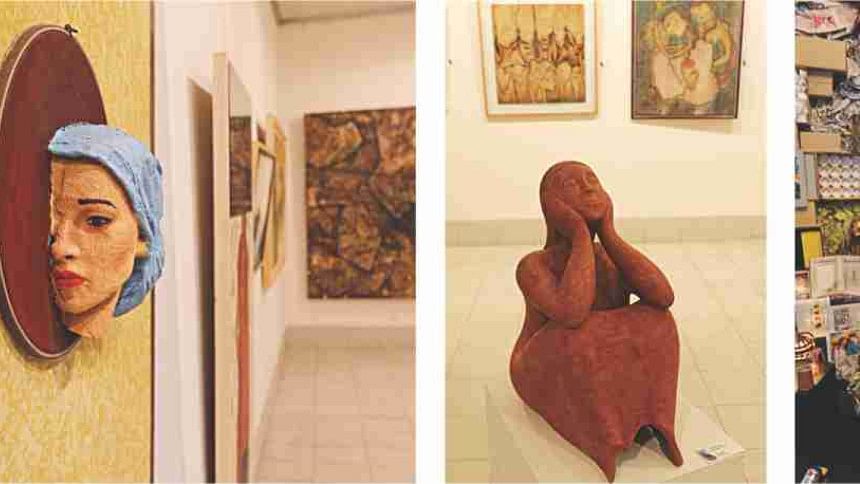 Drawing on that point, Dr Malay Bala, Chairman and Associate Professor of the Department of Oriental Art in Dhaka University, directs a finger at the award winning sculpture of Shyamal Chandra Sarker. Sarker's sculpture 'Hurdle's Run' is an innovative display of several metallic dogs depicted as hurdle runners and was recognised at NAE. "Sarker has also previously been awarded for similar types of work in the last instalment of AABB," says Bala. In AABB, Shyamal Chandra Sarker was awarded for his installation 'Me Philosophy Endangered and Dream' which was very similar to 'Hurdle's Run' except it featured horses. "Many artists before him have also portrayed the issue similarly," adds Bala. 
Our artistic and cultural heritage is not well represented in the exhibit. Although many artworks are on display at the three vast galleries, in addition to the plaza, the ground floor, and the frontal premise of National Art Gallery building of Bangladesh Shilpakala Academy, very few of them evoke the rich legacy and heritage of our art forms. Are we deviating from the core values of our heritage? Are we not mimicking the contemporary global art practices in the name of experimentation with themes, media, and techniques? 
Take, for instance, Sumon Wahid's painting, which depicts Shilpacharya Zainul Abedin and his traditional tepa putul (doll from Mymensingh), popped into a showcase. This is a form of satire, pointing at Zainul Abedin's famous initiative of recognising traditional arts and artisans and establishing the Folk Art Museum. Wahid's artwork seems to suggest that it is time to entomb in a museum Abedin's noble dream of sustaining traditional art forms. 
Referring to the satirical tone of this piece, Dr Malay Bala, argues, "Traditional art, folk art and oriental art were not represented in the exhibitions. New media and contemporary art practices have enraptured our artists but they seldom take inspiration from their rich art heritage."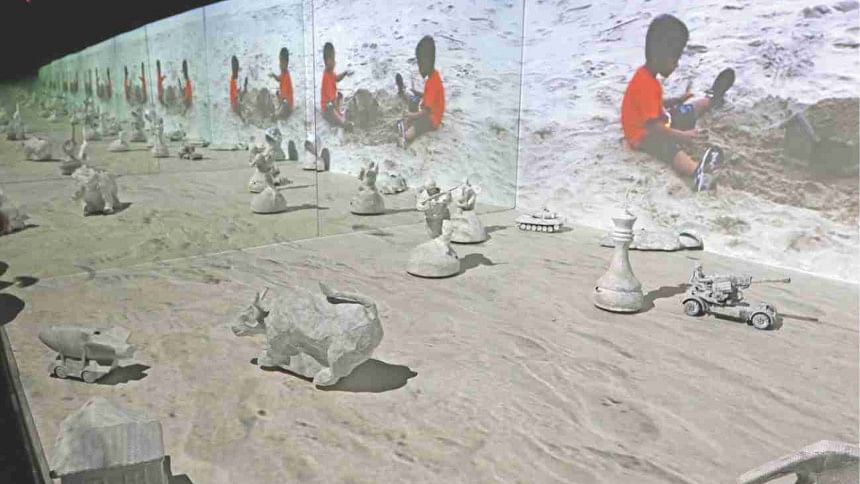 Most of the award-winning works have very little resemblance to our art traditions, he says. 
Oriental Art is characterised by its delicate, almost poetic, lyrical lines. It began in the 19th century when prominent Bengali artist Shilpacharya Abanindranath Tagore took stylistic elements from 'Ajanta' and 'Elora' (cave paintings); Mughal miniature; and Persian, Chinese and Japanese art heritage to create a neo-Bengal approach in line with patriotic values.  
Watercolour, though being a major media of painting that suits well the Bangladeshi atmosphere, music, culture, art heritage and our special season of monsoon, is almost ignored in the exhibit. The artwork selectors appear to show little interest in the watercolour pieces, so the artists tend to feel discouraged to submit them. This is in spite of the fact that a prominent watercolourist like Professor Nasreen Begum of the oriental art department of Dhaka University was on the selection committee.    
The only watercolour to win an award was Anisuzzaman Sohel's work, which delineates the melody of carnage. The vast yet subtle work is depicted on 20 rectangular shaped paper sheets. It is a unique rendition of atrocities with symbols of sharp weaponry. Though the work evokes a feeling of dread, it arrests the reality of our time, reminding us of how unsafe we are in the present society. At the same time, this too was a contemporary style piece, with very little resemblance to oriental art forms.  
Now on to awarded works. Md. Harun-Ar-Rashid Tutul, a grand award winner in the 17th AABB, bagged the Bangladesh Shilpakala Academy Award (best award amongst all media) for his marvellous piece "In Memory of Aylan Kurdi." Aylan Kurdi, the Syrian child who washed up on the shores while attempting to escape the war has become an international symbol of the global refugee crisis. Tutul, having twins of Aylan's age, was struck by the tragedy and expressed his strong feelings by preparing an outstanding video installation work, engaging both his twins and Aylan as its central theme.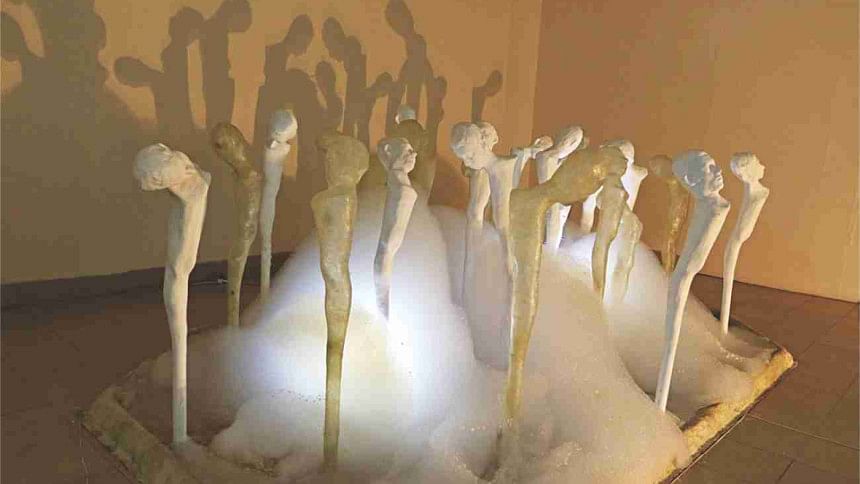 Among the Bangladesh Shilpakala Academy Honourable Mention Award recipients, Anisuzzaman received the award for his print 'Redeeming Space-1'. Through the years, Anis has tirelessly experimented with lines, forms, spaces, and shapes. Turning towards minimalism, he has established his personal hallmark. 
Uttam Kumar Roy received the best award in new media for his installation 'Hunger and Full Moon'. Roy's vast work, portraying several visages of hungry people on some round-shaped canvas resembling roti, is being showcased at the plaza. The work is themed on Sukanta's famous lines 'Khudhar rajye prithibi goddomoy, purnimar chand jeno jholshano ruti'.   
Print reigns prominent in the exhibition where talented artist Sourav Chowdhury received the Bengal Foundation Award for his beautiful aquatint print, 'Eternal Existence 30'. Kamruzzaman received the Bhasha Sainik Gaziul Haque Award for his lithograph 'Restoration'. Shuvo Ghosh won the Dipa Haque Award for his 'Mother Bowels'.
Non-award-winning works are no less important than the award winning ones. Rather several paintings like Sushanta Kumar Adhikary's 'Re-assessment of History and Tradition of Bangladesh-1', Sahid Kazi's 'Pieces of Accident' (acrylic) and Gopal Chandra Trivedi's 'Two Friends' (mixed media) are outstanding paintings in terms of themes and compositions. 
Bangladeshi sculptures too have reached a great height. Both upcoming and prominent sculptors are exhibiting their work at the show. The displayed sculptures, mostly made of stone, stoneware, metal, steel, brass and more, are thought-provoking with regard to themes. Mukul Kumar Barai's work, 'Mystery of the Life of a Useful Fungus' signifies scientific invention's blessings upon agricultural revolution. 
Many Bangladeshi artists are passionately continuing art practices set on the media of newer possibilities. Many of them have an inclination towards the Western artistic idioms. We must excel in our artistic efforts and showcase and compete with works at the global level; but not by ignoring our own legacy. We have our time-honoured folk tradition, a distinctive oriental art and life style. It is expected that the national level grand art show will have prominent displays of such works; but these aspects are almost absent at the show. 
The 22nd NAE 2017 is open until August 14.
Zahangir Alom is Staff Reporter, Arts and Entertainment, The Daily Star.