Shop Special
Shoe… and the clutch too…
Amidst the mass-confusion that is the traditional Bangladeshi wedding, no matter how early you start planning, there are always things left out for the last moment. While ordering the knightly, regal sherwani for the groom, or buying the exquisite wedding trousseaus for the bride takes place in due time, for reasons beyond any comprehension why selecting the important wedding shoe, or the bride's clutches remain neglected, and stored in for the 'last moment', is as good as anybody's guess. Perennially pressed for time, the 'shopping-in-charge' more often than not miss this all-important aspect, second probably only to the wedding attire.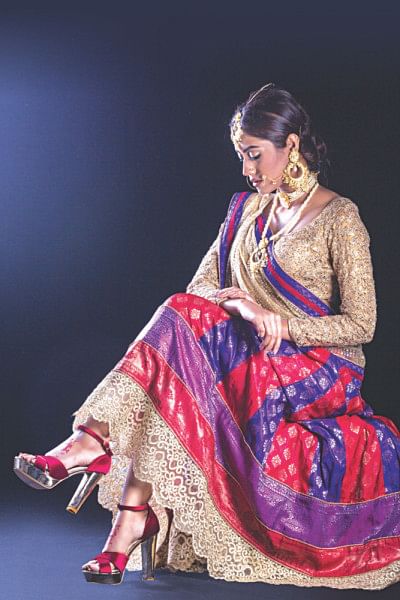 One must not only think style and glamour, while selecting the shoes, keep comfort in mind (as it should be an important feature to consider); and make the handbag chic!
Although the task of selecting the right accessory is colossal, the options however are endless!
AARONG
When it comes to presenting the gist of Bangladeshi culture in a few thousand square feet of space, nothing outshines them. To put it simply, Aarong exudes everything Bengali.
Like all their lines of products, the brand's comprehensive collection of handbags and shoes are particularly sought after, as most of them are creatively designed to complement the other.
Their clutch bags are deceptively spacious, and come in handy on the big day, as they can hold seemingly endless list of things that are absolute must-haves for the wedding day.
SHIMMER
A popular go-to brand for all brides of today.  When it comes to their handbag and footwear collection, Shimmer offers a wide range of designs to pick from. Although their online presence is significant, the omission of the product prices does create problems in selecting favourites.
One might consider it to be somewhat of an inconvenience, but Shimmer's outlet located in Banani will certainly not disappoint. Their shiny, shimmery or metallic accented clutches can easily be paired with the shoes of your choice, and are bound to catch the fancy of the brides who are fond of all things sparkly.
URBAN TRUTH
Urban Truth is not exactly your traditional, bridal go-to place, and this is exactly what makes this place a perfect gem!
Brides usually have a difficult time finding silver accented accessories to go with the rest of their look, as golden is more in demand when it comes to putting up a wedding bling.
UT's marbled mini clutches and metallic leaf box clutches, both come to the rescue when searching for that silver tint.  Their coloured lucite clutch bags with a clean golden outline is also an uncommon find for the lovers of everything chic and colourful.
Urban Truth has a strong online presence; their products are well coded, marked and updated regularly. They do not have any cash-on-delivery service but a visit to their outlet is worth the effort.
BATA
Now, this is one brand that has such a long bonding with its local clientele that the company itself seems to have lost its multinational fervour and become a true Bangladeshi. But let that not deceive your fashion senses, because for the bride who refuses to compromise on comfort, Bata carries a wide range of Marie Claire shoes.
Their latest arrivals range from high heeled pumps to sling backs in a lovely shade of golden that complement a traditional bridal outfit. Marie Claire's collection of immaculately detailed footwear includes, flats in metallic hues — which are indeed a rare find for the sandal loving bride!      
Bata is known for their traditional set of colours and that very fact sets them apart from many other brands.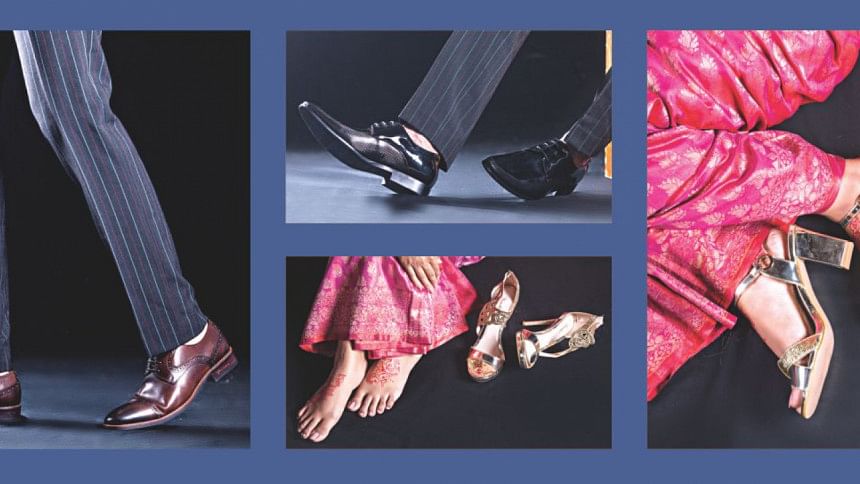 APEX
Apex houses a collection of Moochie and Nino Rossi heels, which come in a variety of colours; they pair up with one's outfits comfortably, without over-powering their overall look. 
The crystal accented heels of Apex on display at their outlets are also highly sought after. These are available in red and nude shades that are sure to flatter any skin tone while enhancing the sparkle of the crystal details set against them. 
CATS EYE
Cats Eye's colour coordinated bag-and-shoe combinations are bound to catch anyone's eye while they are out and about window shopping. Each product is made with a delicate touch, their popular designs are one of the many things Cats Eye is renowned for. Their store displays make it much easier for anyone to visualise the overall look.
THE DIY WAY
Whenever we are in need of almost anything related to clothing and accessories, hands down — no replacement for Gawsia, or Chadni Chawk.
Hidden in the nooks and corners of the many shops are handbags and footwear of almost any sort one can think of. Get yourself a satchel/batua, clutch or monochrome purse, match them with a pair of footwear of your choice and customise them.
The most important thing that makes your day even more memorable than dressing to perfection, is to enjoy yourself to the fullest, as nothing can shine brighter than a truly happy soul.
Photo: Shahrear Kabir Heemel
Footwear: Apex Footwear Limited