A Surprisingly Not Overdone Fantasy-Romance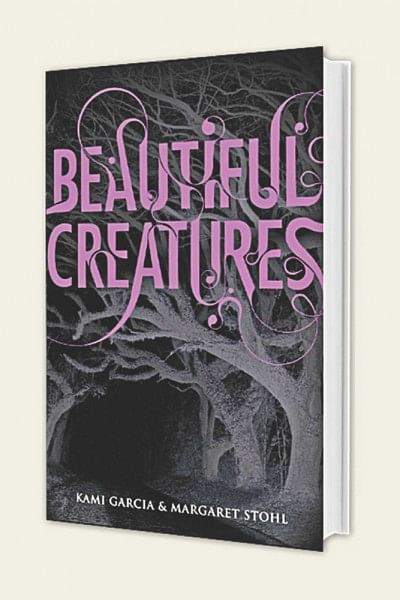 A few weeks ago, flipping through TV channels brought me to Beautiful Creatures. I was about half an hour in on the movie and, yours truly being a sucker for fantasy-romance – it intrigued me. I stopped myself though, because a) I had an exam the next day and b) I hate watching movies from the middle. I'm so glad I did, because a) when I added it to my "watch later list", I discovered it's based on a book and b) I later found out the movie actually sucked. The book on the other hand, didn't, and that is what brings us to this review. 
Set in the fictional town of Gatlin, South Carolina, this novel by writers Kami Garcia and Margaret Stohl begins with a look into Ethan Wate's life. Ethan, a 16 year old high school student, is trying to come to terms with his mother's death and is counting the days till he can leave this uneventful town. But for once, things seem to be happening in Gatlin, all at once – Ethan starts having a strange recurring dream, and a new girl comes into town to live with her uncle, the "Boo Radley of Gatlin." When the rest of the town treats new girl Lena Duchannes like a weirdo-outsider, Ethan decides to give her a chance – something that could change his life forever. Apart from their ensuing romance, Ethan unearths things about his town and very own family name that he couldn't have imagined even in his wildest dreams. 
Beautiful Creatures puts forth an elaborate and historic world of magical creatures living among humans. This is, as you should have guessed by now, another good vs. evil fantasy piece, but the book shows you that the distinction isn't always that simple. It touches on some relatable themes such as how much we want to explore new horizons or how people are mistreated for being different. Beautiful Creatures has pages of the care-free, light hearted dialogue and non-sappy romance of a young adult novel, and pages of the life-threatening situations of a fantasy thriller. It'll keep you hooked with revelation after revelation, most of which are well-executed except for a few that seem slightly too far-fetched – the only thing I seem to dislike about the book.
This is a first person novel that doesn't keep readers in the dark about the supporting (yet extremely well-formed and unique) characters. Amma Treadeau, Ethan's no-nonsense housekeeper and mother-figure who is obsessed with crosswords and hence has a vocabulary that would put English professors to shame, is my personal favourite.
Beautiful Creatures is first in the four-book Caster Chronicles series, and it pleasantly took me by surprise, especially for something that was written in 12 weeks, inspired by a dare, and wasn't intended to be published. 
Salma Mohammad Ali fears she is becoming a crazy cat lady and uses writing as a means to grasp on to sanity. Send her your views/hate/love at fb.com/salma.ali209