'Sugar': Sehri Tales selections, Day 28
The top selections in poetry, flash fiction and artwork for Day 28 of the Sehri Tales challenge; prompt: Sugar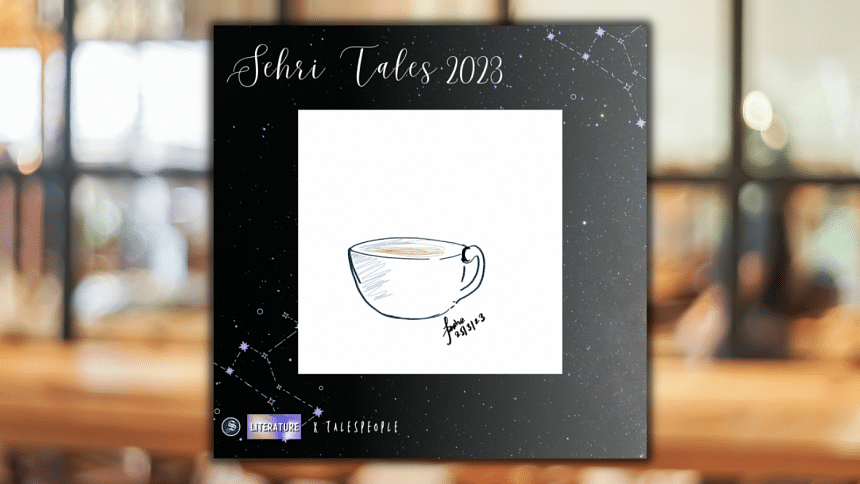 I.
Unsaid conversations over tea while my friend stares out the balcony at the thought of having sugar
My love, you are allowed to untuck that shirt to office smelling like Tom Ford sand and the sea aesthetic with all that dirt and tears pooled on your fabric.
    You are allowed to tie your hair up in the most complicated knots that
    resemble the shape of your lost and lonely heart that just lost her
    mother.
    You are allowed to have the first coffee of your morning in absolute
    silence trying to hold back the tears because crying on Bezos' time is
    not Amazon enough.
"Half a cup, this much milk, thanks."
My love, you are allowed to put on your earphones in the MRT back home just to feel distracted from the maddening prospect of being left alone till morning come.
    You are allowed to get off at Dover and wait for the last train back as
    you dance to Spring Day on the platform with one feet up like the
    chicken that your heart feels like right now.
    My lovely, you are allowed to cry in grief, let it rush through the pores
    of your skin, 
    Seep in and flush you out for a second with the thought of facing this 
    world that increasingly feels like a new horizon too unbearable to
    breathe through.
    My love, you are allowed to disappear completely and never come
    back again.
My love, you are allowed to wake up early tomorrow morning and catch the first bus out to work at 6.
"Just one sugar?"
...
by Asif Hassan 
II.
Merlin had many names, and from them, sugar daddy was his least favorite.
It all began that fateful day when he had tried everything he could to silence the wailing toddler, but to no avail. It was then he had employed the oldest trick in the book--the legendary মিষ্টি মুখ. 
With a swish of his wand and some chanting in gibberish, he had spun a cotton candy out of thin air, the sugary strands of the confection sparkling with ancient magic. The treat was a big hit. Merlin was able to retire from sorcery and start a cotton candy cart at the local park.
Word spread fast, business boomed. He became a household name. He wasn't a regular মিষ্টিওয়ালা. He was the polysaccharide papa, the sucrose sir, the glucose guide, the fructose father, the maltose man, the saccharin saint and many more. 
A little boy had scuttled up to the cart with a wad of cash, as Merlin remained engrossed in his thoughts. 
"চিনি চাচা?"
Merlin snapped out of his moment of retrospection and blinked at the little boy as the contents of what he had just said began to register. Merlin beamed. This was new. This was going to be his favourite.
by Mashiyat Nayeem
III.
If Maya Khala didn't mix sugar in his tea, Boronana wouldn't sip it. 
He'd put his pointer in her forehead and say, "Jhuma! are you well?"
Maya Khala would smile a little and say, "Ji, Abba."
Jhuma Khala died 5 years ago, falling from the stairs. There was blood everywhere in the stairs, flowing inside Boronana's room. Boronana was the one who saw the body first, with her eyes still open, only staring back at her. Nana was never the same, he didn't scream, not that day, not after.
Maya Khala, Jhuma Khala's younger sister, looked almost the same as her.
Boronana adored Jhuma Khala. She'd take care of her old father like one looked after their child. Tending to his every need, every childish tantrum.
He'd call her, "My Chinima! Where are you?"
She loved sugar so much, she'd gulp a handful every other day since little.
After Chinima died, he'd mistake Maya Khala for her. But this mistake was not for a few times. It was now a habit, that was erasing Maya Khala from his memory, as if she never existed. 
Maya Khala doesn't eat a pinch of sugar after Jhuma Khala died. She loved her sister. She loved her father.
I'd ask myself at times, did she quit sugar because she loved them too much, or silently hated the replacement as a sugar-pourer too much?
I'd go with the first one, though. For me, love has always been stronger, kinder and most intense of feelings.
by Tahseen Nower Prachi