Monkeypox infection Another great imitator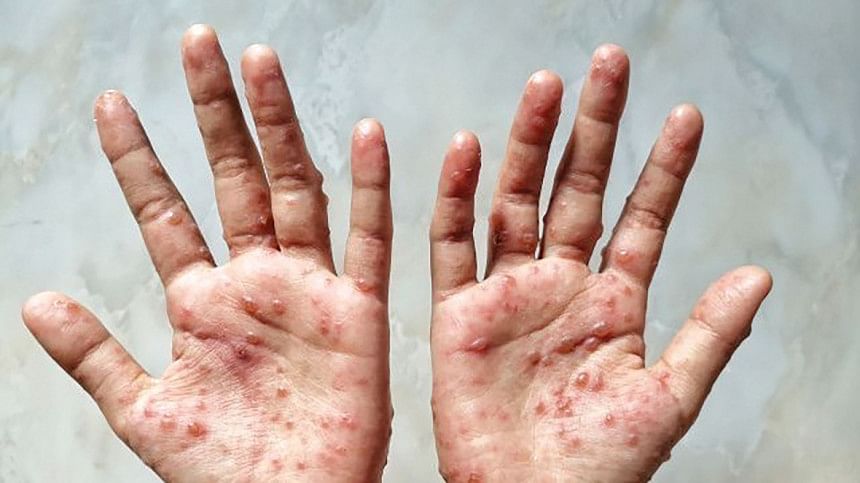 The World Health Organisation (WHO) has declared monkeypox a 'Public Health Emergency of International Concern'. The designation is the highest warning level that the WHO can issue and comes in the wake of a worldwide increase in cases. It occurred at the end of the WHO's emergency committee on the virus's second meeting. On the other hand, the danger level is moderate in all parts of the world except Europe, where it is considered high. More than 16,000 cases of monkeypox have been recorded in 75 countries. So far, five people have died as a result of the outbreak.
Monkeypox is a viral zoonosis (a virus transferred to people from animals) with symptoms similar to smallpox sufferers in the past. Animal-to-human (zoonotic) transmission may occur directly with infected animals' blood, body fluids, or cutaneous or mucosal sores. In addition, close contact with respiratory secretions, skin sores of an infected person, or recently contaminated items may result in human-to-human transmission.
Droplet respiratory particle transmission often requires prolonged face-to-face contact, putting health professionals, family members, and other close contacts of active patients at increased risk. In contrast, close physical contact is a well-known risk factor for transmission. Transmission through sexual activity was suspected in 95%, among which 98% of patients were gay or bisexual men; 2% were heterosexual.
It may be dangerous, with a case fatality rate of roughly 3-6%, although most individuals heal at home without the need for hospitalisation or medicine. Monkeypox is often a self-limiting illness with symptoms lasting 2 to 4 weeks. It includes fever, severe headache, lymphadenopathy (lymph node swelling), back pain, myalgia (muscle pains), and severe asthenia (lack of energy).
In the second meeting of the International Health Regulations (2005) (IHR) Emergency Committee regarding the multi-country outbreak of monkeypox, the WHO Director-General issued temporary recommendations. The following are a few of their recommendations:
• Activate or establish health and multi-sectoral coordination mechanisms to strengthen monkeypox preparedness and stop human-to-human transmission.
• As part of existing national surveillance systems, establish and intensify monkeypox-compatible disease surveillance, including access to reliable, affordable, and accurate diagnostic tests.
• Raise awareness about monkeypox virus transmission, prevention and protective measures, and symptoms and signs among communities affected elsewhere in this multi-country outbreak (e.g., gay, bisexual and other men who have sex with men (MSM) or individuals with multiple sexual partners) and other population groups that may be at risk (e.g., sex workers, transgender people).
• Raise awareness and train health workers in primary care, genitourinary and sexual health clinics, urgent care/emergency departments, dental practises dermatology, paediatrics, HIV services, infectious diseases, maternity services, obstetrics and gynaecology, and other acute care facilities.
• Implementing a coordinated response to stop human-to-human transmission of monkeypox virus and protect vulnerable groups (immunosuppressed individuals, children, pregnant women) at risk of severe monkeypox disease.
• Intensify surveillance for illnesses compatible with monkeypox, Strengthen laboratory and genomic sequencing capacity.
• Restrictions on international travels of those showing warning signs of monkeypox.
It is possible to mitigate the transmission of this contagious monkeypox if the public could abide by the rules set by the health authorities and the health organisations.
E-mail: [email protected]